During a career season, Vince Dunn credits Kraken organization for success
Dunn has already hit numerous personal-best marks this season, including in goals, assists, points and average time on ice per game.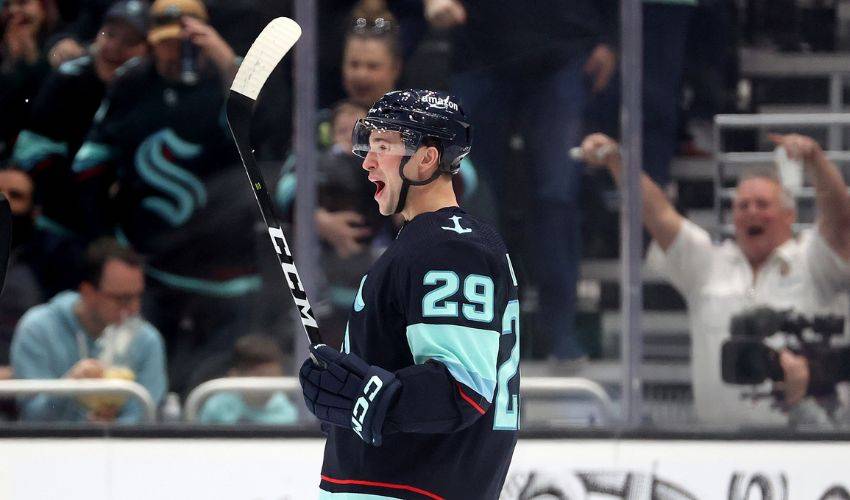 Feature photo: Getty Images
---
Vince Dunn has certainly been enjoying his time in Seattle.
"For myself, I've always known I had this in me, but didn't really have the opportunity," started the 26-year-old Dunn, who is in the midst of a career-best season with the Kraken. "When Seattle chose me in the expansion draft, I knew I had a lot to show for myself, a lot to prove to myself and to everyone. I was put in a position to succeed and I've been able to do that. I've really enjoyed my time here in Seattle. It's been a big highlight in my career so far."
The Mississauga, Ontario, native started his NHL career with the St. Louis Blues in 2017 and helped the team to a Stanley Cup triumph in 2019, before he was selected by Seattle in the expansion draft in July 2020.
Dunn remains appreciative of the opportunity to play his first four NHL seasons with the Blues.
"It was a great experience in St. Louis. That's where my dream of playing in the NHL came true," said the defenceman who was selected 56th overall by the Blues in the 2015 NHL Draft. "They gave me the opportunity to play at this level. Looking back, I'm just really fortunate to have had the chance to play there. I'm thankful for the fans and everybody there, and to have won a championship. Starting my NHL journey in a very special place that I will always hold close … I'm very grateful."
Last year, Dunn recorded 35 points in 73 regular-season games with the Kraken.
It has been a decidedly different story for the second-year club in 2022-23.
The squad, which is on track for a spot in the 2023 Stanley Cup Playoffs, has had several players step up with strong performances, Dunn included.
The 6-foot blueliner has already hit numerous personal-best marks this season, including in goals, assists, points and average time on ice per game.
"For the team, I think last year was a little difficult for a lot of people in the organization. For the most part, I think we did a great job and still showed a lot of promise. It's not easy for management to throw together a team for the first year and I think the way they wanted to do it was very strategic to ensure they did things the right way with a really solid plan in place. They were patient and you see those results in this season, especially with what they did in the offseason in bringing in new players, and really shaping our lineup."
The end result has been a strong second-year showing for the Kraken.
It has not just been a handful of players who have made the difference, Dunn noted. Instead, it has been significant and consistent contributions up and down the lineup.
"We always talk about that. We know we can't win games if we are not playing as a team. That's something we focus on in every meeting. Every time we go into a game, we know that's what we have to bring, where everyone plays their part. We have a little bit of everything on this team, which is unique. We have a very tight team in the locker room, where everyone gets along, on and off the ice, which is very special. It is a competitive sport and we have a lot of internal competition within the team. But for everyone to gel together and support one another, that's very important.
"This year, everyone has established a role on the team, and everyone has embraced that. A lot of guys are having career years and for me, just being comfortable here, settling into the lineup, the city and the community – I have made a lot of good relationships with people in different industries and places. I've just found myself really enjoying my time here."
Dunn is a prime example of that.
Playing with an unfettered mind has been a huge factor behind his personal successes in 2022-23.
"There has been no outside noise for me. … It could be a very stressful year for me and the organization, but having the GM come up to me before the first game and wish me the best, that is special. It makes me feel happy to be part of the team. I thought that was cool. They want their players to have the most success here because that means they can build good teams. Showing up every day, knowing your role and putting your best foot forward, this year has been so simple for me. I don't have to worry about anything other than playing and focusing on hockey."
Dunn, who will become a restricted free agent at season's end, is not occupying his thoughts with how things will play out on the business side of his career.
Instead, Dunn, who has established himself as a top-tier defenceman, will maintain a short-term view of the game, keeping his focus on helping the Kraken cement a playoff berth.
No doubt he is getting the most out of life on the west coast.
"I just like to chill, play some video games so I can talk to friends back at home through that, just get my mind off the game. I love to cook, so that's what I'm usually doing on my nights at home. In the offseason, most of my time is with spent with my family. Being able to spend time with them is very important to me. They've always supported and encouraged me at every step in my career. I also just like hanging out with friends and playing golf. I recently started taking up golf. It's kind of new for me and I'm enjoying it."
Not as much, however, as the moments when he steps onto the ice at Climate Pledge Arena.
"Once you step into that building and play a game, you definitely feel all that energy. In my opinion, it's the loudest building in the NHL that I've experienced, at least in the regular season. Hopefully, things can keep trending that way and we can feel that energy in the playoffs. It's an amazing city to be in for sports. The teams are so well-supported, and the people are very welcoming. It's been really cool to be part of it all."