Eberle looks to have lasting impact with Sticks & Strings Foundation
Jordan Eberle and his wife, Lauren, founded Sticks & Strings in 2022 and have already made an impact in the community.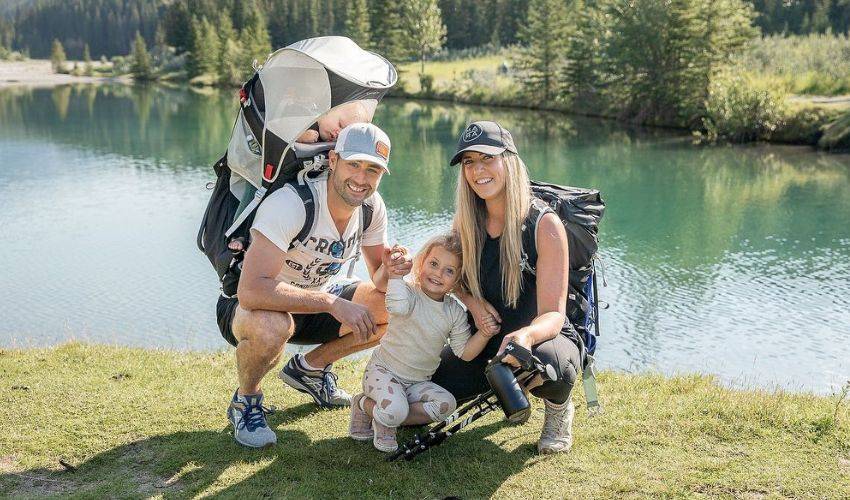 Feature Photo: IG / @laurenrodycheberle
---
For Jordan Eberle and his wife, Lauren Rodych-Eberle, the bedrock of their charitable Sticks & Strings Foundation is rooted in a simple philosophy.
In the years leading up to its unveiling, Eberle, now in his 14th NHL season, had countless discussions with his wife as to how their initiative could best impact those it would help assist.
One certainty, however, was the lasting mark the couple wanted to have in whatever work they did.
"In 2022, we founded Sticks & Strings Foundation, which had grown in our hearts many years before that," the Seattle Kraken forward told NHLPA.com.
"Helping children and parents has always been our charitable focus. We created our foundation with the purpose of supporting the overall well-being of kids. We believe that if you've been blessed, you should "build a longer table, rather than a taller fence" and that is what we are trying to do with Sticks & Strings. We truly want all kids to have access to the opportunities that we know we will be able to give our children."
Over its short time in existence, Sticks & Strings has already made a difference in the lives of many with its five pillars of focus – sports, music, reading, the outdoors and supporting parent support.
"The most rewarding part so far has been seeing the impact for kids," added Lauren. "Seeing a kid has access to a sport they wouldn't be able to try, knowing that a kid now has a variety of books that are theirs when they did not even have one book that they could call their own, witnessing a teen getting a fresh meal and a safe place to be after school while expressing a passion – all of these things are life-changing for these kids and teens. We hope they are moments that propel them forward into a wonderful adulthood."
The foundation, which assists charities that align with its areas of emphasis, has hosted a variety of events. This year, those events include a workout class, yoga in the park and a fundraising gala at a jazz club in Calgary.
"We hope each year to support charities in Canada that align with our five pillars of focus," said the 33-year-old alternate captain, who was drafted 22nd overall by Edmonton in 2008.
"We couldn't be more grateful for the support we've received from the beginning and can't wait to see the foundation continue to grow and help more and more kids."
The couple is looking to widen the foundation's outreach, including through volunteerism.
In November, the foundation announced a $20,000 donation and partnership with KidSport Alberta – an organization aimed at providing local kids with the opportunity to experience the benefits of organized sports.
Half of the funds went directly to the ISCA KidSport Fund, which will help 40 Indigenous children enjoy the chance to participate in sports. The other half went to the KidSport Alberta Provincial Fund, which supports families who live outside of a KidSport chapter's boundaries for funding.
"This year we are proud to support KidSport Alberta, helping kids experience the joy of sports through their Provincial and Indigenous programs, and Calgary Public Library Foundation, promoting literacy and a love of reading through the My First Bookshelf Program," said Jordan.
"There is also the National Music Centre, nurturing young musicians' talents and passion through the Jam Club, Mamas for Mamas, supporting mothers and families in need through their At-Risk Program and Karma Market, and Crossing the Divide, taking disadvantaged and at-risk youth into the wilderness and creating life-changing outdoor experiences."
The annual Intimate Gala, which took place in mid-August earlier this year, was a huge success. The fundraising gala dinner was accompanied by live music performed by local artists.
Next year's event is slated for August 15.
"We continue to sell merchandise, do charitable workout classes, various auctions and more, but our highlighted event is our Intimate Gala," said Jordan. "This coming summer, we will back again at Alvin's Jazz Club, where there will be great food, delicious drinks, phenomenal musicians, along with a silent and live auction, some fun games and wonderful people."
Future opportunities for the foundation are a regular topic of conversation between the pair.
"As the foundation continues, we are looking forward to some big initiatives that will have a long-lasting impact beyond our lifetime," noted Lauren. "Impacting kids' lives has a long-lasting impact in itself, but we have dreams to build a park, to fill entire schools with musical instruments and so much more. We hope these initiatives will leave a lasting imprint on the lives of others."
The foundation has also provided Jordan and Lauren with a welcome opportunity to do something purposeful together.
"To do this as a couple is so meaningful because it's gifting our children the opportunity to witness their parents giving back in their community," said Lauren. "As our children grow, it will allow this to be a family initiative, which is our true intent … by families, for families. It's also really special to be each other's cheerleaders in another way – there's just a magical energy around the foundation's events where everyone is there to do good, to give back and to make a difference."