Pavelski provides platform for hockey community while inspiring the next generation
How Joe Pavelski is bringing athletes like Kacey Bellamy and Charlie McAvoy together to inspire the next generation of hockey players.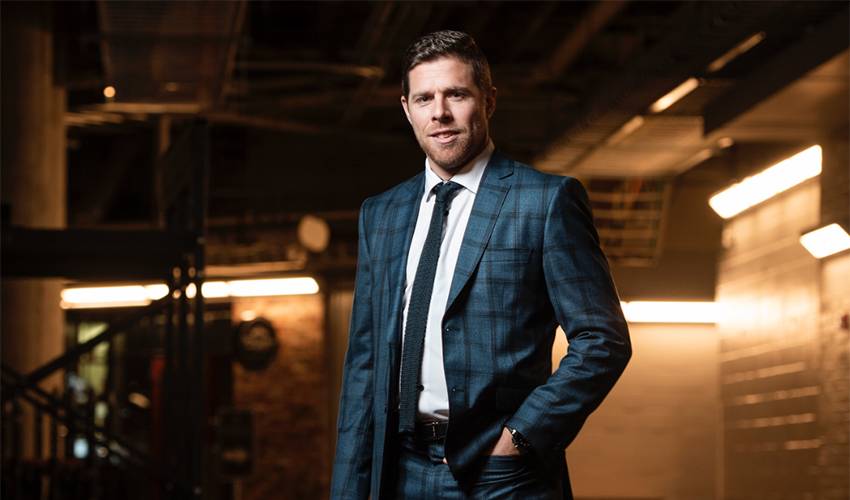 Feature photo via TorchPro.com
---
When it comes to connecting hockey players and fans, Joe Pavelski is happy to carry the torch.
The veteran NHL forward for the Dallas Stars has been a game-changer throughout his distinguished NHL career and is lending that ability to his efforts off the ice.
Pavelski's Kompany39, established with Matt Fornataro and Joe Diamond in 2017, has been rebranded as TorchCo, a sports media platform seeking to inspire and educate the generation of hockey players.
The new venture includes the brand new digital platform, TorchPro.com, which provides fans and aspiring young athletes unique access to accomplished sports figures.


Designed to help athletes build and grow their digital brand while unlocking new opportunities both during and after their NHL careers, TorchCo also offers brand-building services, content strategy, and content creation for athletes.
A major focus is the presentation of player-driven video and written content through TorchPro.com, including offerings such as tips on drills and training, along with the recounting of each athlete's respective and unique hockey journeys.
"TorchPro.com is a safe place for us to share more about ourselves as athletes and as people," said Pavelski. "Every athlete brings a unique perspective."
Pavelski found some gold medal experience to help with the featured content, including Professional Women's Hockey Players Association member Kacey Bellamy and Charlie McAvoy of the Boston Bruins.
An Olympic gold and two-time silver medalist, Bellamy is an accomplished blueliner at the international and U.S. collegiate level. The USA Hockey standout is thrilled to be part of TorchCo.
"It's been wonderful," said Bellamy. "When they pitched the idea to me, they wanted athletes to build their own brand and to be able to tell their stories. Everyone has their own personality and own story on how they started playing hockey and how they stayed with it. They came to me because they are very interested in growing the women's game more and I was one of the first athletes they approached. It was very humbling and something I jumped right into. It just feels like a family with TorchCo."
The opportunity to connect with fans in a unique environment was a big draw for Bellamy, who recorded 107 points in 143 career games with the University of New Hampshire.
Inspiring the next generation of players is a top priority for the veteran blueliner.
"When I talk about this, I remember when I was younger that we didn't have the type of resources, especially social media, to connect with players and role models that you looked up to. For me, to be able to get my story out there and help young girls, especially hockey players that are looking to play for a long time, trying to make the Olympics… if that's their dream, they can have a baseline of what it's taken to get there from my point of view."
McAvoy, one of the NHL's top young defencemen and a gold medal winner with Team USA at the U17, U18 and U20 international levels, jumped at the chance to be part of Pavelski's venture.
"The type of access to players you can find on TorchPro.com just didn't exist for us," said McAvoy. "So, it's exciting to be a part of the company that has built that for the next generation."
Pavelski, who holds the record for most career playoff goals (61) by a U.S.-born player, is grateful to have the support of a group of players who all have different stories and views to share.
The veteran of nearly 1,100 NHL games plans to add more athletes to the roster as TorchCo evolves.
"Charlie, being young in his career and establishing himself as a rock solid defenceman, Kacey, being an Olympian and on the female side, Mike Green being recently retired, they are all valuable for the pro athlete to grow and build their brand while in parallel giving the next generation a place to consume this information. This type of access just didn't exist when I was coming up."
TorchCo also acquired NYC-based daily sports newsletter startup Morning Blitz.
The newsletter, founded by Danny Healey and Noah Cartwright, will continue to cover the "need-to-know" information across all major sports, delivered every morning at 5:30 a.m. ET.
Fornataro sees endless possibilities for TorchCo.
"The vision of TorchCo is a big one: to inspire greatness by providing a place to access information, knowledge, and inspiration for anyone looking to gain an edge in sports and life."
Bellamy is proud to play her part in helping see the vision become a reality.
"It's an amazing platform for professionals. We're pretty humble and I think we get a little nervous to put our names out there. When you look at it and you see the videos and interviews, it may look like it's all about that athlete in particular, but we're trying to tell our individual story to help younger athletes. I think that's the key to the whole thing. We're just trying to get resources out to the younger generation, to show them what we've been doing all of our lives to get to this point."