NHL players declare their NFL allegiances as the playoffs approach
With NFL playoffs set to kick-off, these NHL players are proudly voicing their gridiron allegiances.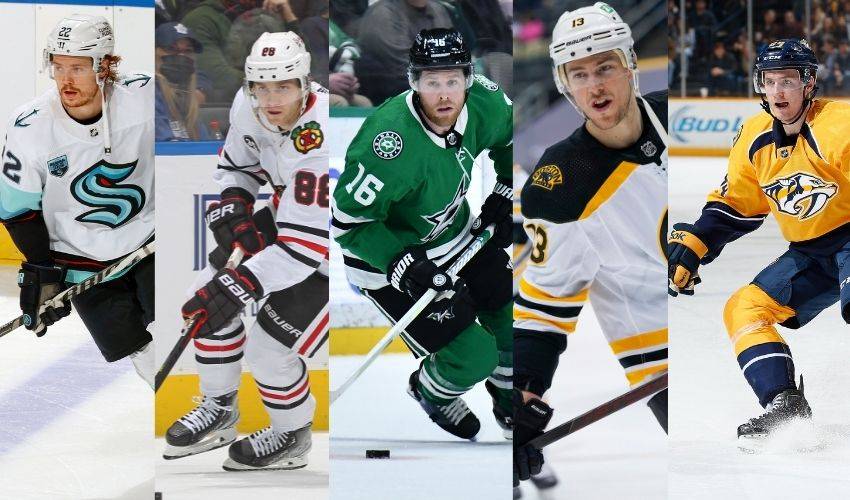 Feature photo: Getty Images
---
Football fans are getting ready to gear up for the NFL playoffs and NHL players are no exception.
With the first round of the NFL postseason less than two weeks away, fans of the gridiron game are counting down the days until the first snap on the road to Super Bowl LVI.
Many NHL players are pumped at the prospect of their hometown team hoisting the Vince Lombardi Trophy, scheduled for February 13 at SoFi Stadium in Inglewood, California.
Buffalo native Patrick Kane is hoping his hometown Bills can deliver the city its first championship.
"I like that they're peaking at the right time," the Chicago Blackhawks star forward told NHLPA.com. "They look like a team that can beat anyone in the playoffs."
Kane will be keeping an eye on one Bills player in particular as the team looks to build off its strong regular season showing.
The player who tops his list provided Kane with a huge assist, albeit off the ice, last season.
"I'm definitely a big fan of Stefon Diggs," offered the three-time Stanley Cup winner of the standout wide receiver. "He helped me win my fantasy championship last year."
Charlie Coyle, who was born in East Weymouth, Massachusetts, is a proud supporter of the six-time Super Bowl champs, the New England Patriots.
The Boston Bruins' veteran centre, now in his 10th NHL season, has rave reviews for Mac Jones, the Patriots' rookie star quarterback. Given the chance, Coyle would jump at the opportunity to pick the brain of the first-year pivot.
"I'd be interested in his adjustment to the pro life with such an established team and coach," said Coyle. "I'd also want to know how he handles being a leader on the field as one of the younger guys on the team."
Coyle, with 650 career games played since he was the 28th overall pick of the San Jose Sharks in the 2010 NHL Draft, has been impressed by the Patriots in 2021-22, a team most pundits didn't tab to make the playoff cut as they reeled off a seven-game win streak after starting the year 2-4.
"I think what impresses me most about the Pats is their ability to beat opponents in different ways depending on the scouting report of each team," lauded Coyle.
Coyle and Kane aren't the only football fans who will be rooting for their hometown teams. Mason Appleton, skating in his fourth NHL campaign and first with the Seattle Kraken, was born in Green Bay, Wisconsin. Naturally, he became a Packers fan at a young age.
"Growing up in Green Bay, there's one thing you know, and that's the Green Bay Packers. Basically, everybody from the city and the whole state are diehard fans. I've been a fan for as long as I can remember. They won the Super Bowl the year after I was born (1997). Obviously, I don't remember that one, but I've been lucky enough to see a lot of great players over the years, from the Brett Favre era to the current times with Aaron Rodgers. I've been spoiled to have lived through all of that. I always had a Packers jersey growing up and our basement was filled with a lot of Packers stuff."
For Appleton, watching a game in the iconic Lambeau Field is the ultimate rush.
"It's unbelievable. I'm biased, but I believe it's the best atmosphere in the league. Every other stadium I've been to, it's not quite the same. My ideal scenario is a snow game, around 20 degrees (Fahrenheit), it's cold enough to see your breath, everybody is all bundled up – that's the best and most fun for me. It's a crazy atmosphere and they have some of the best fans in the world, that's for sure.
"Your hockey career takes you to so many different places, so when I do get a chance to get back home and see a game, it's something I never take for granted. Any time I'm back home and I get a chance to see a game, I'm there."
With their 37-10 win over Minnesota on January 2, the Packers secured the top seed in the NFC and home field advantage throughout the playoffs.
Appleton will be following along as Green Bay chases its fifth Super Bowl crown and first since 2011.
"I think they've done an incredible job with the next man up mentality. There have been a ton of injuries, and guys have been signed off practice squads. Rasul Douglas comes from Arizona off the practice squad and makes one of the biggest interceptions of the season in the back of the end zone. It's been amazing to see how they've battled through adversity and injuries to key players, and still found a way to win."
If given the opportunity, does Appleton think he'd be able to haul in a pass from Rodgers?
"That's a good one. That depends on the route I'm running and if I was open. I'd like to think I could. The way that guy throws the ball, he's turned a lot of average receivers into having great careers."
Joe Pavelski, also a Wisconsin native, is a lifelong Packers backer as well.
The veteran of over 1,100 NHL regular season games was 12 years old when he first watched Green Bay win the Super Bowl.
"My favourite memory would be the Packers winning it in 1997. We always had Super Bowl parties and it was great having our team win it."
Now 24 years later with over 400 goals and nearly 900 points in his NHL career, the 37-year-old Stars forward tabs two Packers players in particular as his all-time favourites.
"I really like Favre and Rodgers. We have always had great quarterbacks and I've always enjoyed watching them dominate games."
Back to the AFC, Colton Sissons – who has played his entire career of 400+ NHL games with the Nashville Predators – has become a huge fan of the Tennessee Titans.
The 28-year-old forward is no stranger to sitting in the stands at Nissan Stadium.
"I've been to several games over the years and the atmosphere has just continued to improve. The games are a blast, and the fans are totally behind them these days."
The AFC South champs have had to contend with a rash of injuries to some of their top players throughout the season, but they have managed to fight through the adversity on the way to their divisional title.
"I've been most impressed by the Titans' resiliency to all of the injuries they've had to deal with this season. Losing [running back] Derrick Henry and [wide receiver] A.J. Brown are huge losses, but they continued to find a way to step up and win games."
If the Titans need help, Sissons offered up a Nashville teammate to line up on the defensive side of the ball.
"Tanner Jeannot could make one hell of a linebacker because he's built physically like one," he said of his 6-foot-2, 208-pound teammate.
No matter what happens this year in the NFL playoffs, which begin on January 15, many NHL players will be following closely along as they root on their favourite team.