Charlie McAvoy shares spotlight with pup Otto in dog treat launch
Through their partnership with Polkadog, which produces natural dog treats ln Boston, McAvoy and Otto unveiled a new co-branded treat.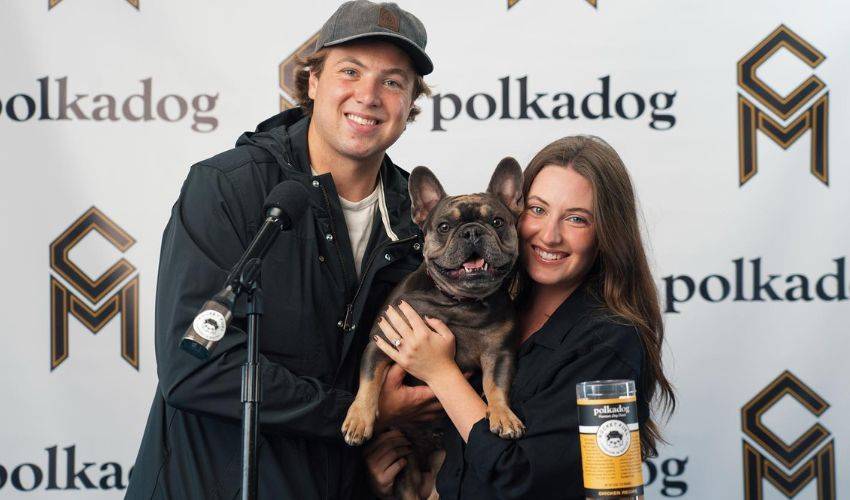 Feature Photo: IG / @ottotherocketdog
---
Charlie McAvoy is happy to see his beloved french bulldog rocket to fame.
When he inked an eight-year, $76 million contract extension with the Boston Bruins in October 2021, McAvoy was asked by media members what his first purchase was going to be.
While the answer could have ranged from anything to a sports car or some fancy designer threads, the defenceman doled out a most unexpected response.
"I was thinking about this," McAvoy shared with reporters at the press conference. "I might go get my dog a handful of bones. Something like that for my guy."
It was, above all else, a genuine display of affection the 25-year-old has for his beloved four-legged friend, Otto.
"We got him during COVID, and my fiancée, Kiley, she had grown up with dogs her whole life, and she was the one pushing for a dog," recalled McAvoy. "I didn't know what to expect. I didn't realize how much you fall in love with a dog the moment you get one. He just makes you happy. He loves people and he's just fun."
The bond between McAvoy and Otto is there for all to see through their individual Instagram pages. And while the former has far more followers on social media, the latter has drawn his fair share of admirers from far and wide.
This past November, the pair were approached about supporting a local dog-themed business in the Boston area.
Through their partnership with Polkadog, which produces natural dog treats locally in Boston, McAvoy and Otto unveiled a new co-branded treat called Rocket Fuel.
The partnership also includes a video series, entitled "On the Go with Charlie and Otto" which chronicles McAvoy's relationship with his dog as they travel throughout Boston.
"I don't really know what to think of where it would head at first. I knew it was going to be fun and then the more we talked about it, the more all of these great plans came out of it. They have a chicken bone treat and they renamed it Rocket Fuel. We did a two to three minute long, short story series. Otto and I went to three of the locations and went to the warehouse, which is about two blocks from where I live. They followed us down there with cameras, we did a little press conference. It ended up coming out so well and it was so easy to do. It was a blast."
The name of the biscuits is a nod to the origin of how the pup came to be known as Otto.
"Growing up, my favourite show was Rocket Power, and Otto Rocket is the main character. We were throwing some names around and see what would stick, I said, 'What about Otto?' And we both loved it. He was pre-named before we got him, and it ended up being perfect."
Bruins road trips always include some FaceTime for McAvoy and Otto.
On a recent two-game trip to the Sunshine State, the veteran of over 350 NHL games caught up with his fiancée and Otto.
"She pops him on, and I say hello to him. You're on the road a lot, so you are always checking in back home to see how everyone is doing. He's pretty receptive when he's on camera and hears my voice. He'll do that little side tilt of his head. He might be more confused than anything, wondering where that voice is coming from.
"That's my favourite thing about having a dog, the unconditional love. No matter what kind of day you're having, they put a smile on your face. He doesn't have bad days, but he makes sure you feel loved. We're always spoiling him and he loves it."
As for which of his Bruins teammates reminds McAvoy the most of Otto, the former 14th overall pick of the Bruins in 2016 considers the question briefly before revealing his answer.
"Otto, if he was on the team, he'd be our first-line winger. I'll say he's Brad Marchand because he's smaller, but he's a bulldog and can get a little feisty if he has to. But he's also fun, got a great personality and he's the ideal teammate."