After the Buzzer | Noah Hanifin
Boston native Noah Hanifin reveals his Beantown favourites, his latest must-read and more in After the Buzzer.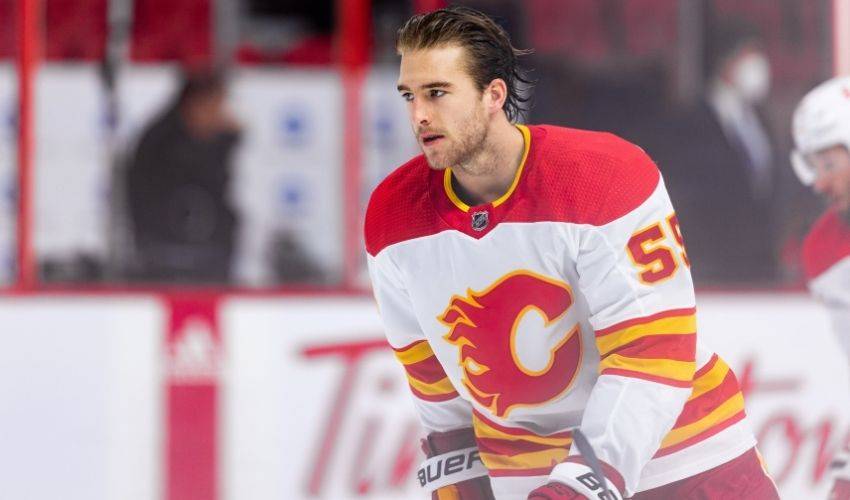 Feature Photo: Getty Images
From their bond with fans to their efforts in the community – and everything in between – 'After the Buzzer' is a weekly series taking readers beyond the rink to shine a light and provide insight on players' lives away from the game.
---
Noah Hanifin has the inside scoop on which Calgary Flames player has some serious fashion game.
The 24-year-old defenceman took a few minutes out of his schedule to speak with NHLPA.com about which teammate he can rely on for advice when it comes to a good book or a good look, which song he'd belt out at karaoke night and more.
NEED FOR READ
An avid reader, Hanifin continues to book plenty of time for one of his favourite off-ice pursuits.
Of everything that he read last year, which book topped his must-read list?
"I read the book Greenlights by Matthew McConaughey. Mikael Backlund suggested it to me. He read it too and recommended it. It was a really good book. Everyone does their own thing when we're on our flights. Usually on plane rides, Mikael is reading. He has some good recommendations."
JUMP SCARES
When it comes to the one horror movie that caused him to lose some sleep, Hanifin points to a 2008 thriller that stars Liv Tyler and Scott Speedman.
"The scariest movie I've seen is The Strangers. I remember when I was younger, when I was in my high school days, my buddies and I watched it. That one freaked me out, so I stayed away from horror movies after that."
SHARP-DRESSED MAN
As for who wears it best on the Flames, Hanifin opts for a veteran Swede who has his style game operating at a high level.
Who should Flames players take fashion advice from?
"I'm going back to Backlund. He's always looking sharp, well dressed and his hair is always perfect. He's always looking good. It's pretty funny… the boys get on him, but he has good fashion and style. I usually like to rock sweat pants every day, so I should probably pick up a few tips from him."
MUSIC MAN
If he had to get up in front of a crowd and serve up some smooth vocal stylings, which song would Hanifin choose?
"I would probably go with 'Sweet Caroline'. No matter where that song is played, everyone gets up and gets pretty pumped. Being from Boston, that's a song that pumps up the Red Sox crowd."
BEANTOWN CHAPERONE
If Hanifin, the fifth overall selection of the Carolina Hurricanes in 2015, played tour guide for his hometown of Boston, there are a few spots he'd take you to.
For starters, Hanifin would suggest one of his favourite restaurants.
"I'd probably take them to the North End of the city. All the best restaurants are there and it's a fun place to walk around. It's usually really busy and there are lots of people walking around. There are so many great places to eat. I'd go with Artu. It's an excellent Italian restaurant and I love going there. I'd also take them to Faneuil Hall. It's really cool too."
PARTING SHOT
"If I were to do karaoke with someone, I'd probably grab Matthew Tkachuk. I think he'd be down to do it. Sam Bennett is learning how to play guitar, so I feel like he'd be happy to get up there and perform." – Hanifin, on which teammates he would want up on stage with him for karaoke.