Big summer for Hanifin ahead of joining Flames
You get the sense Noah Hanifin wouldn't mind if the NHL season started tomorrow.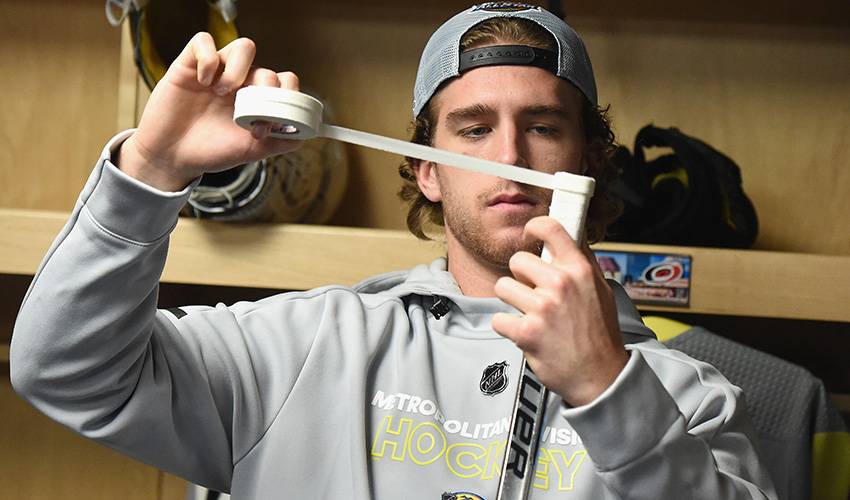 You get the sense Noah Hanifin wouldn't mind if the NHL season started tomorrow. There's no doubt he'd be ready for it.
The excitement in the young defenceman's voice is unmistakable the moment he picks up the phone.
"This season is going to be a little different, playing in a Canadian market," said the 21-year-old Hanifin, who was recently traded from Carolina to Calgary. "I think it's going to be a great experience. I'm looking forward to it. I think it's going to be a big year. They have a really good team and have a lot of good pieces. I'm going to get ready over the summer and come into camp ready to go."
Hanifin and forward Elias Lindholm were dealt to the Flames in a deal that saw defenceman Dougie Hamilton, forward Micheal Ferland and prospect Adam Fox go to the Hurricanes.
The overall fifth pick in 2015, Hanifin netted 10 goals and recorded 22 assists in 81 games in 2017-18. When Carolina was eliminated from post-season contention, the Boston native didn't sit still for long.
"It gets more intense and more exciting as the summer goes on," said Hanifin. "I'm skating twice a week. The team didn't make the playoffs last year, so we were out early and I've been training for quite a while. Once July and August rolls around, you get pretty dialed-in on the upcoming season. With the trade, it's a new situation for me. It's going to be a big summer for me. It's going to be exciting."
Outside of his work in the gym and at the rink, the blueliner, who made his debut with the Carolina Hurricanes against the Nashville Predators on October 8, 2015, hits the links and the water on the weekends as a way to unwind.
"It's actually a great place," said Hanifin of his hometown. "Since I'm from here, I could be biased, but it's a nice place to spend the off-season. Usually, during the week, I'll be pretty busy with training and skating, but once the weekend rolls around I'll head out to Cape Cod and hang out on the beach. I'll also do some golfing and some of my buddies have boats, so I'll go fishing with them in the Cape. There's definitely a lot to do and it's a great place to recharge the batteries."
Not every fishing outing has gone swimmingly.
"I've gone tuna fishing a few times," said Hanifin. "I go fishing quite a bit. But last summer, I got pretty seasick. I was with my brother, my dad, my cousin and my friend. We left at four in the morning and it was still dark out. There were a lot of waves and I couldn't see. I couldn't see the waves coming in, so it got pretty bad. I was sick for the whole day. Usually, it's a good time."
Which is precisely how Hanifin expects his first year in a Calgary uniform to play out.
"It seems like they have a really good group of guys in Calgary," he said. "I know Johnny Gaudreau and Matt Tkachuk very well. I've spoken to them a few times after the trade happened. They're just telling me how much they love it there. Pretty much every guy has reached out to me and texted me, welcoming me to the them. Travis Hamonic called me and we chatted for a while. They have a really great group of guys and I think it will be a smooth transition."
At the very least, it should be smoother than how a certain 4 a.m. fishing adventure played out.