Chabot paying it forward as a young leader
With an 'A' on his Ottawa Senators jersey, Thomas Chabot is paying forward the example set by those that helped guide the young defenceman earlier on in his NHL career.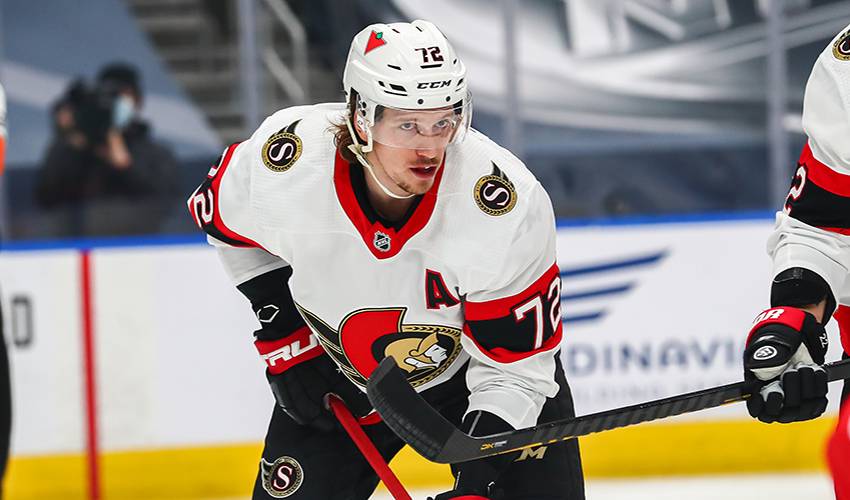 Feature photo: Getty Images
---
Thomas Chabot is paying it forward.
Not even a PPE mask could hide the prideful look the young defenceman is wearing in the Instagram photo, the image of him standing in the Ottawa Senators locker room wearing a jersey with an 'A' on the upper left side of it.
"For me, I think as a person, it [being a team leader] always came naturally," Chabot told NHLPA.com. "I'm not the loudest guy, but I like helping the team, I like helping the group when guys have questions, when guys need to talk – I like to be there for them."
Just like many others were there for Chabot.
Now in his fourth full NHL season, the 18th overall NHL Draft pick of the Senators in 2015 speaks glowingly of past teammates who helped him learn the leadership ropes.
"When I got here, in my first year in Ottawa, I had a lot of guys that helped me, like Derrick Brassard, Alex Burrows, J-G Pageau – those were three guys that really helped me on and off the ice. In the room, you had guys like [Erik] Karlsson and Mark Stone, and you try and kind of pick from them – see how they react, see how they do it every day. As a young guy, that's the best thing you can have, older guys that just do the right things every single day. You kind of go from there and you see how they carry themselves on and off the ice and you try to follow that path."
Chabot's education in leadership was based on watching other veterans of the team and making mental notes of their respective approaches.
When asked what words of wisdom have stuck with him, the former Saint John Sea Dogs standout couldn't recall anything in particular.
"Honestly, not necessarily advice, but like I said, it mostly comes back to seeing guys, and spending time with them – it's an everyday thing. It's a long season. It's hard to do it every night. If any night doesn't go your way, you can't just let down on yourself and let down the team. It's little things like that you just pick up along the way."
Now, over 200 games into his career, he's drawn upon what he's learned and crafted it into his own style.
"I'm more of the guys that just likes to go out there and play the right way, play hard and just kind of lead that way. I'm not the loudest guy in the room, but finding ways to bring the group together and show the right way on the ice – that's one of things I guess I've done over the years."
Another thing Chabot has done over time is to watch athletes outside of hockey, seeing how he can incorporate some of their skills into his own repertoire.
That list would include NBA megastar LeBron James.
"I think he's just a guy I really enjoy. Anywhere he's been, he's had success, whether it was with big teams or whether it was on his own. He always found ways to just bring it to the table and bring the group together. That's one of the reasons love the guy. He's just so talented. Any time you can get to see things, you try to bring that to yourself, and try to do the same thing."
One of Chabot's top priorities is to make sure rookies and young players like Tim Stützle, the third overall pick in the 2020 NHL Draft, are comfortable at the rink and away from the arena.
"When I first walked into the league, I had guys like Burrows, Brassard, and Pageau, who really, really helped me and took care of me. They were way older than me and didn't have to take care of me, but they definitely did. For me now, being in that position – it's only my fourth year in the NHL – any time we have younger guys, I obviously want to be there.
"I want them to feel like they belong there, and they can play as best as they can and not worry about anything else. Whenever they've got a question, whenever they feel they need to talk, you always want to be there for them."
It's one of many reasons why Chabot and leadership go hand-in-hand.