From RTP committee to the hub, Cole feeling comfortable as Avs extend stay
Now playing in the tournament his efforts as part of the NHL/NHLPA Return to Play committee helped bring to life, Ian Cole is feeling comfortable as the Avs extended their stay in Edmonton.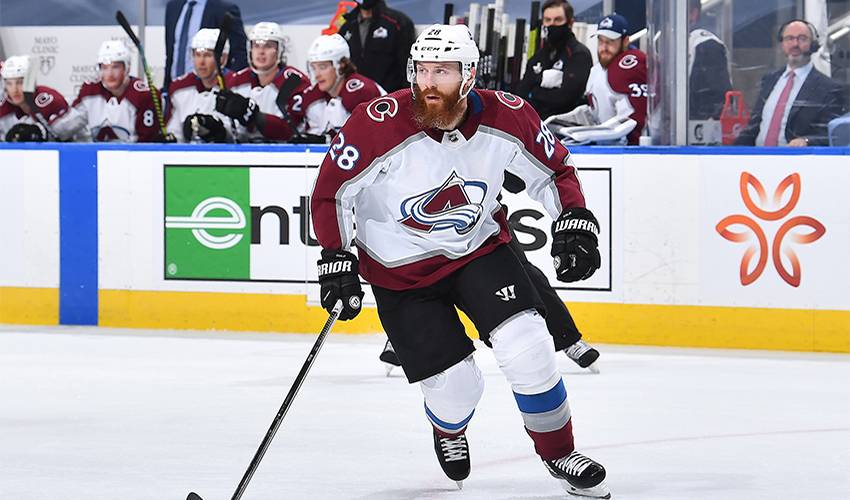 Feature photo: Getty Images
---
What does an NHL defenceman in the thick of the Stanley Cup Playoffs do to unwind away from the intensity of the action?

If you're Ian Cole, the answer is easy: you watch more hockey.
When he isn't on the ice at Rogers Place in Edmonton helping the Colorado Avalanche in their quest for the 2020 Cup, Cole, a two-time champion himself, can often be found in front of the television at the team hotel, intently tuning in to watch the NHL playoffs.
And try as he might, the 31-year-old veteran defenceman just can't seem to look away.
"It's always funny," started Cole. "And I know how I am and I know how a lot of guys are, too. You're like, 'No… I don't want to watch a game. I'm not going to watch it. I'm going to get away from it.' I want to get away from it, but at the same time, any time I see it, I can't not watch. That's just the way it is."
Trips to the players' lounge to pick up a few items and head back to his room never seem to work out as planned for Cole.
A three-minute trek often becomes a three-hour journey.
"I find myself going down to our team room, grabbing some water and some snacks, sitting down and then two hours later I'm asking myself, 'What am I still doing here? Now I'm just watching hockey all day long? What the heck? Didn't I just come down for a couple of waters?' It's one of those things. I don't go down to the room intending to watch it, but I just can't help myself."
That he has the chance to both watch playoff hockey and be part of it is quite meaningful to the native of Ann Arbor, Michigan.
Through his efforts as part of the NHL/NHLPA Return to Play committee, Cole, who signed as a free agent with Colorado on July 1, 2018, was part of a team that worked overtime, literally, to see the return of hockey become a reality.
The results, so far, have been even better than he had envisioned.
"I think that as a league and as a group of players, I think that we went about this about as thoroughly and objectively as we could," said the No. 18 pick of the St. Louis Blues in the 2007 NHL Draft. "I think to the point where we are at now, while not ideal by any stretch of the imagination, is about as good as a preliminary result as we could have hoped for."
Admittedly, his comfort level in the bubble environment increases noticeably every day.
"It's one of those things where days are long, but weeks are short," said Cole, who won back-to-back Cups with Pittsburgh in 2016 and 2017. "There's a lot of downtime, but there's always downtime in the playoffs. That's always the case. You're not trying to fill every hour of the day. You're trying to rest, recover, and get ready for the next game. In that sense, the set-up in the bubble is pretty normal come playoff time.
"Overall, when you get wrapped up in a series and with practices, the weeks go by pretty quickly. We're coming up on a month here and to me, it doesn't really feel like we've been here a month. It's been great to spend quality time with the boys here. In that sense, it's been really good."
It's a stay that's been extended after the Avalanche won their First Round series 4-1 against the Arizona Coyotes.
For Cole, who along with his wife, Jordan, welcomed a baby boy into their family in July, an imperfect situation hasn't hindered his focus on the game.
His formula for success is striking a balance between ice time and FaceTime.
"FaceTime has been great. Having a baby shortly before leaving to go to this bubble, it's certainly not ideal. Quite frankly, it's the opposite of ideal. It's one of those things that really stinks. I really miss him and my family, but it's one of those things that this is where we are right now and this is the world we live in now. We just try to make the most of it. And making the most of it is about winning hockey games. You can sit here and lament about family or you can try and turn your focus elsewhere, and try to make the best of a crappy situation."
At the very least, he knows he can always catch a hockey game when he's not trying to win one of his own.
And that suits Cole just fine.
"As soon as I see game on TV, I'm like a moth to a flame. I'm locked-in immediately."