Cole commemorates grandfathers through Heroes Monument
A long-time supporter of the United Heroes League, Ian Cole has an even closer look at the organization's work since arriving in Minnesota.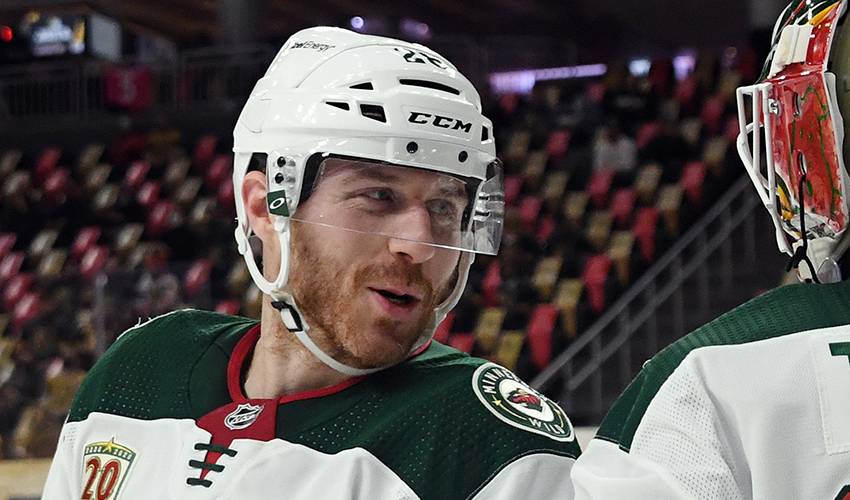 Feature Photo: Getty Images
---
Two bricks hold a deeply special meaning for Ian Cole and his family.
The commemorative blocks will be cemented into the Heroes Monument being built on the United Heroes League (UHL) campus in Hastings, Minnesota, and will be one of the largest in the Twin Cities area, honouring over 4,300 U.S. service members while featuring 60-foot walls that will be visible by aircraft along the Minneapolis−Saint Paul International Airport flight path.
The north wall of the monument is reserved exclusively for the first 2,160 service members. Military bricks, available for purchase, will be the same size and colour to denote the importance of each member's sacrifice, regardless of branch or rank.
Cole bought two bricks, one for each grandfather.
"It's easy in this day and age to maybe take certain things for granted, to realize that we do have a lot in our lives to be grateful for," said the Minnesota Wild defenceman. "When you step back and look at history, see the sacrifices that were made for us as a country and as a people, I think the recognition they get isn't close to the recognition they deserve. Being able to show a little more recognition, through something like this, is always a good thing. I'm very proud to say that I'm a small part of this. It means a lot to me."
Permanent residence on the Heroes Monument will serve as a lasting tribute for generations to come.
Ian's paternal grandfather, John Cole, served in the Navy. His maternal grandfather, Tom Meagher, was in the Marines.
"I was in this tug-of-war as to which branch was better," recalled Cole with a laugh. "My paternal grandfather, he grew up his whole life having a familiarity with guns. He made a steel trap in his basement for me and we would go down there when I was around seven or eight, and he would teach me how to shoot a pellet gun. He also loved Old West movies, so we would watch those together. It was a really great experience hearing his stories and learning from him."
One particular item from John Cole's military experiences left his grandson momentarily speechless the first time he saw it. Every time he looks at it, the 32-year-old defenceman with 11 seasons of NHL experience gains a deeper appreciation for what his grandfathers endured during their years of service.
"My paternal grandfather has a German luger that he took off a German soldier in WWII. It's a collector's piece, a really cool piece of history. My dad has it. It's a tangible reminder of what people in the military went through. When I see it, I have a tremendous amount of gratitude for what he and other members of the military did for our freedoms."
Tom Meagher also took great pride in serving his country.
"He was proud of his service in the Marines. He met my grandmother when he was serving. She was a nurse. That's a kind of a neat story in how they met one another. His story also makes you step back a little. Life can be busy at times, but it's nice to look at pictures and take time to be appreciative of all they did, unselfishly, for their country."
It's one of many reasons Cole decided to purchase the bricks. The Michigan native has had a connection to the UHL (formerly Defending the Blue Line) dating back to his earlier NHL days.
Cole has continued to work closely with the organization, which helps provide children of military members with the opportunity to participate in sports. He is one of many players involved with the organization, which NHLPA Goals & Dreams has supported with many equipment donations and memorable experiences such as the All-Star Hero initiative.
"I got connected with Shane Hudella [President and founder of the UHL] early on in my career, maybe about eight years ago. We had seen each other after games and said hello, and we would communicate through texts, calls – I was just helping out in little ways here and there. When I got traded to Minnesota this past year, Shane and I were really able to connect and see one another in person. We got to know one another and the more I got to know Shane and learn more about the UHL, I really saw what they are doing is fantastic."
Cole has similarly high praise for the UHL's monument idea.
"To see how creative they are, for example, with this project, how they want to help military members and military families is great. What they do is very special and very worthwhile. To get to see what they do, up close, has been really special for me."