After the Buzzer | Ian Cole
Considering his resemblance to a certain Game of Thrones character, Ian Cole would prefer this actor play him in a movie.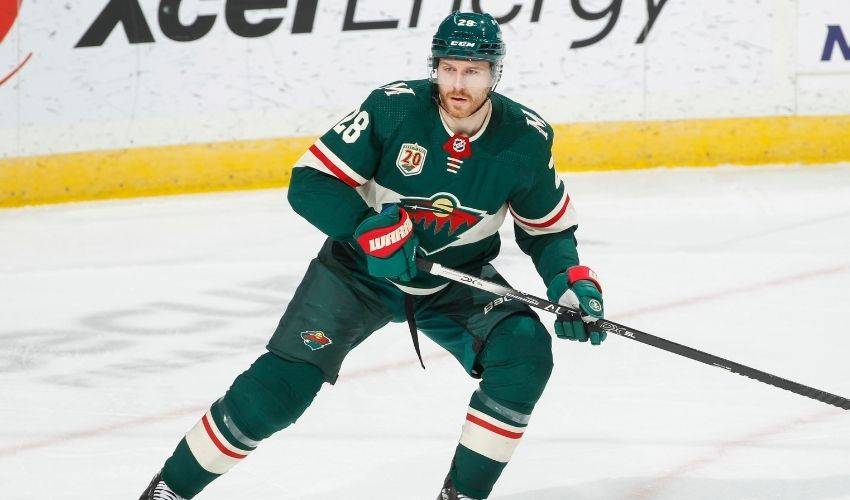 Feature Photo: Getty Images
From their bond with fans to their efforts in the community – and everything in between – 'After the Buzzer' is a weekly series taking readers beyond the rink to shine a light and provide insight on players' lives away from the game.
---
A two-time Stanley Cup champion, Ian Cole has found the perfect actor to portray him in the big-screen adaptation of his life story.
The 32-year-old Minnesota Wild blueliner recently stopped by NHLPA.com and talked part-time jobs growing up in Ann Arbor, Michigan, his favourite music, the temptation of spice cake and more.
TEMPTATION TIME
While a healthy diet is top of mind for Cole throughout the NHL season, once he hangs up the skate for a few months, he's happy to get his sugar fix going for a little while.
"I have a pretty big sweet tooth. It could be ice cream, it could be cookies… anything homemade is it for me. I even like dried mangoes. I could crush a whole bag of those. I was the kid when I was young who would go in the cookie jar and take way more than I was supposed to. I remember my grandma would make me a spice cake for my birthday. Basically, it's a carrot cake minus the carrots. It's so delicious. She'd put caramel frosting on it too. I try and keep my sweet tooth in check for the most part until the offseason and then I can kind of let loose for a couple days."
WORKING MAN
Cole had a couple of notable part-time jobs growing up, including one gig where he worked alongside his mother.
"I didn't get an allowance. I had to work for my money. My parents said, 'If you want something, you need to buy it yourself. You need to work for it and save for it.' They were pretty strict about that. I started out setting up the soccer field with my mom for Ann Arbor Parks & Rec. We would get up at six in the morning on Saturdays and Sundays and go to the field. They would drop off the nets and corner flags and we would go out and set them all up to make sure everything was ready for when the games would start around 8 a.m. The games would go on all day and we'd go back at night to take them all down. We'd go back home and do the same thing over on Sunday. We both got paid for doing that. I think we made about seven bucks an hour, something like that. Getting a cheque for 20 bucks at the end of the weekend or 40 bucks at the end of two weeks felt like the most money of all time.
"I actually worked, what I would call a very loose definition of security, at Top of the Park – a summer festival in Ann Arbor that goes for about two months. Friends of my family got me a job there when I was in high school, before I played for the U.S. National Team Program and even during my time there. I could go there, do some odd jobs, and work 'security'. That's how I got my spending money until I went to college."
TALKING THE TALK
If Cole had the opportunity to interview an actor, it would be a toss-up between one who debuted on Game of Thrones and one who has had a Marvel-ous career.
"That's a tough one too. I would go with Sophie Turner. She seems super cool. I'd also go with Robert Downey Jr. He seems like he'd be really interesting and really funny, and have a ton of wild stories."
AND THE ROLE GOES TO…
Who would play Cole if his life were made into a movie? After a little back-and-forth, the 18th overall NHL Draft pick of the St. Louis Blues in 2007 settled on a familiar face (to him).
"Normally, this is where I would pick a super good-looking actor and say him like everyone else does… 'Chris Hemsworth, for sure!' If we are being honest, I'd have to probably go with the guy from Game of Thrones, purely based on appearance, especially when I have my red beard going. He's from Norway and his name is Kristofer Hivju."
MR. MUSIC?
When it comes to his favourite music group, Cole couldn't think of one in particular. What he does have, however, is a well-rounded enjoyment of many different genres.
"That's a tough question. There are a lot of great groups out there, and a lot of ones that I like, but I don't know if I have a favourite one. I like all types of music. I love country, techno, EDM, I love rock, I love rap – more the older stuff I grew up with – and I also took a jazz class as an elective in high school. I love jazz, too. I really like a little bit of everything, so it's tough to narrow it down to one group for me."
PARTING SHOT
"I remember the times after my birthday, I'd come down for school and I'd grab a slice of spice cake for breakfast. It disgusts me to think about that now, but it was so good." – Cole, on his affinity for all things spice cake.