From a couch in Kelowna to NHL ice in Toronto, James and April Reimer still in sync
April Reimer matched her husband save-for-save in his series-sweeping performance August 4. Well, sort of.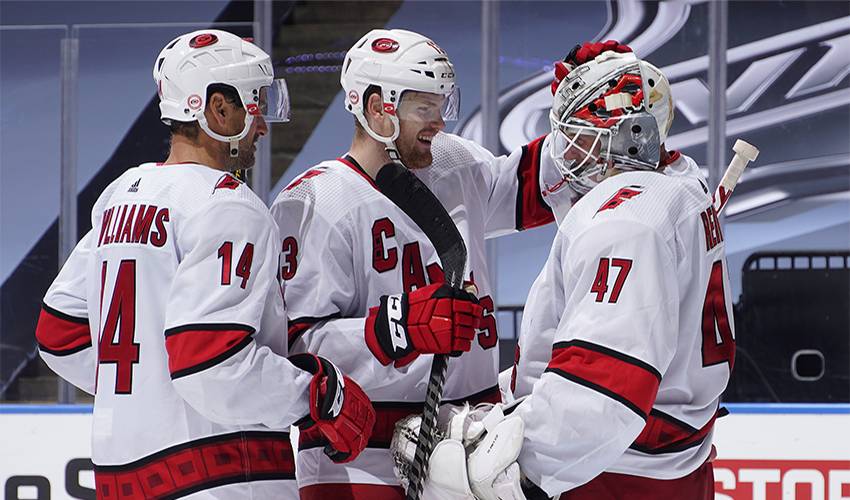 Feature photo: Getty Images
---
April Reimer matched her husband save-for-save August 4.
While James Reimer was busy turning aside 37 of 38 shots – including several beauties – in Game 3 of Carolina's Stanley Cup Qualifying Round series against the New York Rangers, his wife, some 3,900 kilometers away, was making some quality stops of her own.
WOW. James Reimer and company with an unbelievable sequence to keep the Rangers off the board. Sami Vatanen made a save too, Reimer made the unbelievable stick stop at the end. Unreal. pic.twitter.com/XouM1gotrC

—

Brett Finger (@brett_finger) August 5, 2020
Well, sort of.
Sitting in front of the television in their off-season home in Kelowna, British Columbia, April mimicked every glove, blocker, pad and stick save James made in the Hurricanes 4-1 series-clinching win in Toronto.
"I would like to say my save percentage is 100 per cent," noted April. "I am definitely that person who is making loud noises involuntarily – they just seem to come out instinctively."
Her husband was at the top of his game against the Rangers.
He came close to April's stats, posting a .974 save percentage, making 32 even-strength stops and five saves while the Hurricanes were shorthanded.
As to who was more excited about the performance, call it a tie.
The couple's young daughters, Nevaeh, three, and Hope, one, didn't manage to make it to the final buzzer.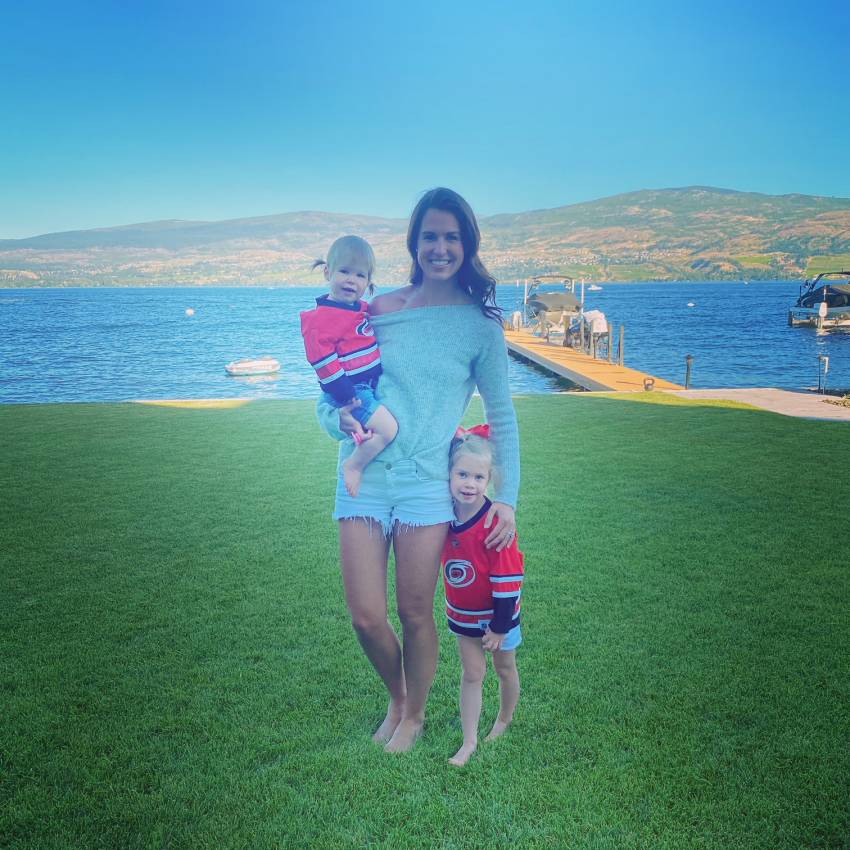 "I think the girls were sleeping by the end of the game," said James. "Apparently, April was saying they were more interested in their kids' show than the game."
"There are a couple of times I yelled a little louder than I wanted to," offered April. "I didn't want to chance waking the girls up. They went to bed at the start of the third. I want to say I was trying my best, but definitely didn't succeed.
"It's actually quite remarkable. She [Nevaeh] will know the difference between the goalies. Even from a young, young age, she would always find her dad. She definitely knows which one is dad and can pick him out of a crowd."
Despite some understandable indifference from the girls, the 32-year-old goaltender is grateful for the support he's receiving on the home front since the season resumed.
"I don't how to say it properly, but I'm blessed. My wife is awesome and she works so hard. She does a great job with the kids and in supporting me. I'm a lucky guy. She has great parents, too, and they are with her, helping her out. It's crazy what the wives of athletes have to deal with. Being an athlete, it's glamorous, but there's another side to it, which is the sacrifice our wives and families have to make."
When he isn't stopping pucks or hanging out with his teammates in the bubble, the Manitoba-born backstopper is taking to FaceTime to chat with his family.
James is also getting a front-row seat for some of his daughters' favourite activities.
"Usually, it's just existing with them. The conversation isn't too in-depth with a three-year-old and a one-year-old. Mostly, it's just hanging out, watching them swim, watching them paint, running around the house, dancing – it's just kind of being there, in quotation marks, with FaceTime."
As it turns out, he's even got game when it comes to long distance parenting skills.
"In these times, you're thankful to have that technology where he can see the girls so quickly," said April. "A few nights ago, I had to get Hope into her crib and I needed Nevaeh to hang out in her room for a few minutes while I put her sister to bed. James said, 'Leave her with me. I'll watch her.' So, he watched her for a good 5-10 minutes while I was with Hope. She had some good dad time. I came in and they were just chatting away.
"Obviously, he wants us to be okay and taken care of, but I want him to know we are supporting him. We just want him to pursue his dreams. At home, I can take care of the rest and he can keep stopping pucks."
Traded to Carolina last June, James is "feeling right at home," part of a group that made it to the Eastern Conference Finals in 2018-19.
"We have a great team and we have a great culture here. There are so many character guys, and everyone genuinely wants the best for one another. We win as a team, and we lose as a team. Everyone sacrifices for each other. That just makes the game so much more exciting and fulfilling. Guys want to block shots, guys want to score – everyone does it all with their teammates in mind. For me, you really want to make a save for them."
Whether he happens to be between the pipes or on the bench, No. 47's biggest fan will be beaming with pride on Canada's west coast.
"His integrity as a person stands out for me. He does the right thing when no one is watching. He puts the time in and he doesn't do it for the praise or the glory of it all. He does it because that's who he is. He wants to be there for his teammates, the coaching staff, fans, and all of his family and friends who cheer for him."
That list would include the NHL playoff leader in saves-made from a couch in Kelowna.
Said April, "My saves are bang-on every time."