Sleepless nights no more – James Reimer's road to 400 NHL games
With 400 NHL games now under his belt, James Reimer reflects on the journey, including the butterflies of his first NHL start.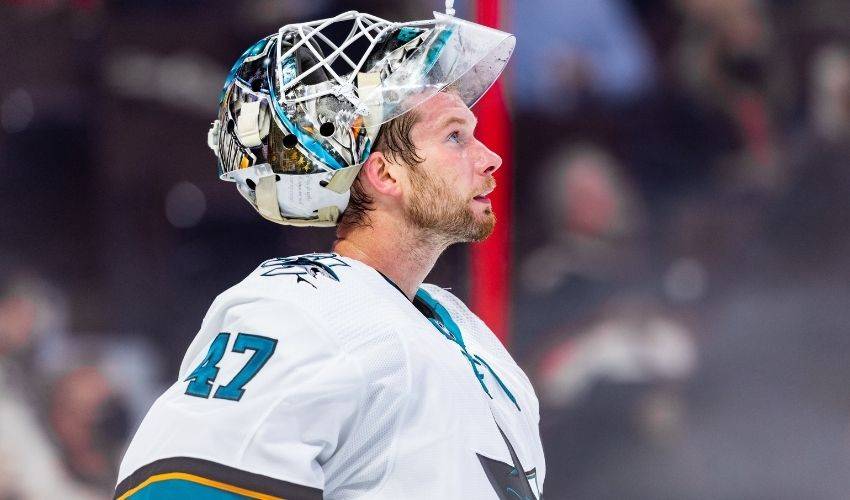 Feature photo: Getty Images
---
James Reimer's 400th NHL game was strikingly similar to his first big-league contest, albeit with one significant difference.
It was nearly 11 years ago when the young Manitoba-born backstopper got his first NHL start – a road game with the Toronto Maple Leafs, who were taking on their provincial rival, the Ottawa Senators.
Now a member of the San Jose Sharks, Reimer recalled he didn't get much sleep the night before his debut on New Year's Day in 2011.
Come the morning, he was still battling butterflies.
"I think it was a Saturday night game and I was really nervous. I couldn't really sleep at all the night before. I was definitely excited, but when you start thinking about it, something you had always dreamed of for a long time, you do feel those nerves kicking in."
It was a quick conversation, and a few words of encouragement, on game day, that helped put Reimer at ease ahead of his big moment.
"I still remember Brian Burke [the former Maple Leafs GM and President, and current Pittsburgh Penguins President of Hockey Operations] coming up to me right around the pregame meal and he pulled me aside. He said, 'We wouldn't be putting you in this spot if we didn't think you could do it.' That really helped me."
After soaking up the sights and sounds ahead of the opening faceoff, Reimer exhaled and dialed in to the task at hand.
"Right before puck drop, the nerves melted away and I was able to settle in and focus on the game. From there, it was just playing hockey. So, really nervous before the game got underway, but really focused as soon as it started."
Reimer, who allowed just one goal in a 5-1 Toronto victory, went on to win four of his next five starts, taking the reins as the starter for the rest of his rookie season.
The journey hasn't always been easy since those times, but the fourth-round pick of the Maple Leafs in 2006 has endured, posting winning seasons with Toronto, San Jose, Florida and Carolina.
On December 11, Reimer made start No. 400 of his career, a 2-1 win for the Sharks – the team he signed with via free agency on July 28.
And just as he did in his first NHL game, Reimer allowed just one goal and earned the win for his team.
This time, however, he didn't have to deal with any pregame nerves.
"You become more comfortable and confident as you go along. There's always going to be ups and downs in your career, but you have to believe in yourself and trust what you can do."
Considering his original thoughts on an NHL career, reaching 400 games is a meaningful accomplishment for the 6-foot-2 netminder.
"I didn't even think I'd make it to one game. It's cool. Four hundred games … I don't know. My story isn't really a traditional one, so it's nice to see how it's all come together."
As for what helped him reach the mark, Reimer points to faith and family as major contributors.
"I'm a Christian and I'm grateful God has opened doors for me and allowed me to be here. My family, starting back in the day with my parents, all the time and effort they put into hockey, it's something I'm truly grateful for. My siblings have been unbelievable in their support as well. My wife [April] has been amazing throughout all the years too. I look at all the great people I have in my life, and they are all a huge part of me being able to play in 400 games."
The 33-year-old will now look to add to his totals during his second stop in San Jose.
With nine wins in 15 starts and a save percentage of .936 so far this season, Reimer continues to stand strong in net for the Sharks.
It's one of many reasons why there's no need to worry about restless nights and pregame pep talks these days.
"It's been good here. We were excited to come back. There has been a lot of turnover since the first time I was here, but there are some familiar faces for sure. Obviously, with the weather, the chance for us to get outdoors, which is something we try to do every day that we can, is something we enjoy. I feel very comfortable with everything, on and off the ice."