New restaurant in good hands as Pavelski prepares for resumption of play
Preparing food, washing dishes, handing out food to customers – you name it, Joe Pavelski has done it. But he's not the only Pavelski working overtime.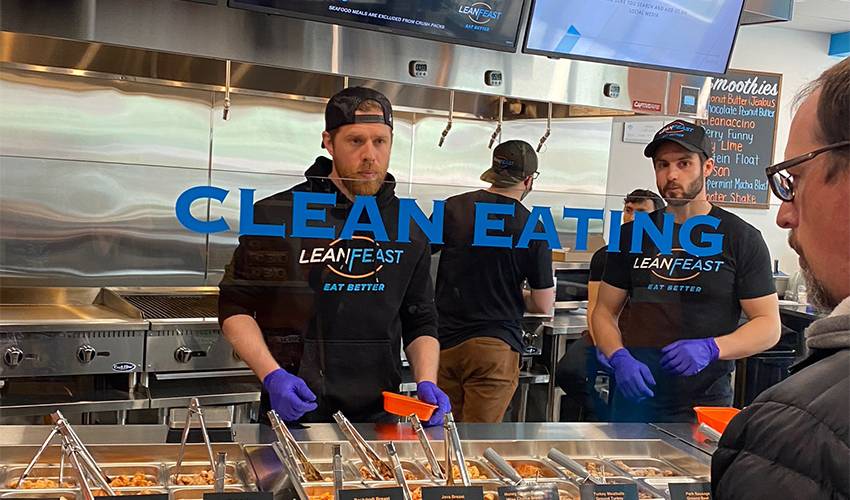 Feature photo: Courtesy of Joe Pavelski
---
Joe Pavelski doesn't need to be in hockey gear to deliver a top-shelf experience.
Not that we needed any proof or even a reminder that the NHL veteran's respected leadership traits carried over to his personal life, but that's what Jay Ogle saw, first-hand, in the days and weeks leading up to the opening of LeanFeast, a meal preparation company focused on clean eating.
Pavelski, along with his wife, Sarah, have partnered with close friends Ogle and his fiancée, Morgan Klein, to open a LeanFeast location on University Avenue in Madison, Wisconsin.
Preparing food, washing dishes, handing out food to customers – you name it, the NHL forward for the Dallas Stars has done it.
And he's done it all without being asked.
"He's been great," praised Ogle. "Early on, before we even opened, Joe was asking what was going on and what he could do to help. The week before we opened, we did training sessions with our few staff members. He was asking when we were going to do it and I thought he would pop in here and there, just to check out what was going on. I sent him the schedule and it was four days of 9 to 5, and he was there all four days, 9 to 5. He was as well trained as any of our staff members.
"And he was there all day on opening day. After the first week, he came in every Monday, which is our busiest day, and he would build meals, getting everything ready to go. Around three or so, he would take our later deliveries. Running deliveries, building meals, washing dishes, he's also a big fan of making the smoothies… he does it all. We've done a few stories here in Madison, and I've told everybody that for someone who has had as much success as he has, he's as humble a person as you'll find. The first thing he does when he walks through the door, and we're busy, is to go to straight to the dishes. It's a huge help. He has no ego. He just goes straight to work."
But he's not the only Pavelski working overtime to shine the spotlight on LeanFeast, a place the couple originally became familiar with during Joe's time with the San Jose Sharks [the store was about a mile from where they lived in California].
Sarah has also been a big contributor to the restaurant, before and after it opened its doors.
"Working with Morgan and Jay has been awesome," said Sarah. "We share a lot of the same values with them, so it's been a perfect fit. They work very hard and take a lot of pride in everything they do. It is extremely eye-opening, all of the hours and dedication that goes into this. When I went in one Monday morning – Jay was there by himself because Morgan was out doing errands – I could see the look on his face. You could tell it was going to be a busy day. So, I ended up staying three hours and doing dishes while he got everything set up. We all help one another with whatever needs to be done."
The restaurant has been a huge hit with locals in the city where Joe played his collegiate hockey with University of Wisconsin.
Although he's back in his NHL city preparing for the restart of the season, the 35-year-old, who helped the Badgers win the 2006 NCAA Division I Men's Hockey Championship, is still very much invested in the business.
"It's been great in so many ways," said the native of Plover, Wisconsin, who won silver with Team USA at the 2010 Winter Olympics. "We really missed going to the restaurant when we were in San Jose. Every now and again, Sarah would throw it out there, 'It would be great if we ever had the chance to open one in Madison.' It was always in the back of our minds. We slowly got the ball rolling and last summer, our neighbours on the lake, their daughter [Morgan] moved back to Wisconsin with Jay. They ended up coming over and we started talking about the idea of opening one here. It snowballed from there and here we are.
"For me, I'm gone about nine months out of the year, so it has to be their thing. That's how we struck up that relationship. And they've been awesome. They've hit it out the park. They work hard and they grind. You know everything is in good hands."
Opening the restaurant in the midst of a pandemic presented several challenges for the business partners, but a steady stream of customers, returnees and new ones, hasn't had any of them second-guessing their decision.
"When we were ready to open the doors, we were right in the middle of it, but we went for it," recalled Joe. "Businesses were opening, but not many. The good thing with this option is that people aren't tied to any monthly memberships. You use it as you wish. I think one of the things that we're really proud of is bringing healthy food to a place that means a lot to all of us. We love the city. And obviously, eating healthy is important, and during these times, it's more important than ever."
Ogle agrees.
"Early April, our build-out was really wrapping up, and we were getting our equipment installed. Everything was really tightening up in Madison due to the pandemic. We thought, 'Do we still open or do we hold off for a bit?' The more we talked about it, the more we realized this is something that serves a need for people who want to eat healthy, or people who struggle to eat healthy. With what's going on with COVID-19 one of the best things you can do is to strengthen your immune system and eat healthier. The restaurant has definitely taken hold here. We've got a great base of return customers."
One of those frequent faces is Nate Pavelski, Joe and Sarah's nine-year-old son.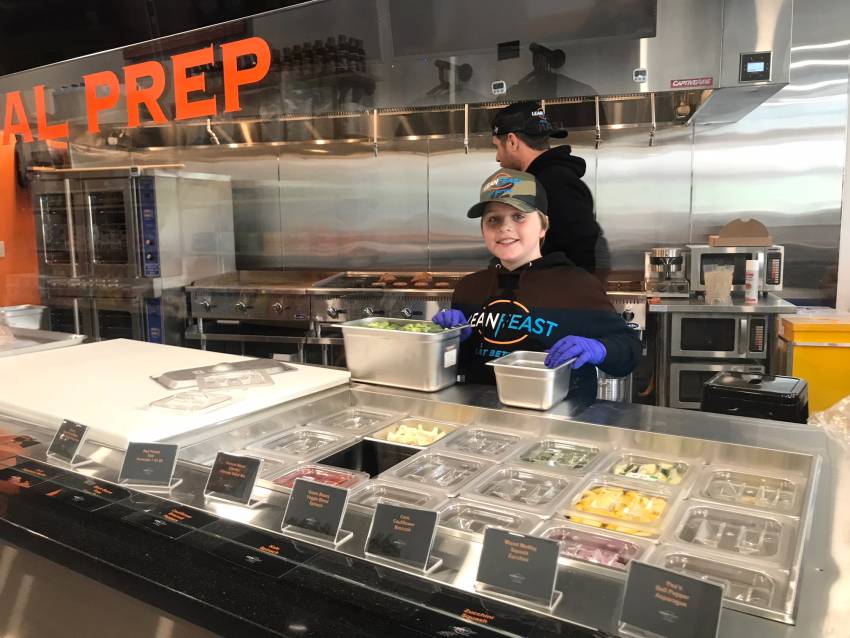 Having the chance to personalize his own meal has been a big hit for the young hockey player.
"It's really hard to cook for one adult and one child," said Sarah with a laugh. "With his activity schedule, when school is on…. it's just so nice to have that option. We go in there, he can pick out what he wants and no complaints come dinnertime for what was on the table. Your kids grow up fast and when it comes to food, they have to start making those choices for themselves. You have to teach them how to do that. This has been a good way for that to happen. It's been a great experience for all of us."
What does Joe think about adding restaurateur to his lengthy list of career accomplishments?
"Maybe not quite yet. But this has definitely been fun. I've learned a lot. I did the training, learned how to prep food, and got to see the behind-the-scenes operation of it all. It's nice to see what goes into making it work. The one thing you really do need is that team approach for making it work."
Having an all-star lineup certainly helps with that goal.