Player of the Week | Joe Pavelski
Joe Pavelski capped off a seven-point week to co-lead the league in overall scoring with his fifth NHL career hat trick as part of a Sunday night rally win for the San Jose Sharks.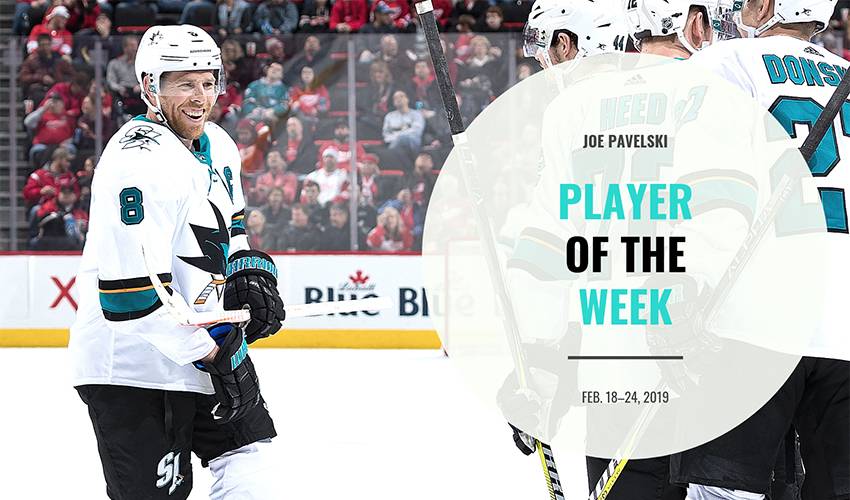 Joe Pavelski
FEB. 18-24, 2019
4-3

–

7 OVER 4 GP
SCORD 5TH NHL CAREER HAT TRICK
2 MULTI-POINT GAMES
CO-LED LEAGUE IN POINTS
---
Joe Pavelski co-led the league in points (4-3–7) over the week and currently leads his San Jose Sharks in goals (35) to find himself among the league's top goal-scorers this season.
Pavelski posted a pair of multi-point outings, and Sunday night lit the lamp for the 35th time in 2018-19 as part of his fifth NHL career hat trick, which included the game-winner.
In addition to being a natural hat trick, Pavelski's three-goal outing has extra meaning with this season's Enterprise Hat Trick Challenge, in which players receive $1,000 to donate to the charity of their choice.
LOOKING BACK

FEB. 18
1-2

–

3, 3 SOG, 21:26 TOI, GAME'S SECOND STAR
---
SJS 5
BOS 6, F/OT
Despite a three-point night which included a goal, and pair of assists on teammate Joe Thornton's hat trick, Pavelski and the Sharks kicked off the week with a point in a 6-5 overtime loss at SAP Center Monday.
Pavelski led Sharks forwards in ice time with 21:26 and posted his first multi-point outing of the week while netting his 32nd goal of the season.

FEB. 21
0-1

–

1, 2 SOG, 20:07 TOI
---
SJS 4
PIT 0
The Sharks embarked on a four-game road trip with their first stop coming in Pittsburgh Thursday night, where the team regrouped to shut out the Penguins at PPG Paints Arena in a 4-0 win and 26-save effort from Martin Jones.
Pavleski tallied an assist on teammate Tomas Hertl's second goal of the night for his 24th helper of the season while leading game forwards with 20:07 of ice time.
San Jose's head coach, Pete DeBoer, spoke postgame to reporters about the importance of starting the trip off on the right foot.
"It was a good road win for us. It was a tough building against a tough team. We haven't had a lot of success in here. So we knew it was going to be a hard-fought game and we wanted to get this critical road trip, for us, off on the right foot."
The shoe was on the other foot, however, for the Sharks Saturday as the team fell 4-0 to the Columbus Blue Jackets as Sergei Bobrovsky posted a second straight shutout for his team.

FEB. 24
3-0

–

3, NATURAL HAT TRICK, 4 SOG, 22:46 TOI, GAME'S FIRST STAR
---
SJS 5
DET 3
The Sharks captain sealed a come-from-behind 5-3 victory over the Detroit Red Wings Sunday with a natural hat trick. After scoring the game-tying goal in the middle frame on the powerplay, Pavelski scored the game-winner in the third period with an impressive redirection off a pass from Marc-Edouard Vlasic before tapping in an empty-netter.

The 34-year-old also led game forwards in ice time with 22:46.
"We didn't play well last night [Feb. 23] against Columbus, and we didn't have a good first period tonight," Pavelski said to reporters postgame. "That's why it was important for us to respond the way we did in the last two periods tonight."
Pavelski's fifth hat trick tied him with former fan-favourite Shark Patrick Marleau for the second-most in franchise history, behind Jonathan Cheechoo (9).
No. 8 finds himself among the league's top goal-scorers this season so far with 35 goals as part of 59 points.
LOOKING AHEAD
The Sharks close out their four-game road trip Tuesday against the Bruins at TD Garden (7 p.m. ET) before returning home to SAP Center to play host to the Colorado Avalanche Friday.