Maroon and family generosity connects community through food
Wanting to do something was the easy part. Knowing what it would be was a little more difficult.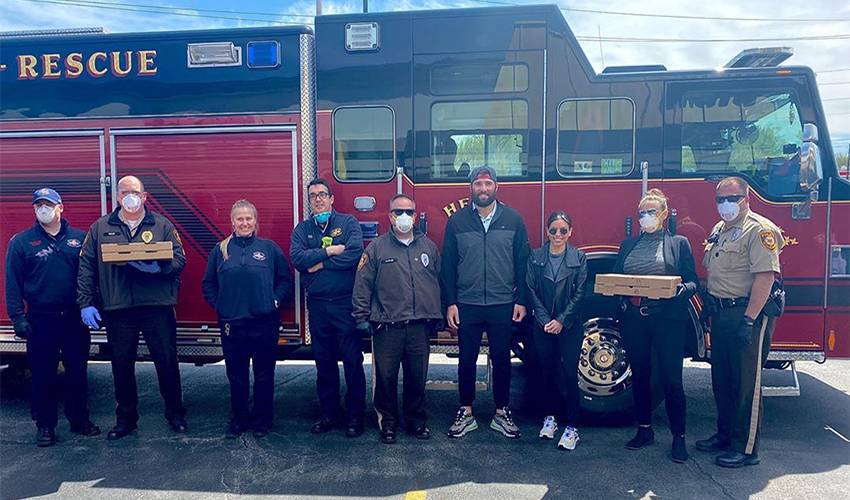 (feature photo via @stlheronetwork)
---
Patrick Maroon and his fiancée, Francesca Vangel, see their acts of kindness as a small gesture. Those on the receiving end of them likely view it much differently.
Over the past three or four weeks, amid the COVID-19 crisis, Maroon and Vangel spoke often about ways they could give back to the St. Louis-area communities the couple has a special connection to.
Wanting to do something was the easy part. Knowing what it would be was a little more difficult.
Eventually, they landed on an idea and teammed up with the St. Louis Hero Network's Feed the Front Lines initiative.
"I wanted to start with something in my hometown, Mehlville," said Maroon. "I thought it would be a nice idea to donate food (provided by Blarney Stone Bar & Grill) to firefighters and police officers. We started with the fire department and police department first, beginning in my hometown, and it worked out well. We went from my hometown to 15 minutes down the road to where I'm living now, and thought we'd donate there, too."
Visits to the Clayton fire and police departments, just as in Mehlville, were also team efforts.
Food donations for Clayton were supplied by Charlie Gitto's Downtown, a popular St. Louis restaurant that's been serving up Italian dishes for decades.
Francesca is part of the Gitto family.
"I have to tip my cap to Francesca's family, the Gittos, and to her brother, Louie Vangel," said Maroon. "The second time we donated food, in Clayton, Louie, and (38-year chef) Charlie Ritchie and the Gitto family, and Francesca's mom and dad, did a really great job organizing and preparing everything. I was just the face of it. I might get the recognition, but I'm giving them the recognition because they had their chef come in and make all the food for the Clayton fire and police departments. I'm giving them the credit for all the hard work they put into it."
It was a labour of love for everyone involved.
"We were in Tampa and then we finally got home," started Francesca. "The (downtown) restaurant is completely empty because of COVID-19. They actually closed their doors for the first time since it opened in 1974. It's been a little rough for us, but you feel bad for the employees, the people who work really hard for us, and all of the other people and businesses who have been affected by this.
"I went down to the restaurant, which is over 100 years old, and I hadn't seen our chef in so long. So, I went back to the kitchen, and there was Charlie cooking, with a big smile on his face. He was so happy be there. He was happy to make it, we were happy to see him doing what he loves, and the people we brought it to were also happy. Food really does have the power to connect people."
Maroon, who won the Stanley Cup with St. Louis in 2019 (he ate ravioli out of the iconic trophy at Charlie Gitto's Downtown), is happy to be in a position to help those in his own backyard.
It's why the 32-year-old, who signed as a free agent with Tampa Bay last August, wanted to make sure he and Francesca personally delivered the food, giving them the chance to say thank you in person.
"Everyone is going through tough times, a situation that is difficult for so many people," said the sixth-round pick of the Philadelphia Flyers in 2007. "To be able to help those on the front lines, people who are putting themselves in danger, it's good for us to be able to donate some food. It's a small way of saying thank you to the people who are doing everything in their power to keep us safe, people who are working long hours, and doing what they do in a very unselfish way."
There were a few perks to the in-person visits, including a tour of the Clayton Fire Department.
It's difficult to say who took more away from the experience.
Maroon may have also tipped his hand as to a possible post-NHL career option.
"It was unbelievable to walk around the firehouse. It's a great set-up they have there. I'd love to be a part of it one day."
Francesca, on the other hand, had a different thought in her mind when they were shown around the building.
"It's beautiful, like a mansion. I would live there if I could."
Wish lists aside, the experiences and interactions have given the couple an even bigger appreciation for the men and women who serve the community.
"We had been thinking about what we could do to help our community, and then we thought about the police and firefighters who are so good to us, to my family, to Patrick, and to everyone here," said Francesca. "That's all we wanted to do, to bring a little happiness during a strange and sad time. There's a lot of sadness and every day, you read and hear about so many negatives. We're all going through this together. And in a time of so much sadness, you really do see the good in people around the world. And that's wonderful to see. The police and firefighters don't get as much recognition as they should for what they do and the long hours they put in."
All the more reason to lend a helping a hand, offered Maroon.
"If we as hockey players can support them and our community in any way, we'll do it. What they do is a lot harder than what we do. What they do for us to keep everyone safe is unbelievable. It really is amazing what the police and firefighters do, along with so many other great frontline workers. They've been through a lot, things you can't even imagine, and yet they continue to work tirelessly throughout the pandemic. I have a lot of respect for what they do."