Maroon A Focused Hockey Dad
With the Ducks onto Round 2 Patrick Maroon uses his son as fuel for his playoff focus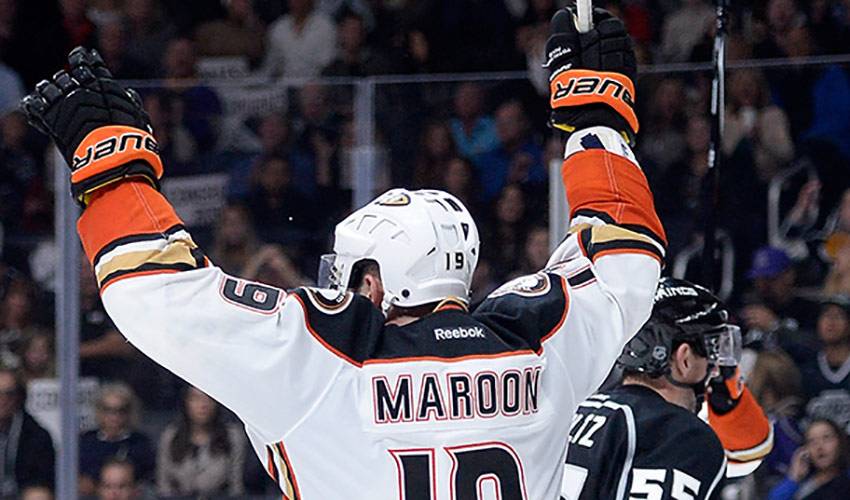 As a hockey player, Patrick Maroon is certainly deserving of the ice time he's seeing in the Stanley Cup Playoffs. As a father, the Anaheim forward is grateful for the daily opportunity to talk hockey and just about everything else with his biggest fan.
Whether it was 16:42, 17:48, 18:01 or 15:21 – how many minutes he was on the ice from Game 1 to Game 4 of Anaheim's first-round sweep of the Winnipeg Jets – Maroon made his presence known.
The 27-year-old hardly looked out of place skating alongside the superstar pairing of Corey Perry and Ryan Getzlaf. For his part, Maroon had one goal, three points, and a plus-two rating in the Ducks' Western Conference quarterfinal triumph.
"I can tell you that's a very tough and very strong team we played," said Maroon. "You feel happy to win, but that's out of our minds now. We had a good talk at practice (April 24) and we talked about what we had to do to get better. We need to stay focused. But, it really is a great feeling to be moving on."
That's one of first things the left-winger shared with his six-year-old son, Anthony, when the two connected for their daily FaceTime conversation.
"He's back in St. Louis (Maroon's hometown), so we take to FaceTime to keep in touch," noted the former 161st overall pick in the 2007 NHL Entry Draft. "That really keeps me busy. We talk about school, hockey, baseball, whatever he happens to be up to. It's tough being far apart, but being able to chat with him every day is pretty great."
One thing Anthony, who was in the stands to see his dad's first NHL goal (February 16, 2013, in Nashville), won't hear from his father is any trace of conceit.
"Playoff hockey, it's all about staying focused and understanding that things only get tougher as you go on," said Maroon. "You just can't really get caught up in anything. You have to be better. You have to always do a little bit extra."
But, as Maroon acknowledged, with extra effort, there is more chance mistakes will be made.
Not a problem.
"We're human," said Maroon, who won gold with the U.S. men's national inline hockey team in 2010. "Throughout the course of a game, you aren't going to be perfect. But, you can't go out there thinking about mistakes. And you can't hang your head if it happens. All you can do is bounce back, go out there and have a great shift. You look at some of the stars we have on our team. If they miss an open net, you know the next time they are on the ice they are going to be at their best."
The next challenge that awaits the Ducks in their Stanley Cup quest comes in the form of the Calgary Flames, a spirited group that ousted Vancouver in six games in the first round.
Maroon hopes he'll have plenty of good news to share with his son in the coming days.
"I always look forward to those FaceTime conversations," he said. "It doesn't really matter what we talk about it. It's just that we do get the chance to connect and talk about what's going on in both our lives."
A win-win no matter what the scoresheet might say.