'We did it!' – hometown hero Pat Maroon reflects on winning it all
As Patrick and Anthony Maroon got close enough to hear one another over the still-roaring crowd, father and son both uttered the same words.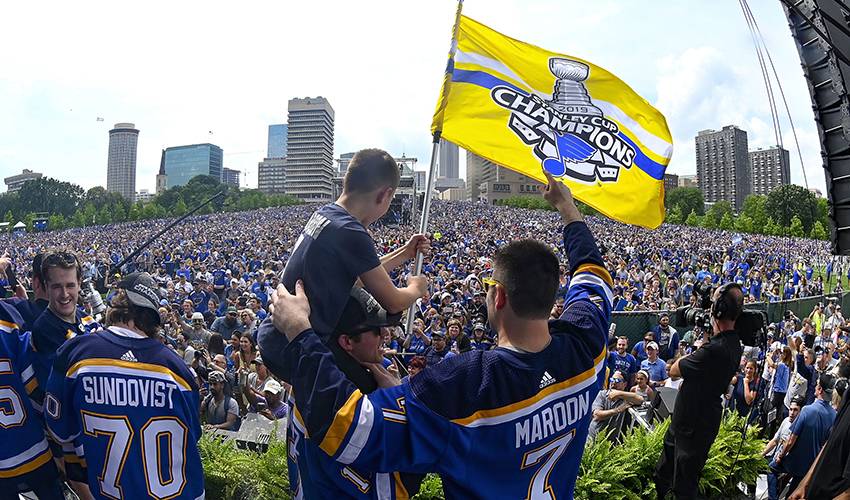 As Patrick and Anthony Maroon got close enough to hear one another over the still-roaring crowd, father and son both uttered the same words.
In the moments after the St. Louis Blues had just won its first Stanley Cup, Patrick, the 31-year-old St. Louis native, sought out his 10-year-old son to celebrate the milestone moment.
And when the pair finally embraced at TD Garden, it was equal parts cheers and tears.
"I remember when I first saw him walking on the ice, making his way over to me, I looked at him and said, 'We did it! We did it!" recalled Maroon. "Just all the memories of us together, me being from the city, winning it on home ice, being part of his life, going to his games… to live out the dream of playing your hometown team and have your son in the stands watching you win the Cup, it's truly amazing."
Anthony felt the same way.
"He just looked me right in the eye and said, 'We did it!' That was a very special moment, having him there to share that whole experience."
Maroon also had another heartwarming moment earlier in the playoffs. The forward received a congratulatory hug from actor and fellow St. Louis native Jon Hamm after Maroon netted the double overtime winner against Dallas in Game 7 of the teams' Western Conference semifinal series.
The star of Mad Men is a major Blues fan.
"He's a great guy," said Maroon. "It's good that he comes around, to be part of the team, and just talking to the guys. I know [St. Louis forward] Alex Steen is really close with him. Having him to come to the games and support us, that means a lot to the players."
So too does the response of the fans.
The city is still abuzz after the 4-1 Game 7 victory and subsequent Cup parade.
"People want to talk and tell you how long they have been waiting for this moment. It's cool listen to people and how long they've been following the team. This is the best moment of my life when it comes to sports, so it's great to see everyone so happy."
Two weeks after Maroon and his teammates took turns hoisting hockey's fabled silver cup, he's still having a tough time wrapping his head around it all. It's something teammate Ryan O'Reilly also talked about in a recent chat with NHLPA.com.
"No, it really hasn't sunk in," said the left wing, just 51 games shy of 500 for his NHL career. "You're on the go and there's so much going on, you don't really have time to sit down and think about it. It will probably sink in when you have your day with the Cup, sitting there with your family and really taking it all in."
For now, each morning has been the best reminder of the achievement.
"It's cool," said Maroon. "You wake up and you tell yourself, 'We're Stanley Cup Champions.' You really can't believe it, but you keep saying, 'We're champs. We're champs.' It's a cool feeling waking up like that."
The six-foot-three, 225-pounder knows there are more of those times to come.
It's a safe bet that when it does happen, a proud father and his son will likely utter the same words they did on the night of June 12.
"When we get to the Hockey Hall of Fame and we see my name across the Cup, to see his face and to share that moment, I know it's going to be very special."
As for the thought of working alongside Hamm in a TV series or feature film, Maroon likes the idea. A lot.
"If we can get the word out there, that would be great. I'd love to do that. I think I could have a good acting career."