Never Alone: NHLPA members offer virtual support to young people
Kids Help Phone is just a phone call, text or click away. That's one of the messages Phillip Danault, Mitch Marner and Tyler Motte want to share with those dealing with the COVID-19 pandemic.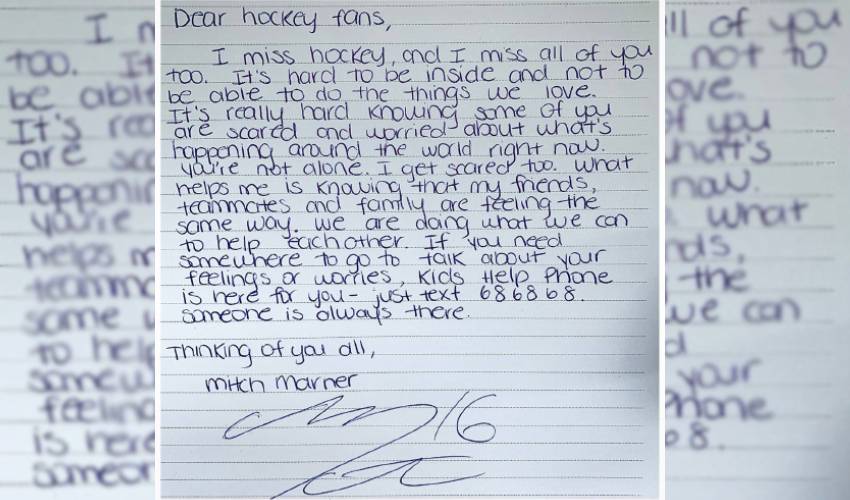 Young people can visit KidsHelpPhone.ca/COVID19 for tips, tools and resources during the coronavirus outbreak.
Youth can also text Kids Help Phone for support at 686868.
---
Help is just a phone call, text or click away. That's one of the messages Phillip Danault, Mitch Marner and Tyler Motte want to share with young people during the coronavirus pandemic.
In a time of shutdowns, self-isolation and physical distancing, it's understandable that many people, including kids, are struggling to cope.
Hockey players are no different.
With the NHL and other sports leagues on pause due to the COVID-19 pandemic, players have taken to social media to share their own struggles while also offering encouraging words to hockey fans across the world.
Although the words differ from player to player, the message is always the same: we're in this together.
Closing in on 200 NHL career games, the majority of them having been played with the Vancouver Canucks, Motte headed back to his home state of Michigan after the league announced March 12 the 2019-20 regular season had been temporarily suspended.
Kids Help Phone is Canada's only 24/7 national service offering professional counselling, information, referrals and volunteer-led text-based support for young people. Kids Help Phone's free, confidential services are available in both English and French. Young people can visit KidsHelpPhone.ca/COVID19 for tips, tools and resources during the coronavirus outbreak.
Youth can also text Kids Help Phone for support at 686868.
"I think we're all feeling a little alone, but feeling alone, especially at times like this, is normal for just about everyone," said Motte, who was traded to the Vancouver Canucks from Columbus in February 2018. "It affects each individual in a different way, but understanding we do have resources like Kids Help Phone, there are these resources if we are ever feeling uneasy about something."
A mental health advocate, Motte came forward this season to share his story about being diagnosed with anxiety and depression. He checked in with fans back in March, providing an important message to fans about staying mentally balanced and being sure to check in on one another.
"If you just want another voice outside of your family or quarantine mates to have a conversation with, it's okay to feel that way. No one is alone in this, whether it's anxiety, depression or anything related to this virus – we're all fighting different fights, but at this point time, we're lucky to be fighting this together."
Living with his parents, both schoolteachers, and brother (C.J., a goaltender who plays for the Coventry Blaze of the Elite Ice Hockey League), Motte has been jotting down things he'd like to learn before everyday life returns to normal.
When hockey action gets underway again, he'll have a new talent to share with his teammates.
"Anything that keeps the body and mind active is great. I made a small list of skills or things I'd like to try and develop. One of the things on my list is juggling. I didn't know how to do that before, but I know a lot of teammates that do. So, I watched a few YouTube videos, picked up a few hacky sacks – I wouldn't say I'm great at it – but it was something fun to do, to work on for 20 minutes to an hour every couple of days. Here I am, a half-juggler at this point. Those little things we can find to be productive – it might not seem like a big thing that will help us – it can help keep us in the right growth mindset."
Motte also suggests using electronics not only for games, music and movies, but also as a tool to check in with friends.
"Things are continuously changing and technology is becoming more and more instilled in our young people. And it's okay to have those resources and use those resources. But there's a need to understand that it's not just there to buy up time by playing video games. There are ways that we can continue to learn more, to help each other, to stay in contact with one another, and support each other during this time. Our young people are great that way. If we can use it in a positive way, I believe we can help each other tremendously."
Inspired by kids who have been sharing letters of support via social media, the 22-year-old Marner recently penned his own letter for Kids Help Phone.
He signed off the hand-written note with, 'Thinking of you all…'
"These are tough times for a lot of people," started Marner. "I think it's very important for kids to realize they're not alone. There is always someone you can talk to. I think a lot of kids are missing their friends, and not being able to hang out – going to birthday parties, going to the park, things like that. I hope kids realize they are never alone, and any fight they are fighting, there's someone there for you when you need it."
The fourth overall pick in the 2015 NHL Draft has been keeping in touch with his family, friends and teammates throughout the pandemic.
"I've been spending a lot of time with my girlfriend, and my dog," said Marner. "I've been playing a lot of video games, we've been cooking, playing a lot of board games, and also doing FaceTime with family as much as possible, to stay in touch with them during this time. This is a great time to be with your family, and to enjoy each other's company. It's something I think I took a little bit for granted at a younger age. Now, any time I get to hang out with my parents or my girlfriend's parents – I'm sure it's the same for her – we really look forward to that."
Stepping up his culinary game has become a welcome new challenge for Marner.
When he's not testing his skills in the kitchen, No. 16 has come up with a way to keep connected to hockey fans around the world.
"Cooking has been a lot of fun for us. I cooked on a speducci barbecue, and I made some lamb. That's something new that I've done. It was pretty easy, but it was fun to learn. Activity-wise, I've started up on Twitch, and streamed it for people to watch. It's been a nice way to interact with fans."
Phillip and Marie-Pierre Danault, along with their young son, Phillip-Édouard, are making the most of the current situation by connecting as a family.
"We've been feeling very bad for people who are going through such a difficult time," said Phillip, who along with Marie-Pierre, collaborated with a Quebec-based organization to help combat bullying, violence and discrimination against elementary and secondary school children.
"I was gone for most of the year, and I feel as though I lost some time spent with my family, so it's been nice to have that time together. It definitely feels good to do different things than what you are normally used to. Even if it is something simple, finding new and fun things to do is a great way to spend your time. There are a lot of pressures on everyone, including young people, so to be able to find new things to take your mind off what's happening, even if it is for a little while, is something that's important.
"And just remember that we are all in this together, and you are not alone. People care about you. We need to stick together, to try and stay positive – and we will get through this. When this is over, we will all enjoy doing the things we love more than we ever have. Hang in there and stay positive."
It's a sentiment echoed by Marie-Pierre.
"Life goes by so fast, and this is a time where we can slow down and appreciate the important things even more," she noted. "When you wake up in the morning, realize you are with your parents and loved ones, you can think about things like, 'Can we play games together today?', 'Can we watch a movie together?' It's a chance to do things together that we didn't have the time to do before."
Whether it's reaching out to speak with someone, supporting young ones in your life, getting all the facts on COVID-19, or nurturing mental, physical, emotional and spiritual health, Kids Help Phone can be a teammate for young people and parents to turn to, 24/7.
"You are never alone with this," said Marner. "You are never alone through your fight. There is always someone on the other end of the phone that you can talk to. Don't be afraid to come out and tell someone if you have any kind of problem or issues. You were put in this world to be something special. Don't be afraid to talk to someone if you aren't feeling that way. Someone will answer that phone and help you."
---
For more on Kids Help Phone, visit www.kidshelpphone.ca.