Motte brothers maintain strong bond across pond
What's a controversial amongst brothers? For Tyler and C.J. Motte, it's about good-natured ribbing and a laugh or two.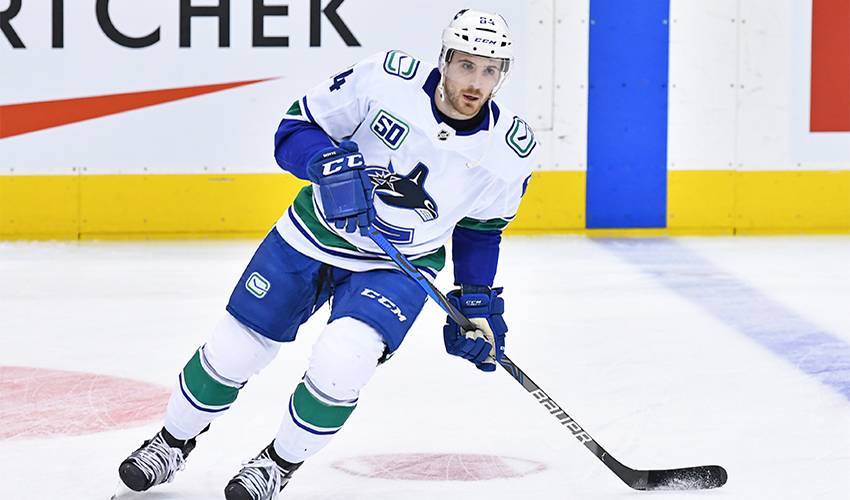 Feature photo: Getty Images
---
What's a controversial call amongst brothers? For Tyler and C.J. Motte, it's about good-natured ribbing and a laugh or two.
By their estimation, each sibling has gotten the better of the other on hundreds, if not thousands, of occasions over the years.
Whether it was in the basement at their Michigan family home – C.J. as the goalie, Tyler as the forward – or on shared ice during their collegiate and minor hockey days, the brothers eventually became quite familiar with the other's tendencies.
Although they don't face-off against one another any more, Tyler, patrolling centre for the NHL's Vancouver Canucks and C.J., between the pipes for the EIHL's Coventry Blaze, remain huge supporters of one another.
"They [Vancouver] play the game fast and they play the game the right way," said C.J., who had a huge role in helping Coventry go on a major winning streak before COVID-19 shut down the 2019-20 EIHL season. "It's good to see that and it's good to see him grow into the player he's become. To see him progress, it's been a pleasure to see your brother get out there, seize his opportunities and play well."
Tyler Motte hounding Alex Pietrangelo over 200 feet of ice and getting under his skin. Tremendous series for him through two games.

—

Thomas Drance (@ThomasDrance) August 15, 2020
Tyler, drafted 121st overall by Chicago in 2013, returns the compliment.
It's not surprising why he would.
Sporting an impressive 2.52 goals-against average, C.J. recorded 15 wins in 24 Elite League games in 2019-20, including a streak of 17 consecutive games without losing, before the season was prematurely halted.
Before joining the Blaze last season – he's returning for 2020-21 – the 28-year-old spent time in Austria with HC Innsbruck. Before moving to Europe, he made over 200 appearances in the ECHL and AHL.
"I'm really proud of my brother," said Tyler, 25. "He's a hard-working person and he gives everything he has for his teammates. He loves the game and he puts in the work every day."
But there is that goal.
It came in the 2014-15 U.S. collegiate hockey season when Tyler and the Michigan Wolverines met C.J. and the Ferris State Bulldogs.
"He got one past me," recalled C.J, who, like Tyler in 2016, was a Top 10 finalist for the Hobey Baker Award in 2014. "It was more of his teammate [current Colorado Avalanche forward J.T. Compher] driving the net and kind of knocking me over. Tyler put in the rebound. They reviewed the goal and they counted it as a good goal. I wasn't happy with it, but it happens."
It was the man between the pipes who would come out on top, however, as the Bulldogs bested the Wolverines 4-3.
December 11, 2013 – the first time the brothers played against one another – C.J. turned aside his younger brother's shot in the opening round of a shootout, but the Wolverines prevailed in the seventh round for a 3-2 win.
"We'll go back-and-forth about the times we've played one another, just friendly little jabs here and there," offered Tyler. "It's kind of funny how it worked out, me being a forward and him being a goalie."
Said C.J., "He's a shooter, so he has to shoot. I'm a goalie, and I have to save it. It's all about doing our jobs. We have to have confidence in what we do."
They've met up other times along stops on their respective hockey careers, but regardless of the final score – and now playing the game thousands of miles apart – the duo continue to maintain a strong bond, including throughout the current Stanley Cup Playoffs.
And when they do talk, hockey isn't always the main topic of conversation.
"He's been busy, so I try to let him focus on the playoffs," said C.J. "But when we do chat, we have a similar business mindset, so we talk about real estate stuff, eventually maybe investing some money in that, along with other business ideas he might have. We hit it off well on hockey and on those ideas too."
Despite the intensity and grind of NHL playoff hockey, Tyler finds a few minutes to call his family, and his girlfriend, on a regular basis.
"I'm trying to do my best to keep in touch with everyone. FaceTime really helps. So, that's been a good way to see how everyone is doing."
"I really enjoy watching him play," said C.J. "He battles all the time and competes. Whether it's on the wall or on the PK, blocking a shot – he brings a great energy to the team and that can really fire a team up. A goal can get a team fired up, but sometimes a blocked shot can have the same effect."
With 16 blocked shots to his name so far this postseason, Tyler's contributions to the category were especially on full display in his club's qualifiying series August 6 against the Minnesota Wild, when the forward made seven blocked shots to establish a Canucks playoffs record (in regulation time).

Admittedly, for both, it wasn't always mutual admiration and peace and love when they brothers were growing up.
Especially when it came to hockey.
"For the most part, yes," recalled C.J. "Once in a while, we may have a disagreement. We might, at times, have strong opinions on something, but at the end of the day, we agree to disagree, and move on. But, him as a forward and me as a goalie, there was a big difference there and it could get competitive when we were younger. In the basement, our dad painted a hockey rink on the floor, so we spent many hours playing down there. I'd be lying if I said there weren't some arguments about goals or saves, but it was always brotherly love."
And it still very much is.
"We like to talk hockey, but we like to keep our connection in other ways," said Tyler. "Whether it's business, real estate, hobbies – things we both enjoy – we are really lucky to share a lot of similar interests."