On and off the ice, it's all coming together for Tyler Motte
From sharing his own personal experience with mental health issues to earning high praise for his post-season play on the ice, Tyler Motte has found himself in a good place.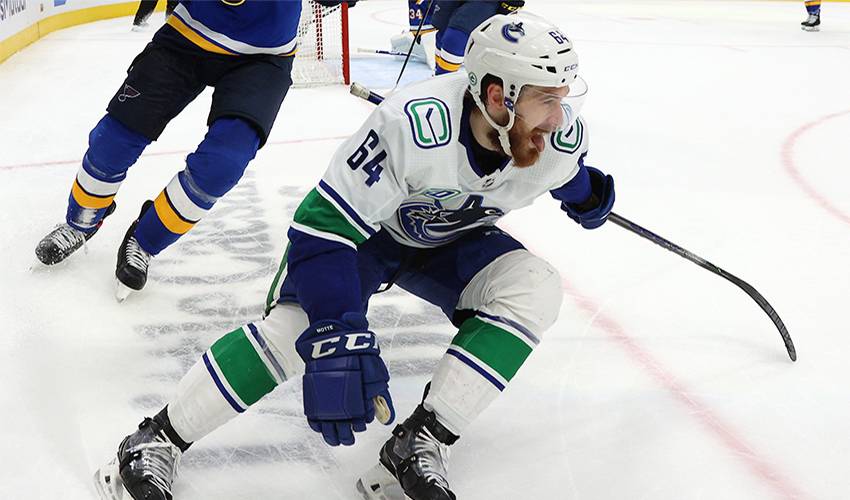 Feature photo: Getty Images
---
The enthusiasm in Tyler Motte's voice is unmistakable.
In his car on the way to his daily training session, the 25-year-old forward is cognizant of the good place he's found himself in, literally and figuratively.
On the ice, he contributed to an upstart 2019-20 Vancouver Canucks squad that topped the Minnesota Wild in the qualifying round, bested the 2019 Stanley Cup champion St. Louis Blues in six games in the opening round, and took the Vegas Golden Knights to seven games in the Western Conference semifinals.
For his part, Motte earned high marks and high praise for his post-season play. In 17 games, he averaged 15:17 of ice time, scored four goals, dished out 61 hits, blocked 24 shots, recorded 17 takeaways, and was a sparkplug when the Canucks were shorthanded.
A fourth-round (121st overall) pick of Chicago, Motte, who played in 33 regular season games with the Blackhawks, was dealt to Columbus on June 23, 2017. Eight months and 31 regular season games later he was on the move again, traded to the Canucks on February 26, 2018.
The change in uniform turned out to be an ideal change for Motte.
"It's obviously a different off-season than we're used to, but all things considered, everything's really good," the Michigan-born centre told NHLPA.com. "In terms of hockey, I feel right at home with this group of players, I really do. It was a little bit of a winding road for a few years, but I've settled in. I love the group of guys, the organization and the staff. I feel comfortable and it's really starting to come together for me, personally. Everything about being part of this team just feels right. I was given an opportunity when I came to Vancouver, and I want to make the most of it. It's nice to have that sense of stability and peace of mind. That counts for a lot."
Motte would know.
The 5-foot-10, 192-pounder, who has shared his personal battle with mental health issues, is modest when it comes to the impact he's had on others. People from all walks of life have been touched by his openness and candor talking about his struggles with anxiety and depression.
Whether it's offering support, helping point young people to important resources like Kids Help Phone, or connecting with fans through a video to deliver a message about staying mentally balanced and checking in on one another, Motte has embraced his role as a mental health advocate.
He also has a message of encouraging words during Mental Illness Awareness Week.
"With this being a week dedicated to mental health, I would want people to know that it's okay to not be okay. That's the first thing I'd like to say. Everyone has their ups and downs, and everyone is dealing with their own pain and suffering – I would hope that anyone who feels they need help is confident enough to go out and seek it. I know that was a big first step for me and it was not an easy one. If you're in that situation, don't be afraid to reach out. Asking for help isn't a sign of weakness… it's sign of strength. Hopefully, we can all be there for each other and help each other in a positive way."
Family, friends, teammates, fans – Motte has had widespread support since taking his own story public.
Getting help has been a game-changer, on and off the ice, for the man playing the best hockey of his life.
He's excited to see what's in store for the Canucks and himself in 2020-21.
"It was a good [playoff] run and I think we learned a lot from it. It takes some time to be able to get the point of reflecting once you get past the disappointment of it. When you do, you get a smile on your face."
He's already hit the ice and gym to get in shape for the new season. He's also spending quality time with his family, and his girlfriend's family.
Watching TV, movies, and reading has also been part of his off-season world.
"I'm trying to do some more reading than I usually do. You're spending a lot more time in the house, so you look at ways to keep busy when you're not training. I'm reading "The Talent Code," and "Trillion Dollar Coach" that I'm slowly making my way through. I'm not a big reader, so any time I get a chapter in is a win for me.
"I played a little bit of Xbox when we were in the bubble, but I haven't done a ton of that since I've been home. I've been watching a lot of shows. My family and I went through Succession, and now we're watching Schitt's Creek. We're enjoying it."
Juggling, which he took up when the pandemic temporarily halted the 2019-2020 NHL season in April, is still a work in progress.
"Perfecting it is an ongoing thing. I would not say I'm there yet, but it's something I fall back on every now and again. I've got a few tennis balls lying around. Other than that, I'm just keeping busy and keeping my mind going. It's about keeping everything you have in shape, especially your mind. You want to be at your best, in every way, when the puck drops on the new season."
When it does, Motte sees good things ahead for the Canucks and their fan base.
"For me, personally, and I know for a lot of the younger guys, we got some valuable experience, we're learning what it takes to win, and I think you saw a lot of growth and character from our group that we're going to need moving forward. That's what we'll need to take more runs at it, and that's all we want to do. We want to put ourselves in a position to make the playoffs and we have the group here to make some deep runs. As we develop, we'll make those runs longer and longer."
Having the multi-talented Motte in the fold will no doubt help their cause.
The former U.S. National Team member is dialed-in on being ready to go when the new season starts.
"Our group is exciting. There are times during the off-season when you're kind of on the honour system a bit, to do your part, to continue to develop your game your game, to grow and come back next year in better shape and a better player. I think our group has that understanding. Getting through skates and workouts is fun when you're excited to be at the rink and excited to get back at it next season. I'm looking forward to being back in Vancouver."
To a team and a place where Motte feels right at home.