Marner, NHLPA Goals & Dreams further youth hockey
Considering everything the game has provided him, Mitch Marner never took playing hockey for granted.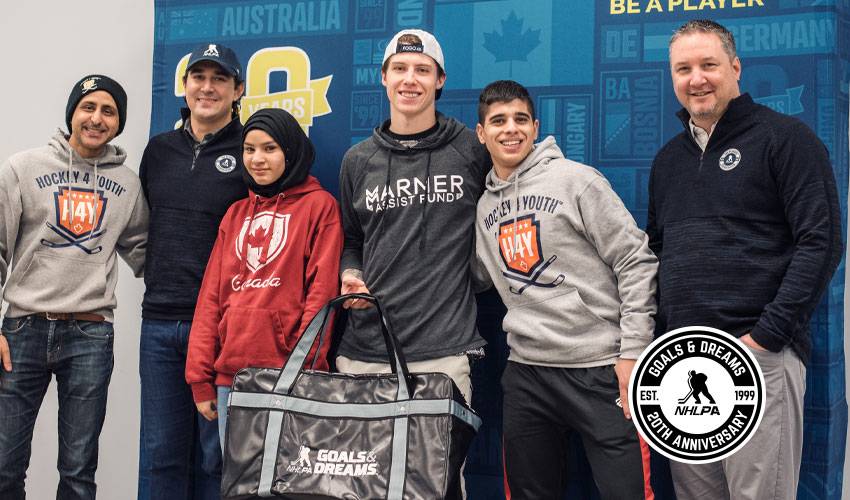 Considering everything the game has provided him, Mitch Marner never took playing hockey for granted.
That is why the Toronto Maple Leafs star forward is driven to provide the same opportunity for youth through the Marner Assist Fund.
With the help of the NHLPA's Goals & Dreams program, Marner hosted students at Ford Performance Centre and donated 25 sets of equipment to the Hockey 4 Youth program. Students also took part in an on-ice session at the Maple Leafs' practice facility, getting the chance to work on their skills with the help of Mitch's brother, Chris, as well as former NHL defenceman and NHLPA Divisional Player Rep, Chris Campoli.
Joining the students from Hockey 4 Youth were members of the JCY Rez Girls 64 Wolves hockey team from Ontario's Eabametoong First Nation, who made long the trip from Fort Hope, Ontario, which is a remote fly-in community roughly 350 km north of Thunder Bay, Ontario. The group were Marner's guests at the Maple Leafs game against the Calgary Flames January 16 and got the chance to visit he Hockey Hall of Fame.
As profiled Saturday during the broadcast of Scotiabank Hockey Day in Canada, NHLPA Goals & Dreams and the Marner Assist Fund also donated 25 sets of hockey equipment to the JCY Rez Girls 64 Wolves team, which is a team that consists of girls aged 10-13 years old who attend John C. Yesno Education Centre.

The Hockey 4 Youth program started as a pilot project to provide new Canadians and at-risk youth with a chance to play Canada's game. Close to 90 percent of the more than 295 participants had never skated before taking part in one of the five hockey programs offered for free to everyone who joins through one of the partnering high schools – John F. Kennedy High School, Lester B. Pearson Collegiate, Central Technical School, Jarvis Collegiate Institute and North Albion Collegiate Institute.
When Moezine Hasham started the program in 2015, he wanted to ensure the lessons the students were learning on the ice extended to their daily lives. As Hockey 4 Youth mentions on their website, citing the Institute for Canadian Citizenship, 71 percent of new Canadians express interest in playing hockey – but only one percent will get that opportunity.
"We wanted to provide them with that opportunity to feel socially included and what better way than to actually play the game of hockey and learn how to skate?" Moezine said. "We have six months of winter; that's where you want kids to feel included plus you want them to feel active. It also helps with their English literacy. So, it's a win all the way around."
For Khaled Almouktaran, who immigrated to Canada in 2016 from Syria, learning how to play hockey provided him with an escape from the stress he was going through and eventually helped him land a job with the City of Toronto.
When Marner surprised the group with an appearance, following a pizza lunch at the rink for the group, Almouktaran was in disbelief because he never thought he would ever get a chance to meet a player he idolizes.
"Seeing Marner inspires me because even though I'm not able to play or do things like he can, he showed me how important it is to give back to the community," Almouktaran said. "Every time I leave the arena, I start counting the days for when I'm going to be back. Hockey has taught me how to do more than just shoot and skate. It has allowed me to improve my language skills and reminds me to be respectful to others."
For the JCY Rez Girls 64 Wolves team, started three years ago and free to all girls who wish to participate, the program is run by staff who volunteer their time to coach and mentor the girls.
The team received funding from the Marner Assist Fund last year to help put in a concrete floor so the community could have a consistent sheet of ice.
Allison Norman, the Wolves' general manager, appreciates the fact that the girls get a chance to experience something that's not easily accessible to them. She also believes that seeing female coaches like Hayley Wickenheiser and Barb Underhill on the Maple Leafs' staff was an eye-opener for her players.
"It's just an opportunity for them to obviously leave the community, see another part of Ontario [and] another part of Canada that they don't necessarily have an opportunity to do very often," Norman said. "I told them, 'Hey, that's a job you can do. You can become a skating coach someday. You don't have to be a player, you can have an impact through hockey, regardless of whether you're male or female.'"
Since 1999, NHLPA members have been donating equipment to programs in their NHL cities and hometowns around the world. To date, more than 80,000 children have been afforded the chance to play hockey in 34 countries. In that time, the NHLPA Goals &Dreams program has donated more than $25 million to help grow the game of hockey.
Through his experience with NHLPA Goals & Dreams, Campoli understands the type of impact meeting a player of Marner's calibre can have because the students get to see firsthand what makes Marner the player he is.
"It's great for the kids to be around Mitch because he has that positive influence on their lives and for one minute, they're meeting a star of today, somebody who they could look up to see on TV," said Campoli. "He's talking to them about core principles around playing a game while giving back to the community. It's pretty cool that all of them have this opportunity and that's what this is all about."
Inspired by the visits to the Children's Hospital at London Health Sciences Centre during his time with the London Knights, Marner always had the desire to start a charitable organization. In 2018, he created the Marner Assist Fund with the goal of creating "sustainable change for children and youth by providing resources that will make a significant impact on their futures."
Looking back at how everything came together quickly and seeing how many lives have been impacted, Marner is encouraged by both what the Marner Assist Fund has accomplished and its potential.
"I think it's bigger than what we thought it would be right now," Marner told NHLPA.com. "I think we've raised a lot more money than what we thought we would have done, which is unbelievable. We're so happy with that and the number of people that have donated and helped out to make a difference."
Over the years, the Marner Assist Fund has assisted various charities like the SickKids Foundation, Canadian Tire's Jumpstart Foundation and the Muskoka Woods Youth Foundation with funds raised by various sponsors as well as proceeds from the Marner All-Star Invitational.
Despite having to deal with a demanding schedule as an NHL player, Marner says being able to give his time is important because he wants to show kids that anyone can make a difference.
"Hopefully we can help them understand that if they really want to do something and put their minds to it and work hard, they can accomplish whatever they want," Marner said. "The NHLPA did a great job top-down... giving these kids the equipment, we're hoping to jumpstart them by seizing that moment. Hopefully, in the end, they accomplish their dream but also realize that if they have a chance to change the world then they shouldn't be afraid to do it."