Inaugural Marner All-Star Invitational set to make a difference
On the ice, Mitch Marner wants to be a player his teammates can count on. Off the ice, the right wing wants to be a person kids look up to.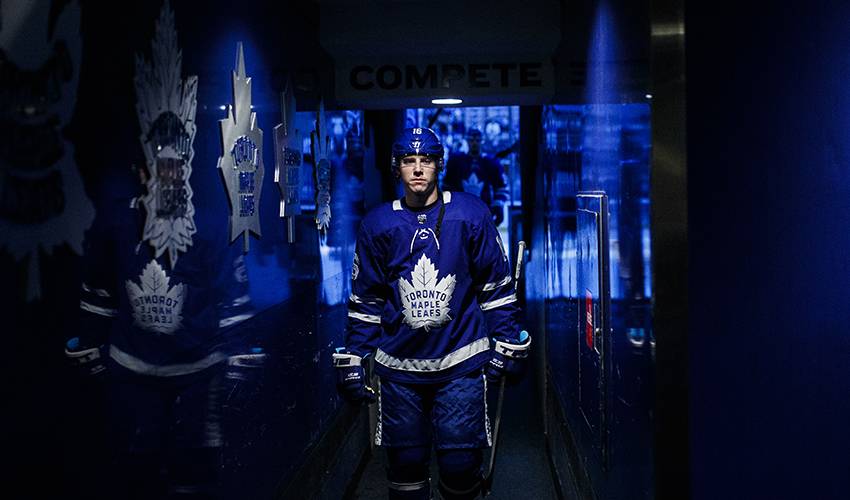 On the ice, Mitch Marner wants to be a player his teammates can count on. Off the ice, the right wing wants to be a person kids look up to. The 21-year-old, who recently launched his own charitable program, has undoubtedly succeeded in both.
Established this year, the Marner Assist Fund's aim is 'to create sustainable change for children and youth by providing resources that will make a significant impact on their futures.'
It was something the Toronto Maple Leafs forward had wanted to do for a long time, a thought that initially came to him during his Ontario Hockey League days playing with the London Knights.
"I've had the idea of doing this for a while," Marner told NHLPA.com. "In London, we visited children's hospitals quite a bit and every time you went, you saw how much it meant to those kids. I knew right then that I wanted to someday start my own charity fund and now it's up and running."
The first major event for the fund, which grants support in the areas of children's social care, health and education, comes in the form of the Marner All-Star Invitational on July 26-27 in Vaughan, Ontario.
The event includes a Draft Night Party, team competition, and a showcase of all the participating NHLers' skills.
"I'm really excited to be able to meet the people who have donated to this and to get out on the ice and have some fun with the people who have donated," offered Marner. "I want it to be fun for every single person and that's what were aiming for."
Marner will be joined by several fellow NHL players, a roster that includes several current and former teammates. Auston Matthews, James Van Riemsdyk, Connor Brown, Matt Martin and Zach Hyman are all scheduled to attend.
Women's hockey standouts, including Olympic gold medalist Natalie Spooner, will also be participating.
"I was really excited when I got the invitation," said Spooner, who won Olympic gold with Team Canada in 2014 and a silver medal in 2018. "Any time it's a charity that helps kids, I want to be involved. When I was little, I thought I was going to play in the NHL. Growing up, I got to meet Jennifer Botterill and Geraldine Heaney, saw their medals and it sparked my dream to pursue hockey. I think it's important for kids to have these role models, to meet them and to see that it's something you can attain. I'm really looking forward to this and I think it's going to be a lot of fun."
The 27-year-old forward, who was named captain of the CWHL's Toronto Furies in 2016, is appreciative of the bond between NHL players and women's hockey.
"Getting to know some of the guys and having the connection between the Toronto Furies and Toronto Maple Leafs is something special," said Spooner. "I'm really looking forward to meeting the other players and having a great time at the event."
So, too, is Marner.
"My support team has been amazing," said Marner, who won the Memorial Cup with the Knights in 2016. "They did a great job on everything and getting the word out to everyone. For me, it's about bringing in people that want to help out and we're lucky because we have a lot of great players coming to the event.
"We're really fortunate to have these players coming out to support this. I just wanted to make this event the best it could be. I don't think the women get as much credit as they should for what they bring to the game. I thought this would be a great time to have them come out and have people meet them."
The most important part of the event for Marner, who was selected fourth overall by Toronto in 2015, is in knowing the money raised will help make a difference in children's lives.
"What some kids have to fight through every day is unbelievably tough," he said. "When you see what they have to endure and how it impacts their lives, it puts everything in perspective. But when you see those smiles, you want to make sure they never lose that. That's why we're doing what we do – to help raise money for kids that need it. The impact I can try and make on these kids' lives – that's very important to me. When you do get meet those kids and see a smile on their face, it brightens your day no matter how you are feeling. You want to be a person kids look up to.
"There are also a lot of underprivileged kids who don't get to play hockey because of the expense. That's another I want to do, to help those kids get into hockey because you never know how good you can be until you get that chance to get on the ice. I just want to help people out and make sure we're sticking up for one another."
It was something Marner valued long before he took his first NHL shift.
"There are so many things going on in this world and we have to take care of each other," he said. "Sometimes we forget that we're all in this world together and some people go through things that not a lot of people know of. I want to see the money go into research where they can help fix these things that kids battle through in life."