Jack Campbell – nicest guy in the NHL?
What's there to like about Jack Campbell? Pretty much everything, according to his teammates.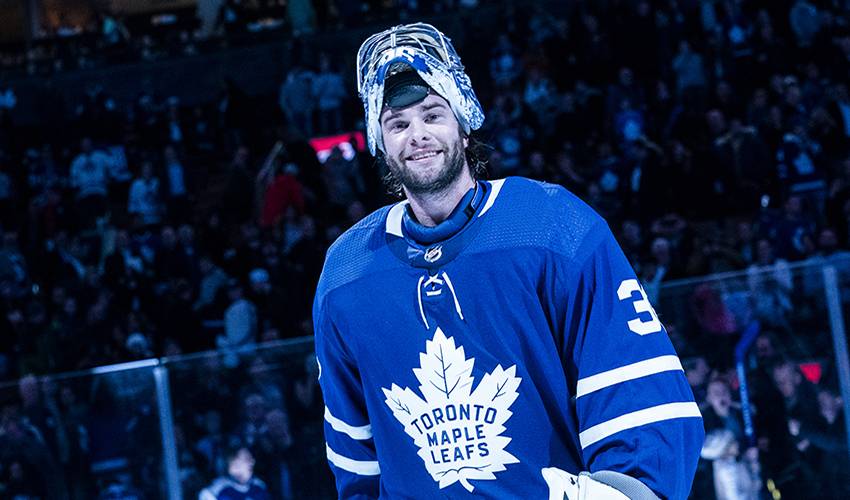 What's there to like about Jack Campbell? Pretty much everything, according to his teammates.
Sure, Mitch Marner and Zach Hyman are biased.
Although he's been with the Maple Leafs just over a month, the 29-year-old Campbell, traded to Toronto from Los Angeles in February, has already earned five-star reviews from his new teammates.
"I would say his attitude and work ethic," offered Hyman, as to the first thing that comes to mind with Campbell. "Every day, he comes in with a positive attitude and is always putting in extra work to work on his own game, but also to help his teammates."
Genuine is a term often used to describe the Michigan native. It's one of many complimentary terms his teammates, past and present, trot out when his name is mentioned.
From tapping players' shin pads after a play stoppage, to regularly commenting on their social media posts, Campbell's positive energy hasn't gone unnoticed.
"He really puts everyone before himself, and he takes care of others," said Marner.
That's always been Campbell's way, even during the difficult times throughout his career.
Drafted 11th overall (he was the first goaltender selected) by the Dallas Stars in 2010, Campbell spent sevens in the Stars organization, appearing in one game, before he was dealt to the Los Angeles Kings on June 25, 2016.
After playing a majority of the following two campaigns with Ontario of the American Hockey League, Campbell notched his first NHL win after making 41 stops in a 4-1 victory against the Vegas Golden Knights on Feb. 27, 2018, his first NHL start in four-plus years.
In 2017-18, Campbell went 2-0-2 with a 2.47 goals-against average and .924 save percentage while backing up Jonathan Quick.
Now, after 57 games with the Kings, he's teamed with Frederik Andersen.
Campbell won his Maple Leafs debut, a 5-4 overtime home win against Anaheim, and then went 3-0-1 to kick-off his career in blue and white.
"The boys here are awesome," raved Campbell, who ditched his razor and grew a moustache in a show of support for Auston Matthews, in his quest for 50 goals. "Any off day we have, or any other opportunities we have to go out, they ask if I want to go out to lunch or dinner. They know the spots. It's been nice to see the city, but also to get to know the boys, too. Right from day one, everyone has been so great. Obviously, I know the guys (Jake Muzzin, Kyle Clifford) who played in L.A.
Drew Doughty says his favourite Jack Campbell memory is the time Campbell gave him a Gucci tie as a present after Doughty hosted an after-party at his house. "Pretty expensive," said Doughty.

Campbell, relayed that story: "Oh boy, this is going to blow up."

—

Chris Johnston (@reporterchris) March 4, 2020
"Muzz called me right away and said we'll go out for dinner when I get into town. Sure enough, Mitch was there. He picked up the tab… nicest guy in the world. It was a great night and then we got a big win the next night. When we got back home, a few of the boys got together. I got to hang out with Freddie and Auston quite a bit, especially lately. It's a special group. I feel a lot of teams say that, but I mean it sincerely. They are so talented and they are all pretty young guys, but they are just really fun to be around."
It's why Campbell, a self-admitted foodie, feels right at home in his new NHL city.
"I'm loving every second of it. I'm a big food guy and Toronto has it all. Just joking around at the rink or going out to dinner, I think it's a good balance this team has with being serious about our on-ice goals, but also when we're together, we're having fun. We're still learning… but this group just has the right balance of having some goofballs, some serious guys and guys like myself."
Although he didn't expand on what 'guys like myself' meant, one of his teammates was happy to step up on his behalf.
Said Hyman, emphatically, "He's the nicest guy you'll ever meet."
Words that mean the world to Campbell.
"It does. We all work hard and we all expect to do well on the ice. At the end of the day, we're all human, and when someone appreciates your character, it means a lot. I really do honestly try my hardest to play my best for the city and the team every day. You're not going to stop every single shot – even though that's my goal – but it's nice to be recognized as being a good person. That's my No.1 thing in life – treating people the way I want to be treated."