Marner's passion inspires, gives back through off-ice assists
What's changed about the Mitch Marner that Laura Stacey knew from their high school days? Not one thing.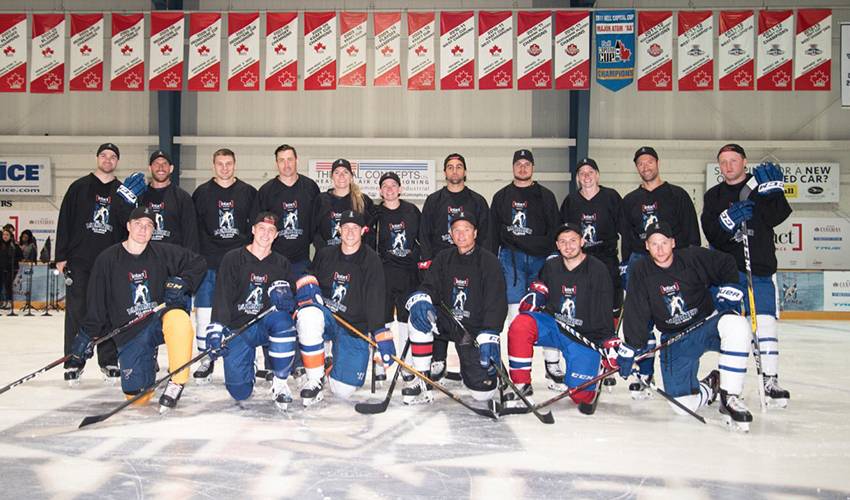 What's changed about the Mitch Marner that Laura Stacey first knew from their high school days? Not one thing.
Three years separate Stacey, the forward who captained the University of Dartmouth in her senior year to eventually become an Olympic silver medalist in 2018, and the 22-year-old Marner, the former Canadian Hockey League standout turned NHL star for the Toronto Maple Leafs.
The two went to the same high school, The Hill Academy, in Vaughan, Ontario, about a 35-minute drive north of Toronto.
"I've known Mitch for a while now," said Stacey, whose great-grandfather was Hockey Hall of Famer King Clancy. "He's the exact same person he is now that he was in high school. From where he's come from to where he is now – it's amazing. He's still that humble, hard working, genuine guy that he was when I first met him. That's a huge testament to his character. That's why I'm always excited to be part of his event."
The sold-out event Stacey speaks of is the Marner All-Star Invitational, which takes place on July 18-19.
Showcasing current and former NHL players, along with Canadian Olympians and other hockey players, the invitational raises funds and awareness for several children's organizations, a list that includes SickKids Foundation, Muskoka Woods, Eabametoong First Nation, Helping Hands Jamaica Foundation, Movember, and Canadian Tire's Jumpstart Charities.
This year marks the second anniversary of Marner's two-day event, which includes a Draft Night Party, and both a team and skills competition.
"The main thing I focus on is not just bringing NHL players," Marner told NHLPA.com. "My goal is to bring in as many people as possible, for them to get the notice and appreciation they deserve. The support I get from so many people is something I'm very thankful for."
Stacey is honoured to assist the fourth overall pick in the 2015 NHL Draft.
"It's great what Mitch does," praised Stacey who will participate again this year. "His passion for giving back is incredible. There are so many people that showed up for him and wanted to be there. The fact that he put together such a great event and raised so much money is amazing, all coming from someone who is a great athlete and a great person."
Just don't let the kind words fool you. Stacey isn't going to hold anything back during the skills competition.
"It's really fun. To be there, to talk to the kids that come out, teaching them and giving them little tidbits of advice... they really love it. Mitch made it a ton of fun for everyone – not only for the kids and the families, but for us as well. I don't know if I can show him up in the skills part, but I'll try my best."
"Every hockey player is the same," offered Marner. "Everyone likes to have fun, but as soon as the competitive games come out, it's brings out a whole different side of them."
But for the forward, it begins and ends with helping others.
"I'm proud of how everything worked out in the first year. We're sold out this year… that means it's only get bigger and bigger every year, which is great for what we're doing. We do this because we get to see the smiles, do our best to try and make kids' days, and make them realize that you can achieve your dream. One thing I want to try to do is open as many eyes as possible to the charities that we support. They do a lot of great things for so many people."
The same can also be said of No. 16.
"It's been very gratifying to work with Mitch and his family to create the Marner All-Star Invitational and in turn the Marner Assist Fund," said Natasha Borota, President, It Factor Ltd. "We have been in this business a long time and it is rare that anyone Mitch's age – never mind a pro athlete that already has a full schedule – is so committed to philanthropy. He has given us a reminder of why we at the It Factor do what we do. He inspires us."
The Marner Assist Fund
---
Through the Marner Assist Fund (MAF) and the inaugural All-Star Invitational, contributions like toys, games and supplies for family spaces and support for various programming needs that had a shortfall in funding have been made to SickKids Foundation. A summer camp experience for young people with financial or special needs through a donation to Muskoka Woods was also made.
Eabametoong First Nation received funds from MAF to add cement and ice to their local hockey rink, providing families with a safe surface to skate on.
The community was also presented with contributions to its local Rez Girls hockey team through partners TRUE Hockey, who delivered sticks for the girls.