Fun for fans provides team bonding for players
It's fun for fans, but it's team-bonding for the players of the Carolina Hurricanes.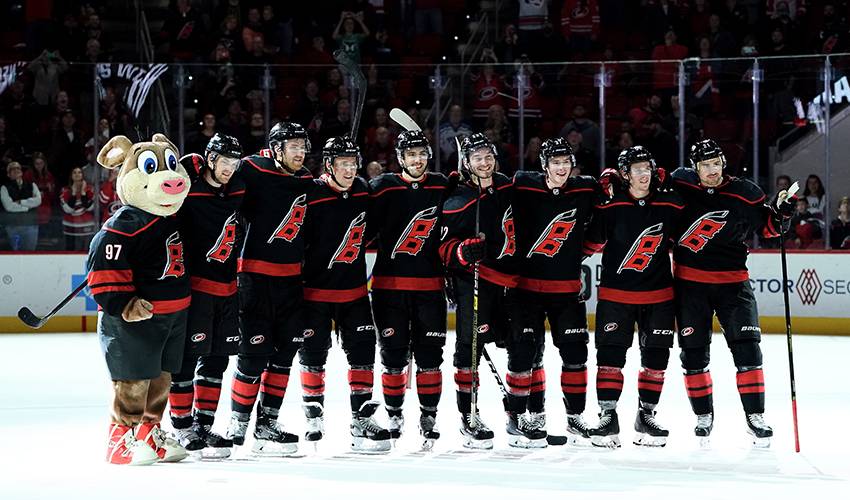 What does the forecast call for after a Carolina Hurricanes home win? A little theatre, a few surprises and a whole of lot of fun for players and fans.
It was an idea hatched in 2018 by then Carolina captain Justin Williams as a way to create a bond between Hurricanes players and the team's supporters.
The Storm Surge, as it came to be known, first appeared last October after the Eastern Conference club's first home win of the 2018-19 campaign, when the players raced down the ice and proceeded to leap into the glass.
Starting off with a Skol Viking clap prior to the already planned festivities, the players, either by themselves or on occasion featuring a well-known personality and/or props, continue to serve up some energetic fun at PNC Arena.
And while it might not be for everyone, Carolina players, both veterans and rookies, new the team or long-tenured Hurricanes, are still having a blast putting on a show for the home crowd.
Bowling. Baseball. Basketball. Boxing. Limbo. The Storm Surge has featured those themes and plenty of others since its inception.
Jordan Martinook, in his second season in Carolina, was happy to take one off the chin from a boxing legend as part of a memorable post-victory bash.
This past March, after a 5-2 win against St. Louis, former four-time heavyweight champ Evander Holyfield made his way out to the ice and then delivered a one-punch "knockout" left jab against Martinook in the post-game celebration.
Stormy, the team's mascot, raised Holyfield's arm in victory as teammates dragged their downed teammate off the ice.
"It was a lot fun," recalled Martinook. "The guys really get a kick out of doing the Storm Surge. The fans really appreciate it too."
While the players' primary focus remains on building off last season's appearance in the Eastern Conference Final, they do take some time throughout the 82-game schedule to brainstorm Storm Surge ideas.
The key, note the players, is in keeping the post-game plans under wraps.
"Everybody is having a lot of fun with it, trying to come up with some new ideas we can share with the fans," said Dougie Hamilton, the 26-year-old defenceman who was traded to Carolina from Calgary on June 23, 2018. "There's definitely been a lot of good ones."
Hamilton was part of teammate Warren Foegele's baseball-themed Storm Surge offering.
This February, after a 3-1 win against Edmonton, Hamilton served up a "pitch" to Foegele, who took a mighty swing, flipped his hockey stick and then put his own spin on running around the bases after his home run.
Erik Haula, traded from Vegas to Carolina near the end of June, led the way – on and off the ice – this October.
In the moments following a 5-2 victory against the New York Islanders, the 28-year-old gathered his teammates for a quick dash down the ice and a leap into the end glass.
"It's a good group to be part of," said Haula, who began his NHL career with the Minnesota Wild in 2013-14. "Everyone works really hard, including the coaching staff. You put in the work – that fits great with me. The guys have been great to me. The Storm Surge, I'm rolling along with it and having a good time with the guys."
Will he break out his Finnish dance moves at some point?
"I'm accustomed to that from the (Minnesota) Vikings fans, so maybe that will help me out," he deadpanned.
Martinook sees the surges as a motivational tool for the Carolina players.
"It can get you pumped up because if there's a good one planned, you want to get out there and get the win so that you can do it. If you lost, it was a downer because you didn't get the chance to do it."
Back in action after a core muscle injury sidelined him for 15 games, Martinook had plenty of time to come up with some new Storm Surge ideas.
But, in keeping with tradition, the proposals will remain a secret.
Perhaps Martinook, whose young son Chase went out for Halloween as a moose, could consider a moose-related concept.
"We'll have to see," he said. "We'll come up with something good and bust that out, but we'll keep that on the down low."