Haula seizing chance in offensive role with Golden Knights
When Don Lucia spoke about the most underrated part of Erik Haula's game, he handed out a series of gold stars for the Vegas Golden Knights forward.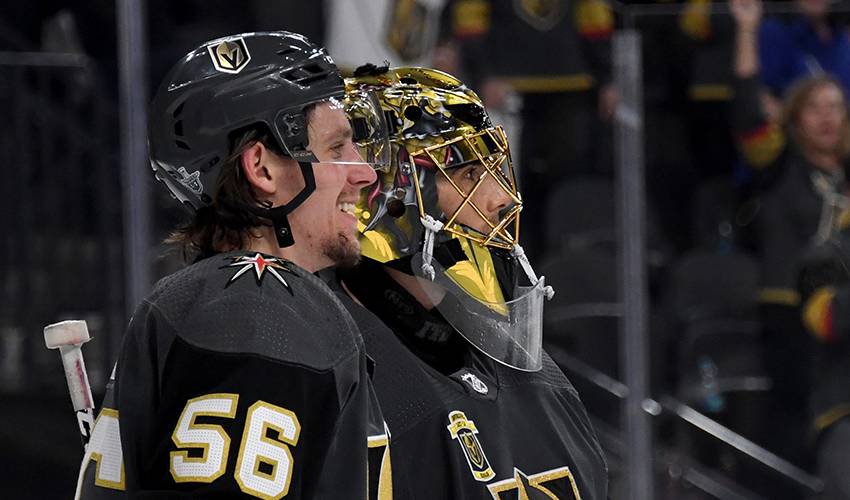 When Don Lucia, one of U.S. collegiate hockey's most decorated head coaches, spoke about the most underrated part of Erik Haula's game, he handed out a series of gold stars for the Vegas Golden Knights forward.
From 2010-13, Lucia, who recently stepped down from behind the bench after a 19-season career with the Minnesota Golden Gophers, watched a young Finnish left wing torment the competition with his offensive savvy.
But it wasn't just lighting the lamp or setting up teammates that made the forward a game-changer in Lucia's eyes.
"Erik has the ability to play any role," said the coach who led the Golden Gophers to NCAA titles in 2002 and 2003. "He can shut down other team's top lines and kill penalties or produce in an offensive role, just like he has done this year. I saw how good he was offensively in college, but he just needed the chance to play an offensive role."
Haula's efforts at Shattuck-St. Mary's (a coeducational boarding school in Fairbault, Minnesota) earned him a scholarship to the University of Minnesota.
Before suiting up with the Golden Gophers, he played with Omaha Lancers of the United States Hockey League in 2009-10, scoring 28 goals and 72 points in 56 games to earn all-rookie and all-star recognition.
The following season, Haula joined the University of Minnesota. He recorded 42 goals, 82 assists and 124 points in 114 career games.
"What impressed me the most about Erik was how mature he was from the moment I met him," recalled Lucia. "Erik has always been extremely confident in his abilities and was the hardest worker on the team, on and off the ice."
Haula got his initial shot at the NHL early in his first full pro season when Minnesota promoted him from Iowa Wild of the American Hockey League on November 29, 2013. In his first game, he assisted on a goal and was named the game's third star.
In 2015-16, he set, what were at the time, personal bests in the NHL with 14 goals, 20 assists, and 34 points. After the following season, Haula was left exposed for the 2017 NHL Expansion Draft, and subsequently agreed to a three-year contract with the Golden Knights.
The 27-year-old has been a major contributor to Vegas' memorable inaugural season. In 76 regular season games, Haula scored 29 goals and added 26 assists for 55 points, all career-high totals.
In 15 Playoff games, he has three goals, including the double overtime winner against Los Angeles in Game Two of the Western Conference quarterfinals.
Now, Haula will get the chance to play for the Stanley Cup.
"He's finally had the opportunity to showcase his ability," offered Lucia. "He was never able to play much above the fourth line with the Wild, and now he gets to play top-six forward minutes. He's an elite skater who is ultra competitive."