Hamilton Brothers' special connection to Brock Niagara Penguins
"These kids look up to the [Hamilton] brothers," says executive director Karen Natho of the Brock Niagara Penguins, "But not just because they are hockey players. They are strong mentors and wonderful people."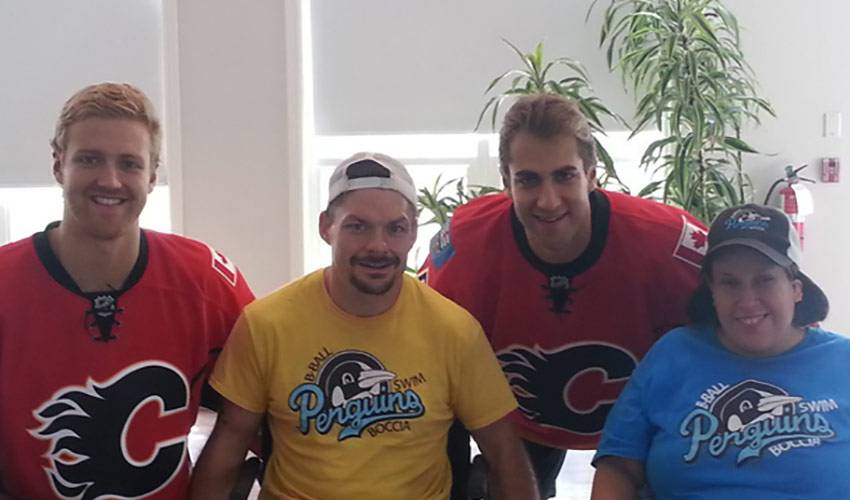 Karen Natho took pause as she watched the Hamilton brothers interacting with the kids, listening to the laughter and seeing the big smiles.
It was obvious the sledge hockey talents of siblings and Calgary Flames teammates Dougie and Freddie Hamilton were questionable at best when they recently visited the Brock Niagara Penguins headquarters in St. Catharines, Ontario.
Their commitment to helping others, however, is without question.
Natho, executive director of the Brock Niagara Penguins, a program that provides athletic activities for youth and adults with a physical disability, had discovered that long before Dougie, 24, and Freddie, 25, spent the day with a group of para-athletes.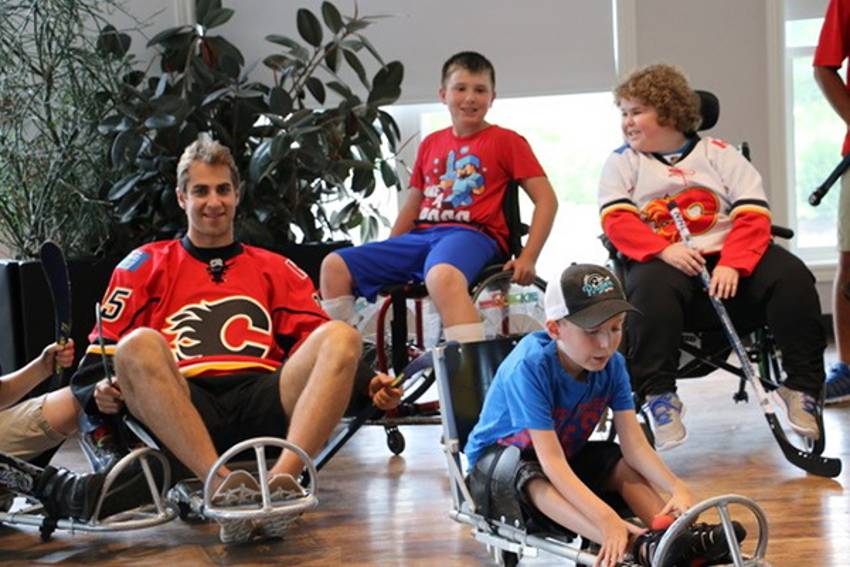 ---
Calling St. Catharines home for nearly 15 years, Natho was reminded of the times she'd often run into the pair, who happened to live five blocks from her house.
"We would see them on their bikes or on roller blades – at this point, they are young adults, about 17 or 18 – and we would hear stories about how academically strong they were," she recalled. "But we'd also see them in the neighbourhood and in the community. They were reserved, quiet and extremely polite. There was just something about having the Hamilton brothers in the north end of St. Catharines. And that's from me not even knowing them at that point."
Natho's connection to the Hamilton brothers began through the boys' parents, Doug and Lynn, both former Canadian Olympians in rowing and basketball, respectively.
When Niagara sought to host the 2021 Canada Summer Games (the country's largest multi-sport event), Natho and Doug Hamilton were both involved in the successful bid.
"Doug was the lead on the bid and I was also helping with it," recalled Natho, a board member of the Niagara Accessible Sport Committee and a 1993 Canada Summer Games athlete, in the sport of field hockey. "I got to know Doug and Lynn through that. And you know why Dougie and Freddie are such nice young men – they come from such a nice family."
When Natho spoke of her work with Brock Niagara Penguins, supported by Brock University's Faculty of Applied Health Sciences and Department of Recreation Services, Doug and Lynn took an immediate interest in the volunteer-led program.
"Lynn came out to one of our practices and saw that we had sledges," noted Natho. "Sledge hockey also happens to be a Paralympic sport. We have the sledges that have wheels so we can use them on the gym floor. This summer was the first one we offered a para-sport camp. We had eight of our Penguins athletes between the ages of 8-13 come to this trial camp. On Wednesday of that week, we were going to run sledge hockey. Lynn called up and said, 'My boys really want to come.'"
Initially, Natho found herself at a loss for words.
"I was over the moon," she said. "You can just imagine how these kids will react when you tell them that Dougie and Freddie Hamilton of the Calgary Flames and Niagara Ice Dogs are coming. One boy actually went out and spent his birthday money on a Calgary jersey."
Dougie, one of several current and former players that took part in the annual NHLPA Golf Classic, was give the opportunity to direct $2,000 (along with the other players) to his charity of choice through the event celebrating its 25th anniversary.
He had no hesitation when it came to his decision.
"Brock Niagara Penguins is a great program," said Dougie, who had 50 points in 2016-17. "So many people work hard to see it succeed. And the kids are so much fun to be around."
Again, Natho was taken aback.
"If I could only explain – I don't even have the words – what that money will do for our club. We have student volunteers and community volunteers to run this program. We rely on a lot of help and hard work to see this succeed. This gives us great exposure in our community and could encourage more athletes to come out and play. We are so lucky to have him support us. I just really can't say enough about the Hamilton brothers."
Truth be told, she could. And she does.
"I'm getting the feedback forms right now from the parents," said Natho. "All the parents were there that day. They just kept asking, 'Who are these lovely, lovely young men?' All Dougie and Freddie wanted to do was play sledge hockey with the para-athletes. It was quite amazing. When I saw them afterwards, I thanked them a few times. They said, 'It was our pleasure. We had so much fun. We had such a nice time. We haven't stopped talking about it.'"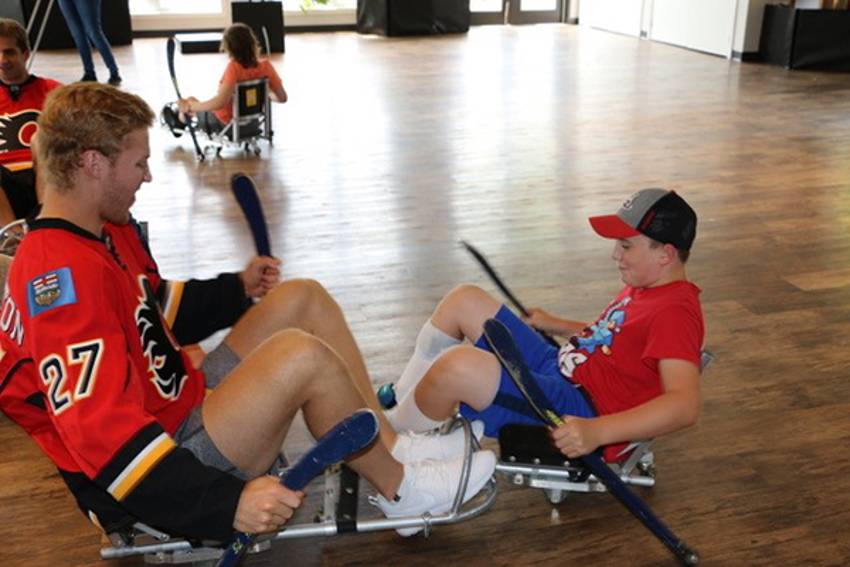 ---
Said Dougie, "Freddie and I really enjoyed ourselves. I have to be honest – the sledge hockey was a lot tougher than I thought. It was tough to balance. But the day was amazing. It was all about having some fun and meeting some great kids."
The day was tailor-made for media coverage. But it's not what anyone associated with it wanted.
"I was really proud of the campers, but I was proud of the brothers," said Natho. "Dougie and Freddie are always in front of the media, but that's not what this event was about. They just wanted to come and play hockey with the kids. They always made sure the kids were front and centre and that the kids were having a good time. We got them in the sledges. At one point, Dougie fell out and Freddie and the kids were laughing. It was just a nice moment in that everyone was enjoying being together and having fun."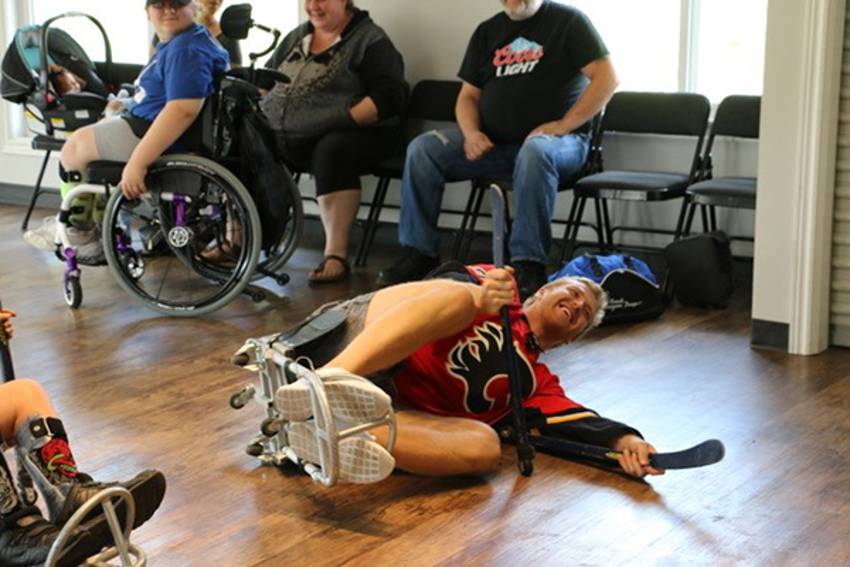 ---
It's just what Natho expected from siblings whose appeal extends far beyond NHL ice.
"These kids look up to the brothers, but not just because they are hockey players. They are strong mentors and wonderful people."
For more on the Brock Niagara Penguins, a parasport club for youth and young adults with a physical disability, visit www.niagarapenguins.org.