Dougie Hamilton steps into veteran role with the Devils
At 29, Hamilton is the fifth oldest player on the Devils roster and is embracing his role as a mentor to the team's younger corps.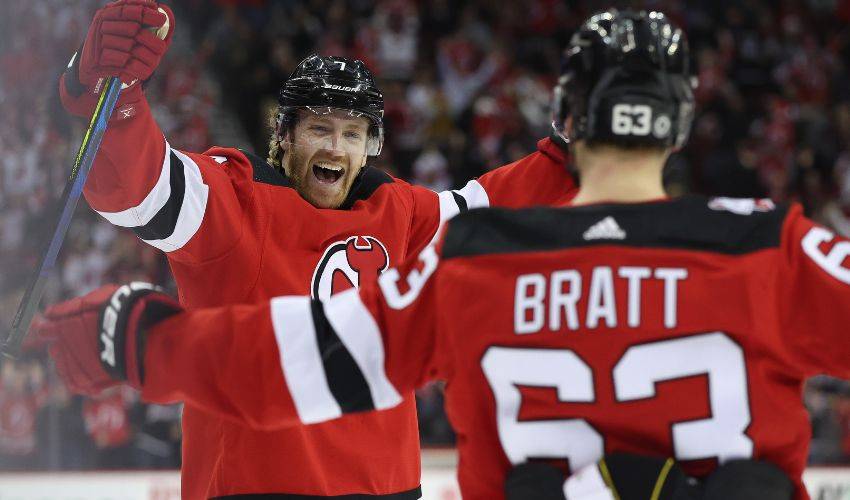 Feature photo: Getty Images
---
For Dougie Hamilton, it always has been and always will be about the journey.
Long before he suited up before his first NHL game, and years before he would reach 700 games played and 400 career points in the league, the strapping defenceman, with dreams of a big-league life, approached his goal through a short-term lens.
"When I was a little kid, playing the NHL was what I always dreamed of, but I never thought about what I wanted to achieve, a certain number of points or a certain amount of games, if I ever made it. I tried to keep things in a day-to-day focus. You need a lot of things to happen to make it to this level, so I approached it more through a view of next steps."
Hamilton, who signed a seven-year contract with the New Jersey Devils as an unrestricted free agent in July 2021, has maintained the same approach throughout his time in the NHL.
The ninth overall pick of the Boston Bruins in 2011, who suited up with both Calgary and Carolina before coming to the Devils, has made his mark at each stop on his NHL career, including in his 100-plus games in a Devils jersey.
At 29-years old, Hamilton is the fifth oldest player on the Devils roster and is embracing his role as a mentor to the team's younger corps.
"I've always appreciated the older guys as soon as I came into the league. When I was in Boston, there were a lot of guys who helped me in those three years there," said Hamilton, who played alongside the likes of Zdeno Chara and Patrice Bergeron while in Boston. "When I was with Calgary and Carolina, it was the same thing. I looked up to those guys. You're watching and following what they do. Surprisingly, I guess, being on the other side of it now, I'm working as hard as I can to be the person I looked up to. It's kind of shocking that I'm on the other side of it already, but the guys on our team are doing really, really well, so it's not like you really have to do anything for them."
Players have an ideal role model in the 6-foot-6 defenceman.
In line to have his best offensive season to date, currently sitting fourth on his team in points, Hamilton has made himself readily available to his teammates and is grateful to be in a position to listen or perhaps dispense some helpful advice.
After a tough first year in New Jersey – injuries limited Hamilton to 62 regular-season games and the Devils missed the playoffs – the Eastern Conference squad has turned its fortunes around in 2022-23.
"Comparing it to last year, it is night and day. A lot of things went wrong last year, and we were determined to not have that happen again. We were in a really good place going into training camp and we did a great job right from the start, working on creating a culture and commitment to winning. We've kept that going.
"It's been a lot more fun this year with the success we're having. I think everyone would say the same thing. When you have that, it makes it a lot more fun to be at the rink every day. The group we have, there are a lot of great players and the new additions have really helped us a lot. It's been great so far, but we want to keep it going."
Hamilton is happy to play his part in seeing that success continue.
Whether it was during his formative years in the NHL, his four Ontario Hockey League seasons, suiting up for his country, or in the present, Hamilton's approach to the game has remained, for the most part, unchanged.
One objective, in particular, is still very much the same.
"You always dream of winning the Stanley Cup and I'm still working on winning one of those. As far as personal accolades, I've never really set those goals. I just try and play my best. Maybe you set little goals here and there the longer you play, but I just want to be the best I can be."
He also wants to be the player he admired when he first broke into the league.
"I guess it's about being a good person and helping them in their journey. It's hard to look back and think about the player you were in your 50th game, everything kind of blurs together. But the more you play and the more you find yourself, the more comfortable you become on the ice and in the locker room. That's certainly something you can share with the younger guys."