After the Buzzer | Brenden Dillon
What's on his plate whenever Brenden Dillon has a home-cooked meal prepared by his grandmother? Plenty.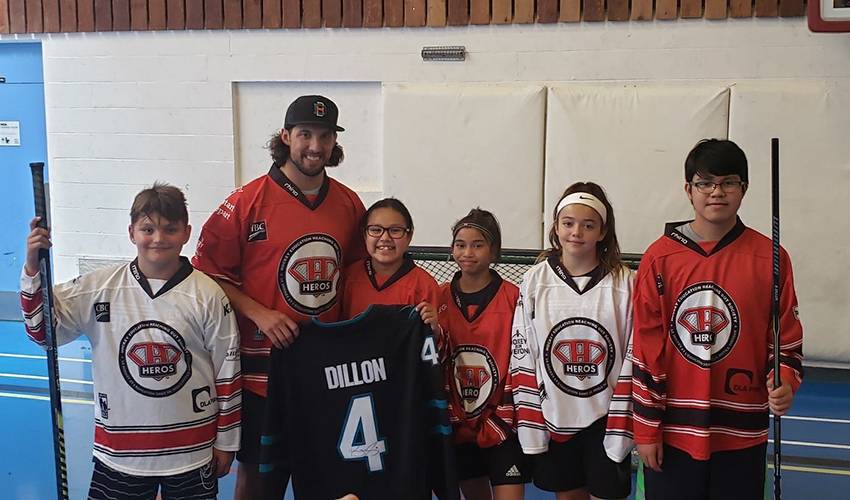 From their bond with fans to their efforts in the community – and everything in between – 'After the Buzzer' is a weekly series taking readers beyond the rink to shine a light and provide insight on players' lives away from the game.
---
What's on his plate whenever Brenden Dillon has a home-cooked meal prepared by his grandmother? Plenty.
From second helpings, to helpful words of advice, to the days when he helped his school win track and field medals – the San Jose Sharks defenceman has plenty of stories to share with the hockey world.
TALKING THE TALK…
Although a few words and phrases might get lost in translation, Dillon can speak French and some Portuguese. His father was born in Portugal before he moved to Toronto. "My godmother she is full-fledged Portuguese," said the 29-year-old.
"My grandmother, on my dad's side, she's full-fledged Portuguese too. So, growing up, I understood getting yelled at quite a bit in Portuguese. French, just from growing up in Canada, you learned that language. I went to Tomas Hertl's wedding in Prague and made a stop in Paris before, just to make a bit of a European trip out of it, and I brushed up on my French a little bit. Not great, but I can understand a thing or two."
HOMETOWN MEMORIES
Dillon grew up in Surrey, British Columbia, part of the Metro Vancouver area that lies between the Fraser River and the U.S. border. This summer, he held his first hockey camp, BD4, in Surrey, with the proceeds going towards the opening of the Surrey HEROS All Stars program (catering to youth who face socio-economic and personal challenges).
"Surrey is a very multicultural city. Growing up in elementary school and high school, there were so many different festivals and activities going on. There was a Diwali celebration, a big Indo-Canadian event. A lot of my friends in school were of East Indian descent, so it was nice to experience their culture. I'm sure anyone that comes from a small town talks about that small town life. You'd run into people you knew from your hockey team, from your baseball team, from your elementary school – whatever it might be. Next thing you know, you're over at your friend's house for a sleepover or just hanging out at their house. Growing up in a Canadian city that loved hockey so much, there were so many other activities I was fortunate enough to do."
SPORTS? CHECK!
It wasn't only hockey that occupied most of Dillon's sporting life. The 6-foot-4, 225-pounder played a little bit of everything growing up.
"In school, I did everything from volleyball to basketball, soccer… track & field was a big one for me through elementary school and high school. I never got into football, but track and field and volleyball were two of the big ones. I went to a Catholic elementary school, a private school, and I think it was grades five, six and seven when I was fortunate enough to win top track athlete. I was a sprinter. The big awards were the 100, 200 and long jump... Then I got to high school and hockey took over."
SOUND ADVCE
Like any athlete, Dillon has heard his fair share of words of wisdom over the years, from his junior days in the Western Hockey League right up to the present. Which one still resonates with him?
"I think the biggest thing I was told as a kid was, 'Just keep working at it.' If you're a player that works hard enough to better yourself – it doesn't matter if you're a first overall pick or you're an undrafted guy – a scout is going to find you somewhere and someone is going to give you an opportunity at some point. I remember really taking that to heart as a kid. I wasn't taken in the Bantam Draft in the WHL, wasn't taken in the NHL Draft – but I was able to take that as a chip on my shoulder. If you keep working, you'll keep getting better and eventually you'll get an opportunity. It's just a matter of making the best of that chance."
PARTING SHOT
"When I go over to see my grandmother, you end up getting a meal and a half. She loves the kitchen and always does a great job. If I ever need some extra corner weight, I know where to go." – Dillon, on what's on the menu when it comes to a homemade Portuguese dinner.