Marleau back in Sharks fold for 1,500th game in teal
Two of his teammates smiled and shrugged at the fairytale start to Marleau's second stint with the Sharks. Thrilled for No. 12, yet hardly taken aback by his efforts.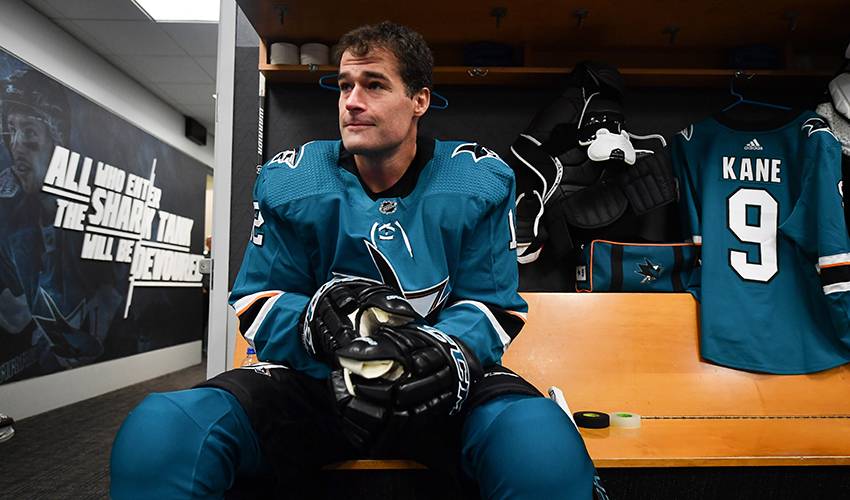 Feature photo: Getty Images.
What was the biggest surprise about the future hall-of-famer's return?
That what he managed to do was no surprise at all.
On October 7, 40-year-old Patrick Marleau wasn't playing in the NHL. But the veteran centre, who had skated in 1,657 games and scored 1,166 points, wasn't interested in hanging up his skates quite yet.
One day later, though, the man who holds a slew of San Jose offensive records found himself back in the big leagues, once again donning teal.
The Sharks organization heralded Marleau's return via Twitter on October 8, and made the signing official one day later.
October 10, in his 1,494th game with the Western Conference club and first of the 2019-20 season, Marleau scored a pair of goals in a 5-4 road victory against Chicago. He also chipped in with five hits in 15:30 of ice time.
According to league stats, he became the eighth player in NHL history to score at least one goal as a teenager and at least one goal while in his 40s with the same franchise.
"No training camp, no exhibition games, and show up and play a game like that, and give us a boost at a critical time," San Jose coach Peter DeBoer said after his season debut. "That's why he's the player he is."
October 13, in his first home game since inking his one-year contract, the Saskatchewan native was greeted with a standing ovation from the SAP Center crowd, a gesture that had Marleau wiping away tears on the bench and taking over his wife Christina's Twitter account postgame.
Hi, Patrick here. I wanted to take a moment and say Thank You. Thank you to the @SanJoseSharks for the incredible welcome home, and to the fans for welcoming me back. I can't put into words what it means to me, what you all mean to me. There is no where else I want to be 🦈 -PM

—

Christina Marleau (@c_marleau) October 14, 2019
As for the game itself, the second overall pick at the 1997 NHL Draft netted an assist in a 3-1 win over Calgary.
Two of his teammates smiled and shrugged at the fairytale start to Marleau's second stint with the Sharks, thrilled for No. 12, yet hardly taken aback by his efforts.
"One thing people should know about Patty is that he prepares as well as any pro I've ever been around," San Jose captain Logan Couture told NHLPA.com.
Brenden Dillon, a member of the Sharks defence corps since November 2014, almost anticipated Marleau making an impact the moment he slipped his sweater on for game action.
"Patty was skating with us at all those captain's skates," started Dillon. "It was through the last couple of weeks of August, and first week or two of September. He's obviously very familiar with our group, guys that he is comfortable with, and has played with. Patty, he was looking like the fastest guy on the ice all that time. I think for a lot of guys, it would have been a shame if he wasn't able to find a job this year with the skill that he still has, and the speed he still has.
"His resume speaks for itself. When he came back, and got to Chicago, a few guys met up with him when he got to the hotel, and were pumped and excited to welcome him back in the fold. As you can see with the first game, those two goals, it wasn't much of a transition period for him. It was great to see that."
Marleau has some impressive milestones within reach this season.
He's less than 40 games away from 1,700 for his career, and 31 points away from the 1,200-point plateau. Soon enough, he'll become the seventh player in NHL history to play 1,500 with a single franchise.
It's a mark he's scheduled to hit on the road, facing the only other team he's ever suited up for – the Toronto Maple Leafs.
"I just think he's a guy that it doesn't matter what you ask him to do," offered Dillon. "He's a guy that goes out there, and never complains. If he had to do five more reps in the gym, he'd say, 'No problem. I'll do it.' Age is never an excuse for him. He takes great care of himself. He has four kids, he's a family man, but he still finds away to keep himself in great shape – not just to be another player, but an impact player.
"Whether you're going for dinners with him on the road, or just talking to him outside of hockey, he's a class guy. That's how I would classify him."
Added Couture, "He wants to win as badly as anyone."