Dillon, BD4 hockey camp teaching more than a game
It's rather fitting that Brenden Dillon supports the charity HEROS.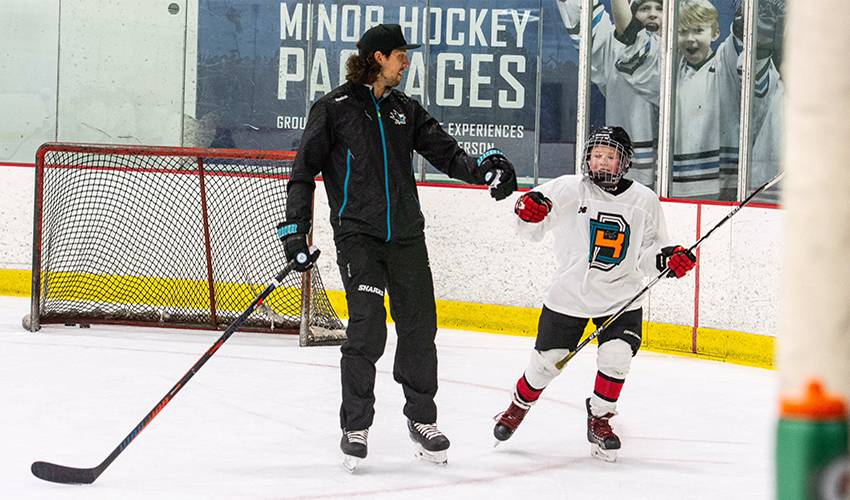 It's rather fitting that Brenden Dillon supports the charity HEROS.
A volunteer-driven initiative that uses the game of ice hockey to teach life-skills and empower marginalized youth, HEROS (Hockey Education Reaching Out Society) was founded on the downtown Eastside in Vancouver. It provides free programs to youth of all backgrounds from a grade four level, up to post-secondary.
Dillon, a long-time student of HEROS founding Board Member and pro skate coach, Barb Aidelbaum, became involved with the charity soon after it opened in his hometown of Surrey, British Columbia, in 2016.
This summer, the 28-year-old held his first hockey camp, BD4, in Surrey, with the proceeds going towards the opening of the Surrey HEROS All Stars program (catering to youth who face socio-economic and personal challenges).
"I partnered with HEROS in my hometown, and they needed someone to spearhead things for the program there. I thought, 'Why not?' I got to meet Kevin (Hodgson, Executive Directors, HEROS), who was the person that recruited me for it. Long story short, here we are almost four years later. It went from me giving a few sticks and jerseys to coming up with the idea of having a hockey camp."
Dillon partnered with Tim Preston, his long-time on-ice trainer, to come up with an itinerary for the camp, which ran from Monday to Friday.
The idea was for the camp, geared towards kids, aged eight to 10, to have 20-23 players.
"Tim told me it sold out in about 48 hours," recalled Dillon. "We got all these requests, and soon it was up to 25 kids. Eventually, we capped it at 30. For me, it's the first ever hockey camp I've put on myself. You realize how much planning goes into something like this."
Dillon also realized the impact hockey has on others, through the young players who came to his camp.
He also saw, first-hand, the unifying traits the game offers.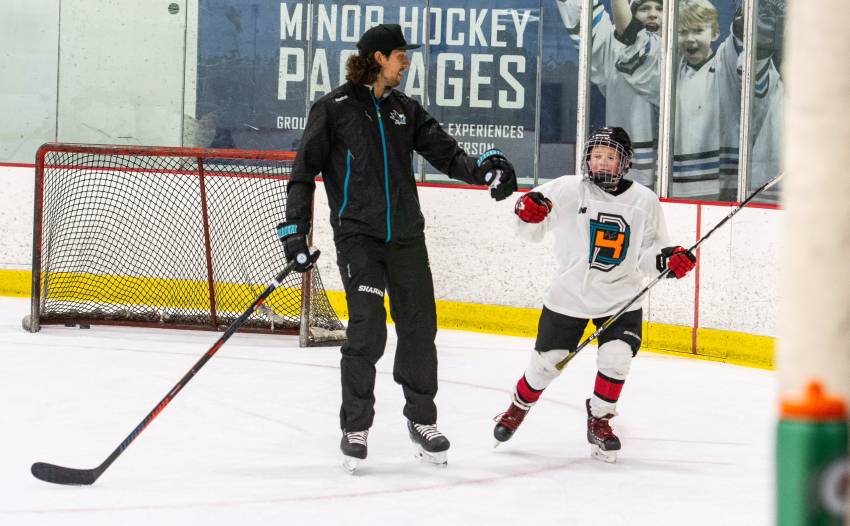 "The biggest thing that stood out was how much fun kids have playing hockey. Hockey is something that unites kids. I don't know how many of them knew each other going in, but by Friday, they are telling their parents that they want to hang out with each other on the weekend. They were excited to come in the mornings, and sit beside their buddy from Monday.
"I think that's one thing with hockey – getting to learn how to be a good teammate, getting to learn how to be social, and enjoy each other's presence. At the end of the day, it's a team game. In the summer, you work on your individual skills, hoping what you do contributes to winning a Stanley Cup together, or wanting to get to the NHL and be part of a team. These are the kind of things that you saw, kids coming together through hockey."
The camp, in keeping with the philosophy of HEROS, was more than just working on snap shots, slap shots, skating and special teams skills.
During off-ice sessions, the kids opened up to Dillon, asking questions that ranged from what it's like to play against the top players in the world, to the facial hair habits of one of the defenceman's teammates.
"It will be little things they would ask. 'Does Brent Burns' beard stink?' 'How hard is it to go up against Connor McDavid?' 'Why is your stick black and red?' The questions really covered everything. We did on the ice for an hour and a half, and we did off the ice for an hour and a half. When you're on the ice, you have your helmet and equipment on, but once you get off the ice, it's shorts and T-shirt. I think that's when a lot more of the questions came out… 'How often do you skate?' 'What do you do in the summer?'"
Hodgson is grateful to have Dillon as part of the HEROS team.
"On a broader level, for our HEROS, the opportunity to meet and get to know a guy like Brenden isn't actually about meeting an NHL player," he told NHLPA.com. "It is about meeting someone who set goals for themselves and was able to achieve them. He wanted to play at the highest level, and despite never being drafted has made that happen and continues to make it happen.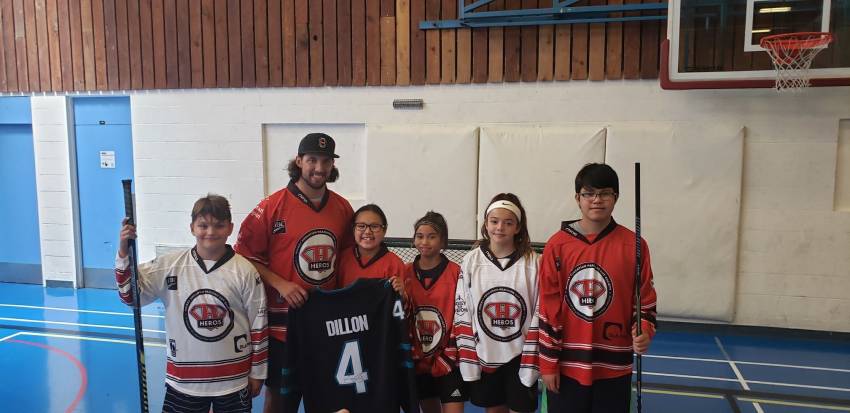 "We are constantly striving to give our HEROS the chance to meet, speak to, and get to know, people who set goals and achieved them, so they can learn how they did it, and have the ability to ask them questions. It is one thing for us to tell our HEROS that hard work will pay off, that anything is possible for any person, and that its okay to ask for help to reach your goals, but for someone like Brenden to tell them, as a tangible example, makes it even more real for them. When he heard we wanted to expand our programming in Surrey, he offered to donate the proceeds from BD4 to help us do that – just another illustration about how much giving back to Surrey matters to him."
Throughout the camp, Dillon recalled his formative years in the game, well before he suited up for the Seattle Thunderbirds of the Western Hockey League, and years before he went on to a big league career that's drawing closer to 550 games.
It was a welcome look back to those times.
"You remember those moments when you fell in love with the game, and what it meant to be part of a team. So for this camp, not only were we were trying to work on hockey skills, we were encouraging guys to talk to other people, see where they're from, really try and getting better. If you fall down, it's okay – no one is judging you here. I think that's a big thing."
Hodgson's highest praise for Dillon points to character, not pro athlete.
"Brenden is a really good person. He is looking for opportunities to spend real time with the kids, not just make an appearance. This summer he came to play floor hockey with a group of our HEROS, and then stayed to have lunch with them at a local pizza place that is a staple in the community, but not necessarily somewhere people outside the community would come to eat. He was in a hurry to get there, was really committed to being there with our HEROS, and wasn't in a hurry to leave. He also comes from Surrey, where this summer we will adding a second program (with his help) so our HEROS feel an even deeper connection because he has gone to the same schools they have, has lived where they live, and most importantly returns to the community during the off season.
"Most importantly, he is genuine. He doesn't bring a persona to his time spent with HEROS. He brings his true self and that goes along way with our HEROS, and our volunteers, frankly, who are protective about who gets the opportunity to influence the kids we get to work with. All of them have immense potential, and deserve to be surrounded by the best, and broadest range of positive role models, and that's who he is."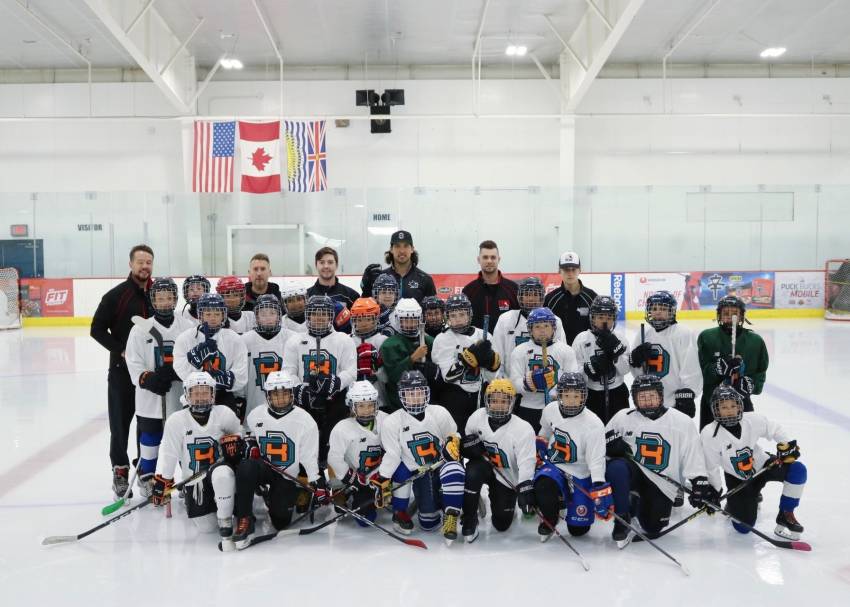 No need to wonder if there will be a BD4 camp in 2020.
"Absolutely," said Dillon. "We already have a lot of the parents who had kids at the camp asking if we were putting it on again. For Tim and I, there was never a doubt in our minds about where we were donating the money from it. HEROS Hockey – every kid should have the opportunity to play hockey no matter what the financial situation is. They should be able to play the game of hockey, have fun doing it, and that's what we wanted to preach. It doesn't matter if you're an NHL player or you're putting skates on for the first time – we want you to come out and have fun."
Spoken like a true hockey hero.