From Seattle to San Jose, Dillon continues to grow
Even when the odds seemed stacked against the young Seattle Thunderbirds defenceman, Russ Farwell never once saw an ounce of quit in Brenden Dillon's eyes or in his game.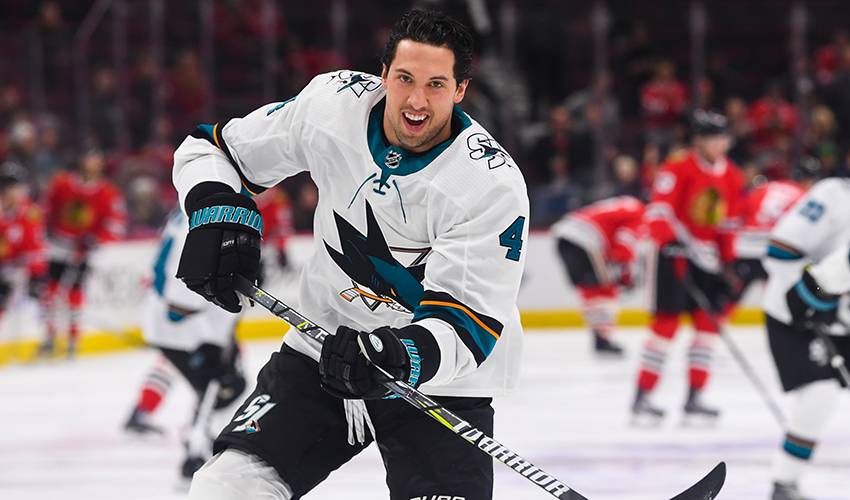 Even when the odds seemed stacked against the young Seattle Thunderbirds defenceman, Russ Farwell never once saw an ounce of quit in Brenden Dillon's eyes or in his game.
Standing just five-foot-two, the hockey-loving kid from New Westminster, British Columbia was passed over in the Western Hockey League Bantam Draft.
That very same kid would go on to play four seasons with the Western Hockey League's Seattle Thunderbirds, the one who now stands 6-foot-4 and plays defence for the San Jose Sharks.
The road to the NHL was anything but an easy one for Dillon. But he still found a way to achieve his life's goal.
"As a person, he's a great kid," said Farwell, Seattle's longtime general manager. "He was very focused on becoming a player and worked very hard personally. And through it all, he never got discouraged."
Not even when he was overlooked at the NHL Draft.
"He was one guy that kept going through the Draft and got a chance to go to camp – but it didn't work out," recalled Farwell. "As a 19-year-old – he was improving every year – but they had kind of written him off and he wasn't going to get there. But he never ever lost hope or faith. When he played his 19-year-old year here, he didn't get invited to a camp, but he didn't miss a day of training. He just went about his work and by Christmastime, he had half a dozen teams chasing him. So, he really deserves credit. He really stayed focused and determined and believed in himself. That's the most impressive thing about Brenden Dillon."
In 2010-11, he captained the Thunderbirds in what his final junior season. In 280 career games with Seattle, he recorded 94 points, including 59 in that last campaign.
It was the Dallas Stars that signed Dillon to an entry-level contract on March 1, 2011. He played three seasons with Texas of the American Hockey League before making his NHL debut in the Stars' final game of the 2011-12 season.
Dillon earned regular NHL duty in 2012-13, playing 48 games, registering 133 hits and becoming the first blueliner in Stars history to net a Gordie Howe hat trick: scoring a goal (his first in the NHL), picking up an assist and earning a fighting major, on February 1, 2013. At the end of the season, he was selected to play for Canada at the World Championship.
The 225-pounder, who led Dallas with 165 hits in 2013-14, was traded to San Jose 20 games into the 2014-15 campaign. He made his Sharks debut on November 22, 2014.
On June 30, 2015, the Sharks signed Dillon to a five-year contract.
Farwell couldn't be any happier for the former Thunderbird.
"Two things about Brenden that I always say is that he never gave up and he never quit growing," he said. "He just got bigger and bigger. By the time he left us, he was a big, strong, impressive guy. He moved fairly well for a big guy. I think he's bigger and stronger today. He's really worked on his game, too."
It's something Farwell took notice of during this year's Stanley Cup Playoffs.
"He's really learned to simplify. When he gets pressure, he moves the puck right away. He plays a physical game, but he's learned to manage it the way you have to in that league. You can't have turnovers and maybe he was guilty of trying a little too much when he was younger. Sometimes he would take off and sometimes it would work and other times it wouldn't.
"He doesn't try to do that any more. I actually saw that when we were down in Anaheim (San Jose's first-round playoff opponent) for a camp last week. I saw Game 2 of that series and he's really simplified his game. He's a smart kid, so I'm not surprised. He's very coachable. He takes whatever input he's given, he tries to win the game and he tries to please. I can't see him not being a popular guy with the coaches."
Just the way Brenden Dillon was during his days in Seattle.