Players passing down State of Hockey tradition through DBL
The state of hockey in the State of Hockey has never been stronger, thanks in part to Da Beauty League and NHLPA members who partake.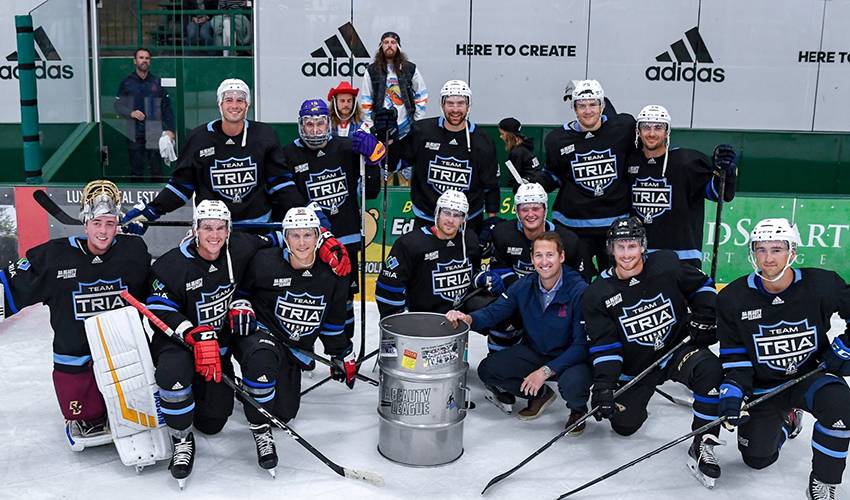 The state of hockey in the State of Hockey has never been stronger, thanks in part to Da Beauty League (DBL) and NHLPA members.
Established in 2015, DBL is a summer league based in Minnesota for professional and college hockey players. Six teams play an eight-game regular season schedule and a two-game playoff schedule, with the John Scott Cup awaiting the champions.
The four-on-four league, which calls Edina's Braemar Arena home, is a huge draw for fans and players alike.
Several familiar NHL names have participated in the league since it was founded, including numerous big leaguers who came out to play this year.
Brock Boeser, Nick Bjugstad, Jake Guentzel, Anders Lee, Brock Nelson and Jason Zucker are just some of the NHLPA members who took part in this edition of DBL.
Zucker, who recorded his third consecutive campaign of 20-plus goals with the Minnesota Wild, enjoyed the opportunity to sharpen his skills prior to the start of the 2019-20 NHL season.
"It's a cool league they put together," said the 27-year-old left wing. "There are a lot of good players in it. And it's a perfect summer skate. You have some fun playing, and obviously it's not full-tempo, but it's still a good pace out there."
"It's a 4-4, loose shinny game that can get competitive," Lee told NHLPA.com. "It's a quick game that forces you to make plays, and open play allows you to push the envelope with moves and passes you wouldn't normally risk during the NHL season. Attendance is full of kids and parents, it's a family atmosphere where in the middle of summer families can come out and see up-close not only NHLers, but American League and up-and-coming college players have some fun playing hockey."
Zucker admits the competitive side of the players eventually comes out, especially when the games take on more meaning.
"It depends on the time of the season for the league. The first few games it's not too bad, but when you start losing a couple, or you're on the edge of being out of the playoff picture, then it definitely flips."
Regular-season play began on July 10 and switched from Wednesday night games to every Monday and Wednesday throughout August.
The final, played on August 21, saw Team TRIA win the John Scott Cup. The winning side included Erik Haula (League MVP), Casey Mittelstadt and James van Riemsdyk.
Last year, Boeser led Team Bic to a 3-1 win over Team Velocity in the championship game. A native of Burnsville, Minnesota, Boeser netted the game-winning goal and went on to nab MVP honours. He recorded 16 goals and 19 assists in nine games.
This summer, DBL once again brought out the mentorship side of the players throughout the tournament, each one eager to lend an ear or have a quick talk with aspiring NHLers.
"Most of the guys who attend and play in DBL are from Minnesota and they know that plenty of the boys who attend and watch are future NHL players," said Aaron Morem, Digital Media Director with DBL. "They recognize that and give their time to represent the State of Hockey. I introduce some of the future players, who are young and very talented, to the NHL guys before the games start and immediately the pros know that short chat and fist bump with the future players means everything to them."
It's something Morem has seen time and again since the puck dropped on the league four years ago.
"Most of the Jake Guentzels and Nick Bjugstads were on Minnesota Blades or whatnot when they were young and that gives the future kids hope that they will succeed too. Everyone who plays in DBL knows it is more than a game and they continue the hockey culture in Minnesota that will last generations."
Outside of putting on a great show for those who packed the stands, DBL also supported three notable charity organizations.
---
United Heroes League, an organization that seeks to keep military kids healthy through sports while their parents are serving the nation and has long-standing ties to the NHLPA through Goals & Dreams.

Shine A Ligh7, former NHLPA member Paul Martin's foundation that focuses on improving the quality of life for youth by distributing funds to non-profit organizations who share the mission in improving the lives of children while promoting their social and emotional behavior health.
The Herb Brooks Foundation is dedicated to providing opportunities for children to play hockey while teaching life skills and core values inspired and motivated by legendary Coach Herb Brooks of the gold-medal winning 1980 USA Olympic men's hockey team.