My Top 5 | Jason Zucker
Will everything be coming up roses for Jason Zucker this Valentine's Day? Probably. The forward has put in a great deal of thought into planning February 14.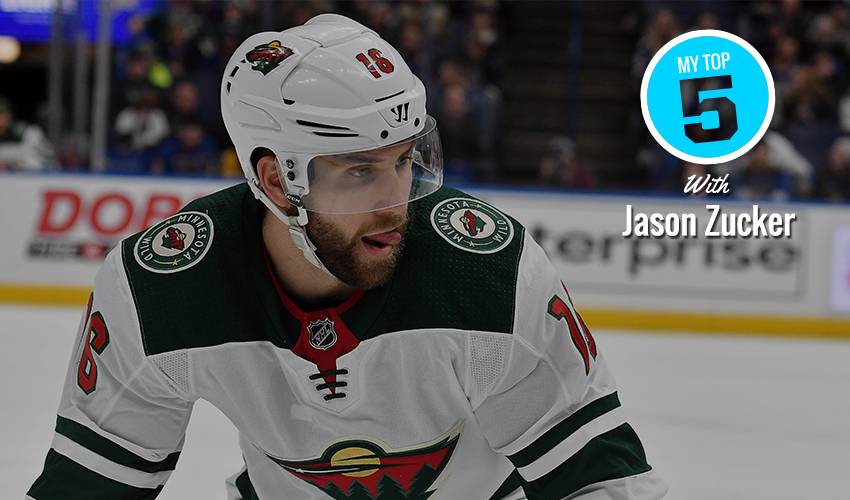 Will everything be coming up roses for Jason Zucker this Valentine's Day? The Minnesota Wild forward has put in a great deal of planning (and thought) into making sure all goes well February 14.
The left wing agreed to play Cupid for NHLPA.com, sharing his best advice for a stress-free and happy Valentine's Day.
As for his top tip, Zucker offers up a simple two-word mantra.
Jason Zucker's top tips for Valentine's Day
---
1. Remember this…
"The biggest thing is…don't forget! That definitely has to be the biggest one of all."
2. From the heart
"Valentine's Day is a day that's more about buying a meaningful gift. A handbag isn't going to be a good Valentine's Day gift. That's more of a birthday or Christmas gift. I feel like Valentine's Day is meant for a sentimental gift."
3. Friendly advice
"A handwritten note is a good idea. Don't do the computer-generated, 'I love you to the moon and back' type of deal. One thing that I've learned is that you don't forget your daughter. You have to make sure she feels special. If she's young and boys are still out of the picture, you still want to make sure she's made to feel special. And I'd say if you have a boy – mine is too young – but if he's old enough, make sure he doesn't forget mom either. Mom is still his Valentine."
4. Flower power
"I'd say flowers are a must. I'm the guy that – I don't know why – who buys an absurd amount of roses. I just don't do a quick dozen. I'll do 50 and put them in the biggest vase possible. My wife (Carly) loves vases, too, so that's a big part of why I do it. She has one that's actually from our wedding. I don't know how she ended up keeping it, but she did. She found a way. That's her favourite vase. So, I'll fill that up with lots of roses. I'll do some pink ones, white ones and red. I mix it up."
5. Gift-planning blueprint
"Carly is not a chocolate girl. She hates boxed chocolates. I bought her a box of those chocolates one year and she never touched them. I went all-out, full-on – I spent my credit card limit on a box of chocolates and she didn't touch them. That's how I found out she doesn't like boxed chocolates. I don't know why.
SPOILER ALERT FOR CARLY: "What I actually did this year, and I'm still in the process of doing it, seeing that I don't have more time to figure it out, is a gift basket. Instead of any type of big gift, I got her six or seven things that she will actually use. And by putting it in a basket, it says, 'I'm thinking about you for all these different reasons. And here's your basket of why.'"
TIP FOR JASON: Maybe include fire alarm batteries in the basket.

*UPDATE: He did!