Two generations of Kuralys the pride of Miami University
"His dad was a great player and is in our hall of fame. I'm sure Sean will be one day as well," says Steve Cady, now Senior Associate Athletic Director with Miami University.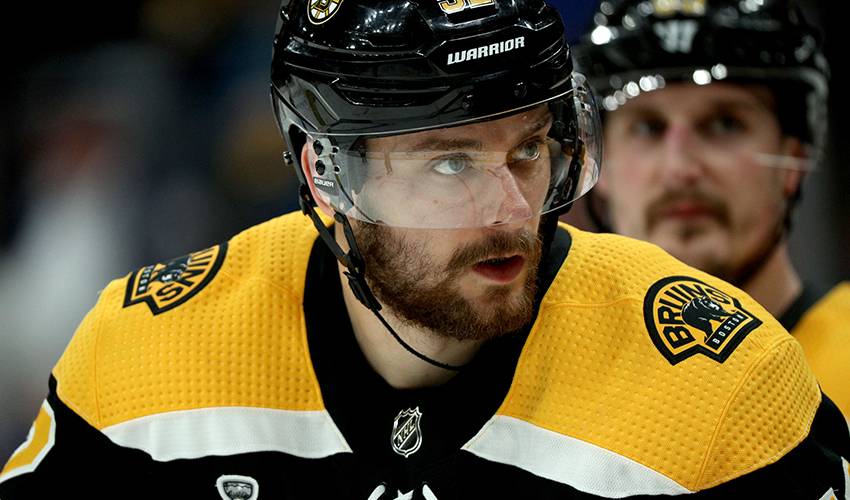 Nick Petraglia will be the first to tell you good guys don't always finish last. When speaking of Boston Bruins forward Sean Kuraly, he'll tell you good guys help you win Stanley Cups.
Holding the role of Director of External Relations with Miami University since 2018, Petraglia was behind the bench for all four of Kuraly's seasons, 2012-16, with the RedHawks.
As an assistant coach, he was able to see, first-hand, what made the kid from Dublin, Ohio, a solid NHL prospect.
But it's not Kuraly's do-it-all-well hockey skills Petraglia speaks of first.
"Let me say this," started Petraglia in speaking of the player whose father, Rick, also had a distinguished hockey career at Miami. "People talk all the time about guys being special human beings. We're so blessed in hockey, at every level, to have so many high-quality people. When you speak of the elite level of human beings, Sean is in that highest class – incredible passion, willingness to give people his time and attention, a huge heart, cares about people. Whether you're a fan, teammate, or coach, he treats everyone with respect. He's a just a genuine, selfless person."
The former Miami captain is also a bona fide on-ice talent.
In four campaigns, he helped the RedHawks make two National Collegiate Athletic Association Tournament appearances and win two conference titles while recording 93 points with 43 goals and 50 assists. He was named the National Collegiate Hockey Conference's Defensive Forward of the Year after the 2015-16 season.
Steve Cady is the man who started the RedHawks hockey program and the team's first coach. He recruited and coached Rick Kuraly, Miami's all-time leading goal-scorer who was inducted into the Miami Athletic Hall of Fame in 2014.
Cady, now Senior Associate Athletic Director with the school, is also familiar with the younger Kuraly.
"Most people have obviously seen the job he's done as a player with the Bruins and the impact he's having," said the man who had Miami's hockey arena named after him. "That part is easy to see. But I'll tell you that everyone who had the chance to interact with him for his four years here will tell you he is one of the finest people around. He's a terrific young man. His work ethic and the way he treats other people really stands out. I was lucky enough to coach his dad, which makes it such a unique situation for me. His dad was a great player and is in our hall of fame. I'm sure Sean will be one day as well."
Now 26, Kuraly, drafted by San Jose 133rd overall in 2011, and traded to the Bruins in June 2015, has established himself as a dependable two-way player, counted on to provide an energy boost for his team whenever he hops over the boards.
In this year's postseason, the six-foot-two, 213-pounder has eight points in 15 games (including one game-winning goal), complemented by an adrenaline-fueled style.
His playoff appearance delayed after he fractured his right hand in March, rust hasn't been an issue for Kuraly. He scored the winner in Game 1 of the Stanley Cup Final against St. Louis.
"He had a about a month break before he got inserted back into the lineup," noted Petraglia. "He plays so hard and gives everything he has with his body, so it was probably good in a sense for him to recharge his batteries and be fully healthy."
Petraglia has been in contact with Kuraly throughout the playoffs.
"He's one of those people that returns every phone call and every text," he said. "Sean is like that with everybody. We've had good phone calls at the conclusion of each series and right before he came back after his injury.
"The one thing that's been really rewarding to see is that he's a player who always brings the intangibles to the table, the little things – wins faceoffs, blocks shots, takes away time and space, finishes checks. For him to be valued the way he is has been great to see. He's the type of player that makes you win Stanley Cups. Sean is that glue guy that does everything and makes a major impact. What we talk about is him bringing that approach every night… just keeping being yourself. He's such a humble guy that he doesn't need those reminders."
Instead, it's Kuraly who provides such reminders, all without ever having to utter a single word.
"He makes you think about how you should approach life and how you should treat other people," said Petraglia. "He has humility and no want of being in the spotlight. He wants to do his part to contribute and be part of the team. He's always smiling and he always brings the energy up in the room. He makes the environment fun to be part of. That's the type of good person Sean is."