Kuraly flourishing with hometown team Columbus
Happy to witness the sights and sounds of Ohio on the road and at home, Sean Kuraly is putting together a career-year in his home state.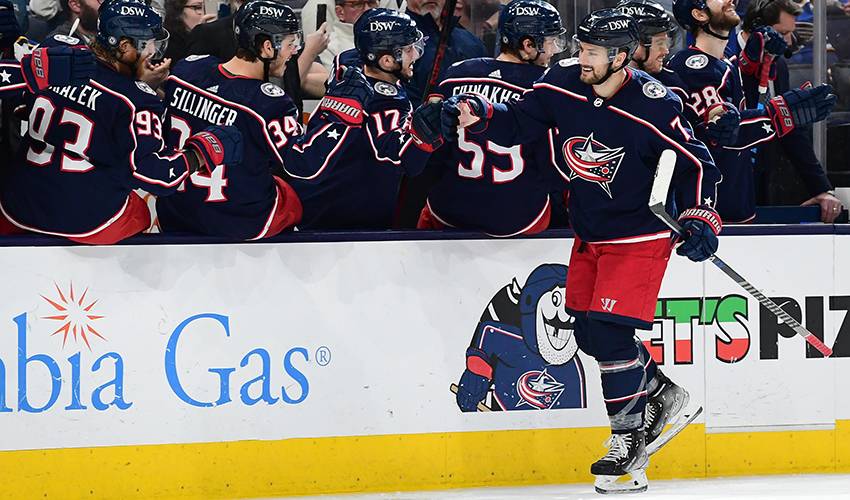 Feature photo: Getty Images
---
While it's all about his NHL career these days, Sean Kuraly might have a bright future one day working in the Ohio tourism industry.
On a recent road trip to Boston, the Columbus Blue Jackets forward who grew up in Dublin, Ohio, noticed a billboard message which encouraged people to move to the Buckeye State.
While the sign and accompanying words took him aback for a moment, the 29-year-old appreciated seeing his home state in lights.
"So, we're in Boston and it looks like Ohio has this big campaign to get people to move there," said Kuraly, a fifth-round draft pick by the San Jose Sharks in 2011, whose rights were traded to Boston along with Trent Frederic in exchange for Martin Jones in June 2015. "I thought that was really interesting,"
Kuraly's ties to Ohio go well beyond it being the place he calls home. He went to school at Miami University, in Oxford, Ohio. Last June, he inked a four-year free agent contract with his hometown Blue Jackets.
He has fond memories of the city he grew up in. Dublin is a suburb of Columbus that is host to the Memorial Tournament at Muirfield Village Golf Club, an annual stop on the PGA Tour since 1976, and the Dublin Irish Festival is billed as the largest three-day Irish festival on the planet.
"The festival is a huge event. So many people come to be part of it and it's a lot of fun. In high school, we'd go out and mingle there. Muirfield, the golf tournament was always a big highlight of Dublin. I wasn't into golf that much as a kid – it was too slow for me – but as I've gotten older, I've come to enjoy it and love it. My teammate, Jack Roslovic, is a member, so I've been lucky enough to play it. I go out with him as many times as I can in the summer until he gets sick of me."
Hockey, not surprisingly, played a big role in Kuraly's formative years in the city of just over 50,000 residents.
"It's a place where kids play street hockey and just really enjoy sports, whether that's playing in the yard or playing outside," recalled Kuraly. "I would go down to Blue Jackets games whenever I could, when I didn't have a game or anything."
He also made a few dollars through some part-time gigs.
"My job was to cut neighbours' grass and do some landscaping. Obviously, hockey was such a big part of my life, so the hours were flexible to do that kind of work. I really enjoyed it a lot of the time. I didn't like pulling the weeds, but I really liked it. I have a little bit of OCD in me, so I think it cured that, being able to make sure it was nice and detailed. I think I did a pretty good job for the most part, to be honest. It teaches you so much. With hockey, it's more of a long-term process and with this work, it's about instant gratification, to take pride in a job well done. The money I made, I was always a saver. I put it away and used it when I needed it. I'll been honest with you – I'm good at mowing grass, but I've never been a good golfer."
When he wasn't mowing or manicuring lawns, Kuraly was pushing himself to heighten his hockey skills.
A graduate of the Ohio AAA Blue Jackets program (2008-10), Kuraly played in parts of three seasons with the Indiana Ice of the United States Hockey League (2009-12) before attending Miami University. In four seasons with the RedHawks, he tallied 93 points in 154 games between 2012-16. He was a major contributor to Miami's Central Collegiate Hockey Association regular-season title in 2012-13 and was part of the group that won the National Collegiate Hockey Conference tournament championship in 2014-15. He also won gold with Team USA at the 2013 IIHF World Junior Championship.
Fond memories of his time at Miami are plentiful.
"I had an amazing time there. I spent four years at Miami and there are about 10 of us from our senior class that keep in touch on a weekly, almost daily basis. These people went from being teammates to being friends for life where we're at each other's weddings, things like that. What I take from that is a lot of great relationships I made at school, and the bond that you are able to create beyond those days. At Miami, they really cared about bringing in character kids and you could see that right away."
The university, founded in 1809, also gave Kuraly the education he sought.
A member of the NCHC Academic All-Conference Team in 2015-16, he graduated with a degree in business.
"I definitely didn't have a 4.0 [grade average], but I got my degree and that was something I wanted to finish. … I have a lot of peace in knowing that I was able to do that and move on. So, no more classes or homework for me for the rest of my life."
Perhaps he could use what he learned in his post-secondary education after he hangs up his skates to herald the perks of living in Ohio.
Could he envision a career in Ohio tourism?
"Hey, good idea. I might have to call you down the road to remind me of that."
Until then, Kuraly, who is enjoying a career-best season with the Blue Jackets, will keep his focus on the multi-faceted role he has with the Metropolitan Division team.
Suiting up for his home state team has been even better than he envisioned, offered the 6-foot-2, 205-pounder.
"It's been awesome. Instead of being a hindrance and all of the challenges that come with playing at home, it's been a huge help. I'm a little older and more ready to deal with it. You get a couple extra ticket requests, your family is around a lot – to me, that's been fantastic. Spending more time with my family, who haven't seen me play that much over the years, that's been great. I've really enjoyed it. The city, the fans and the organization are top-notch. I'm really lucky to be back home."
On November 12 of last year, he scored his first two goals as a member of the Blue Jackets. Kuraly's reaction after his first tally was, not surprisingly, quite emphatic.
The sound of Nationwide Arena's 1857 Napoleon replica cannon, which goes off when a Columbus player scores, was music to the ears of the proud Ohioan.
"To hear that cannon go off, it was so fantastic. You always wonder when that first goal will come, but when it does, it's such a huge relief and a great feeling. I didn't grow up with the cannon – my brother and I were looking at it recently – when we went to games. It arrived in 2007, so when I went to the game as a kid, it wasn't there yet. When I played there, it scared me half the time when it went off, but not now. I love hearing it."