Jenner, Kuraly have optimistic outlook for the Blue Jackets season ahead
The Columbus Blue Jackets leadership group anticipates the team to have renewed success heading into the 2023-24 season.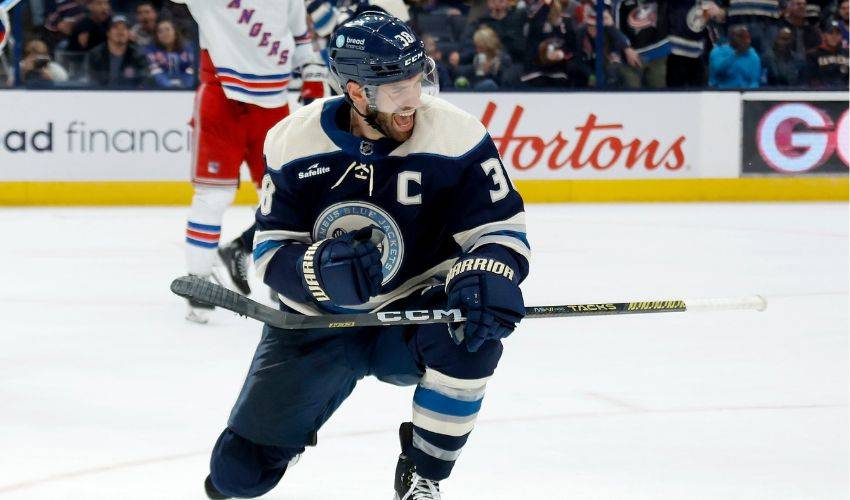 Feature photo: Getty Images
---
Boone Jenner has turned the page.
The captain of the Metropolitan Division squad does not skate around the tough 2022-23 campaign endured by his team and anticipates the Columbus Blue Jackets will write a chapter with more positive storylines than last year.
Instead, the 30-year-old Jenner, who is in his 11th NHL season, looks at last season as a motivator for the current campaign.
"Last year, nothing seemed to go right for us," Jenner told NHLPA.com prior to the start of the 2023-24 campaign.
"It left a very sour taste in our mouths. We didn't really get a chance to find our game, to find our identity. We had a lot of stuff happen to us, but we want to get back to what we believe we can be as a team. That starts with our identity and how we want to play the game. There are a lot of positives for our group, so that makes it a nice, fresh start for us."
New faces include defenceman Damon Severson and third overall 2023 NHL Draft pick, Adam Fantilli – players that will help complement a roster that already includes the likes of Johnny Gaudreau, Patrik Laine and Columbus native Jack Roslovic.
Add it all up and the opportunity for the Blue Jackets to turn things around this season appears to be promising.
"You look back at what happened, everything that didn't go our way, and it does motivate you to show that isn't who we are," said Jenner. "As a group, that was a tough one to go through, but it's important we learn from that. We're going to push forward, and we should have a chip on our shoulder. We have a nice mix of younger guys and more veteran players. Everyone is determined to see the team succeed."
Jenner, who was named captain in October 2021, is playing a pivotal role in that quest.
"Boone leads by example," said teammate and alternate captain Sean Kuraly.
"His consistency and work ethic, coupled with his talent make him one of best leaders I've been lucky enough to be around. You are never wondering what you are going to get from Boone. He's always giving it his all and competes with the best of them. It's not hard to want to follow a guy like Boone. A great leader, teammate, and friend. As solid as they come."
As for what he learned about himself as a leader through last year's tough stretch, Jenner spoke of the motivation that comes through experiencing hardship.
"It was a unique one for me. The way things played out, it was tough at times. When times get tough, I think that's when you can learn the most, about yourself, your teammates and how to navigate those moments. Unfortunately, we had far more downs than ups last season, but you have an understanding as a group that we can take that and use that, as much as you want to forget about it, to learn as a team. From that standpoint, I believe we have a lot to look forward to."
Kuraly concurs.
"We are lucky to have a lot of very young and talented players on our team, including Fants [Fantilli]. First of all, and most importantly, they are great teammates and people. In terms of leadership, I think a lot of times it's less what you say and more of what you do. People follow what they see. That's been our focus as a leadership group. And we need every guy to lead in his own way. Our young guys are already a big part of our team. Without them we won't be able to get to where we want to ultimately go. It's a two-way street. We have to set a standard and hold each other to it. … We are lucky to have the pieces we have, now we have to come together and make the most of them. That's the fun part."
The night of October 14 was a fun one for Jenner and his teammates, and an ideal example of Jenner's impactful ways.
The Blue Jackets captain netted a natural hat trick, which helped Columbus to a 5-3 home win over the New York Rangers.
"Obviously, it doesn't happen often so I tried to soak it when it happens," Jenner said in a post-game interview. "It's pretty cool and the fans were cheering; pretty special. I don't know how to explain it, but it's a good feeling."
Outside of his leadership role, Jenner is closing in on a significant milestone with the Blue Jackets. Currently, the 2011 NHL Draft Pick is 15 games away from reaching a franchise-best mark in games played, a standard set by retired Blue Jacket Rick Nash, who played 674 games with the team.
"I've heard about it, but there are some games to play before that," offered Jenner.
"In general, playing my whole career with Columbus has been fantastic. I love the city, I love the fans and I love the organization. For me, it's an honour every time I put on that jersey. It doesn't get old. You just want to keep giving it all for the fans, the city and your teammates. Our fans are incredible and they deserve good hockey and the chance to watch us in the playoffs."
He is hoping a fresh start will lead to a much more satisfying ending.
"We have a chance to show ourselves, our fans and our opponents what we are capable of. We can put last season out of the way and get back to who we believe we are as a team. That's something for us to be excited about."