Nugent-Hopkins leaving impact in community of Edmonton
Ryan Nugent-Hopkins had two goals heading into his NHL rookie campaign seven years ago: contribute to team success and do whatever he could to contribute to the community.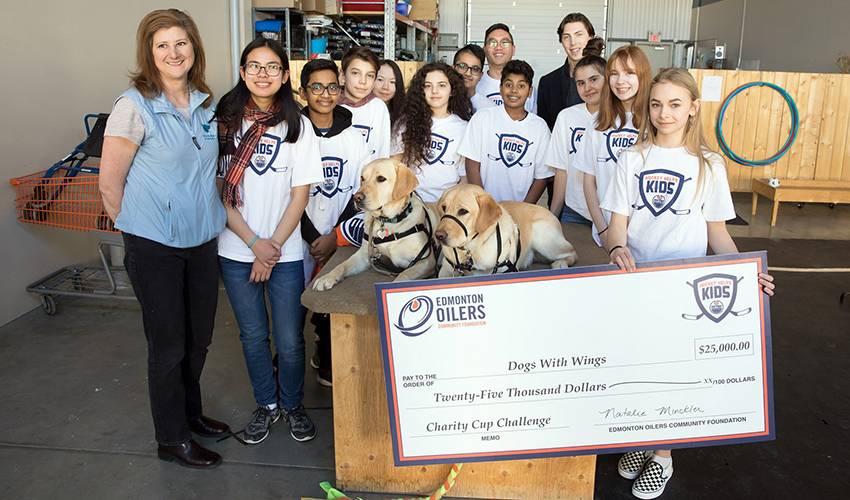 Ryan Nugent-Hopkins had two meaningful goals heading into his NHL rookie campaign seven years ago: do whatever he could to contribute to team success and do whatever he could to contribute to the community.
"I just wanted to get involved," said the 25-year-old, who had 52 points in 62 games in his first big league season. "I wanted to give back a little bit. We're so fortunate to be in the position we are and we do have a voice that can be heard. We have the opportunity to help people and whatever charity or charities you choose, you are going to be making a difference and making a difference to those people."
Although the announcement caught him by surprise, it was certainly not unexpected that Nugent-Hopkins found his name on the list for the 2018 King Clancy Memorial Trophy, awarded "to the player who best exemplifies leadership qualities on and off the ice and has made a noteworthy humanitarian contribution in his community."
Ryan Nugent-Hopkins is the #Oilers nominee for the King Clancy Memorial Trophy, awarded annually to the @NHL player who best exemplifies leadership qualities on & off the ice in addition to making a significant humanitarian contribution to his community. #NHLAwards pic.twitter.com/gRPyPQuZ5q

—

Edmonton Oilers (@EdmontonOilers) April 23, 2018
On Wednesday night in Las Vegas, the Sedin twins, Daniel and Henrik, were named this year's recipients.
"When I was told I had been named, I was taken aback a little bit," said the Nugent-Hopkins. "It's a cool honour and definitely something I can take a lot of pride in. There are so many guys around the League that do so much for the community that they're in, so when you see the names of the nominees it makes you feel very fortunate to be part of that group."
The first overall selection in 2011 has lent his efforts to numerous charitable causes and organizations throughout a big-league career that stands at 457 regular season games.
Part of the Hockey Helps Kids initiative, co-founded by Chloe and Harrison Katz, children of Oilers Entertainment Group Chairman Daryl Katz and his wife Renee, Nugent-Hopkins won the Charity Cup this past season.
Hockey Helps Kids sees four participating schools each pair up with an Oilers player and then choose one local charity to form their team. Each team develops a two-minute video outlining why its cause is worthy of fan votes and donations.
The team with the most fan votes wins a prize of $25,000 for its charity (along with participation awards of $10,000 each for the three runners-up).
Mary Butterworth School, who teamed with Nugent-Hopkins, donated $25,000 to the Dogs with Wings charity.
The organization's mission is "to foster integration and independence for Albertans with disabilities by providing them with highly trained assistance dogs and aftercare."
"I've been part of Hockey Helps Kids for the past three years and each year it's a different charity," explained Nugent-Hopkins. "I love dogs and it was pretty cool to go there and meet the people that work for the organization and spend time with the dogs. You're also working with kids that are raising funds and awareness for the charity, so it's nice them working with the people. I got to go and see the puppies and see them in training, which was a great experience."
The centre and alternate captain has also worked with Sport Central, an organization that gathers, recycles and redistributes sports equipment to kids who would otherwise be denied the opportunity to participate.
"It's huge right now and it's a great cause," he said.
Nugent-Hopkins' good deeds don't end there.
He's also been involved (for seven years) in the Faceoff with CF (Cystic Fibrosis) Gala as the honourary Chairperson of the event. Aside from shining the light on the disease Nugent-Hopkins spends quality time those battling CF.
"The work that I do with CF, it really puts a lot in perspective for me," he said. "We have tough days on the ice, you get down on yourself and think nothing is going your way. Then you meet people that are going through some very serious times. The toughness and courage they need to have is it a different level."
One big smile is all it takes to remind Nugent-Hopkins of the impact a small gesture has.
"I think that's why we do it," offered the British Columbia native. "If you can bring a smile to a kid's face and spend some time speaking with their parents, that's the key."