Brendan Smith enjoying spring as a proud brother and new father
Brendan Smith had quite a topsy-turvy, but enjoyable spring.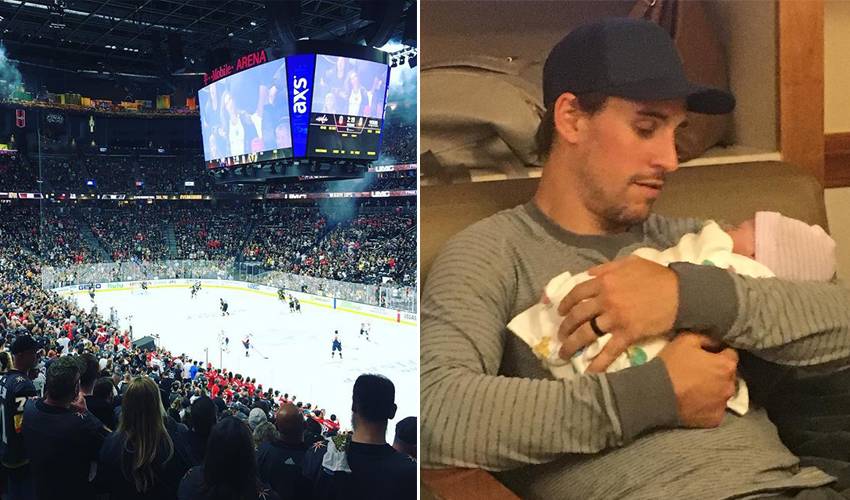 Brendan Smith had quite a topsy-turvy, but enjoyable spring.
The New York Rangers defenceman has returned to work to rebuild his career after he was demoted to the AHL and broke his hand a few months ago, ending his season.
The 29-year-old Smith then followed with pride the exploits of his brother Reilly, 26 months younger, and the expansion Vegas Golden Knights in their compelling run to the Stanley Cup Final. Then, earlier this week, Smith's wife Samantha gave birth to the couple's first child, Nolan.
Brendan and Reilly have come a long way since the two met in the first round of the 2004 postseason, when Reilly's Boston Bruins eliminated Brendan and the Detroit Red Wings in five games.
The new dad graciously took time this week for a five-question e-mail exchange to discuss Reilly's impressive run to the Stanley Cup Final.
---
When the season ends for most players, not many watch the playoffs. But considering Reilly was in the thick of things, did you follow the Golden Knights?
I am probably one of the players who doesn't always watch a ton of playoff games due to either being in the playoffs or possibly jealous that I have been eliminated, so I don't watch as much. This was the first year I haven't made the playoffs in my NHL career and I guess gave myself more time to focus on watching my little brother and the Golden Knights.
I truly never thought I would get so invested in a team that was not my own like I did with the Golden Knights. I think there were a few variables for that: (1) obviously cheering on my little brother; (2) the Cinderella story and his team defied so many odds in making people eat their words for counting them out so early; and (3) the shooting in Vegas and how they brought so many people together.
You went to one of the games in the final. What was that like?
I went to the series opener of the Stanley Cup Final with my parents [Deidre and Lester], my older brother [Rory] and Reilly's girlfriend. It was the first time I have been to a game in the NHL that was not my own since I went pro.
It was a great game with a lot of action and was fortunate to see my brother score as well. The crowd was wild and it was a very surreal moment for my family to watch my little brother play in the Stanley Cup final and achieve a goal he has had since he was a little guy.
The best and most important part was that they won and it added to the atmosphere and excitement of the night.
Was there was a moment or a game you were most proud of Reilly in his trip to the final?
I feel like there were many moments that made me a very proud older brother. His defensive play and his work ethic are what really gets me excited but if I could pick one moment of the playoffs it was when Reilly scored the game-winner in Game 4 against the Winnipeg Jets in the West final at T-mobile arena in Vegas.
It was such an exciting moment that I jumped up and fist pumped like I scored the goal. I scared the living hell out of my Bernese Mountain dog with my yelling and cheering.
I know during the season you guys talk and text often. How often did you talk to Reilly during the playoff run and if so what brotherly advice did you give him?
We talked or texted basically every day or every other day due to how busy we were. I didn't have to give him too much brotherly advice as he is a very intelligent hockey player but there were times we talked about special teams play and how to play certain situations.
We don't normally or really talk shop that much. Normally, we talk about everyday stuff like how his little puppy Hunter is doing or how my wife was doing with the pregnancy. I feel like it's nice to get away from the game a bit and I'm kinda speaking for him right now but I believe he feels similar in that aspect.
Can or has Reilly's performance inspired you in any way?
I think Reilly's resilience and work ethic gives me a lot of inspiration. The amount of times teams have traded him or overlooked him, and it has never kept him down, is truly unbelievable.
He is one of the best people I have ever met that has taken a tough situation like being traded or being given away in the Golden Knights case, and he has come back ten times stronger, more prepared and driven to prove himself. That has been a true inspiration for myself.