'Fast and fearless', Point making waves this postseason
Brayden Point was determined to make a point when he was added to the Team Orr squad. And did he ever.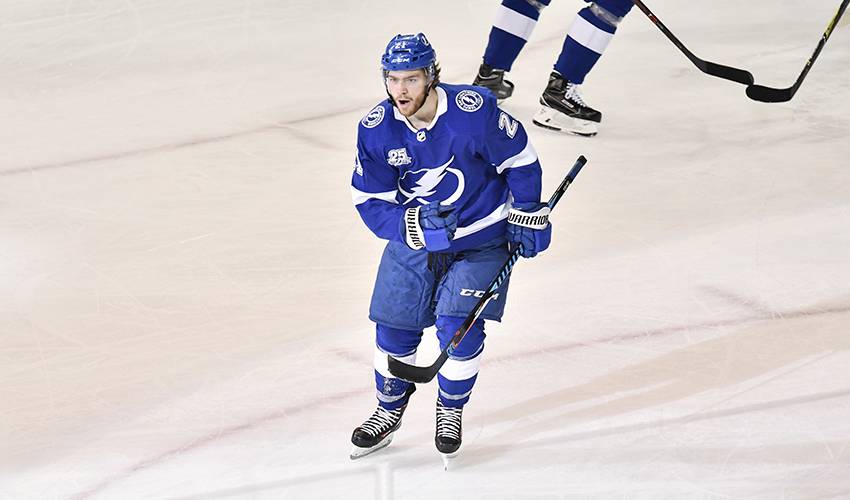 Originally overlooked for the 2014 Canadian Hockey League (CHL)/NHL Top Prospects Game, Brayden Point was determined to make a point when he was added to the Team Orr squad. And did he ever.
Tim Hunter, who was behind the Team Orr bench for the annual CHL event four years ago, remembers the game as though it was played yesterday.
Hunter, who played 815 NHL games and won a Stanley Cup with the Calgary Flames in 1989, recalled his first impression of the player chosen 14thoverall by the Warriors in the 2011 WHL Bantam Draft.
"Unbelievable compete," started Hunter. "He was like a dog on a bone with the puck. I first had him at the Prospects game in Calgary. He was a really competitive kid. He was a late addition to the game because (current Calgary Flames forward) Sam Bennett was hurt. I asked the scouts about him. Pointer was the type of kid that felt he really should have been on that team. He was determined to prove to people that he should have been on it. He really competed hard in the game."
It's what prompted the long-time NHL assistant coach with Washington, San Jose and Toronto to send out Point for a pair of crucial own-zone face-offs.
"It was late in the game," recalled Hunter. "I chose him above all the other high-profile guys that were named to the team to take those two key face-offs. He didn't let us down. He won them clean and sealed the game for us. Then I was hired by Moose Jaw and I was thrilled to have him as my main guy for two seasons. And he was definitely that."
Selected 79th overall by the Tampa Bay Lightning in 2014, Point, who was named the 30th captain in Warriors history that same year, enjoyed an outstanding career with the WHL club. The Calgary native recorded 324 points in 252 games with Moose Jaw, along with 26 points in 24 playoff games.
Hunter, who sits eighth all-time in NHL penalty minutes with 3,146, knew early on in his coaching tenure with the Warriors what to expect from Point.
"He's a go-to guy," praised Hunter, who was recognized with two nominations for the King Clancy Memorial Trophy and the Bill Masterson Memorial Trophy during his NHL playing days. "When you needed something done, he did it. Penalty-kill, power-play, scoring big goals, willing the puck out of our own end if we were having trouble doing that – you want to define the word compete, you just put Pointer's picture beside it."
The NHL world has certainly come to know all about the 22-year-old.
In his rookie campaign in 2016-17, Point recorded 18 goals and 40 points in 68 games. This season, the centre netted 32 goals and 66 points in 82 games.
So far in the Stanley Cup Playoffs, the 5-foot-10, 166-pounder has five goals and 12 points in 12 games, including four points (1G, 3A) in a 4-2 victory in Game 2 against Boston in the Eastern Conference Second Round.
Now he'll look to do his part to help the Lightning rebound on the road in the Eastern Conference Final. Tampa Bay lost the opening two games of their series against the Washington Capitals.
Why would Hunter, who was known for his robust physical play, loathe the thought of playing against Point?
"He's so fast and he's so fearless," he offered. "He could go into a corner at 100 miles an hour, spin and come back with the puck without changing gear. The speed, the skill and the tenacity – it's a pretty fierce product."
To say that Hunter is extremely proud of his former player would be a huge understatement.
"He proved everyone wrong," he said. "They thought he was too small and too slight to play. He's really not that small. For me, it always comes back to that compete. He's just taken it to another level in the NHL."