History-making Smith brothers focused on supporting each other's NHL dreams
Regardless of where they have found themselves in their respective hockey careers, weekly catch-up calls have remained a constant.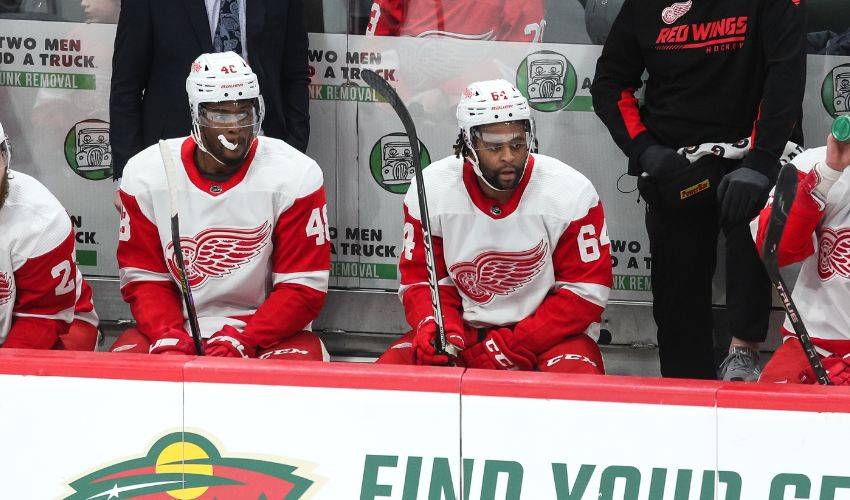 Feature photo: Getty Images
---
Gemel and Givani Smith continue to keep a promise they made to one another long ago.
Despite the odd scuffle, the brothers got along well, as they grew up in a family of four children in the Rexdale neighbourhood of Toronto, Ontario, with the shared love of hockey being a cornerstone of their relationship.
"There were times where we were told we might not be able to play the upcoming season because of the financial restraints with four kids playing," recalled Gemel. "It was a lot of money, and it was tough, but I'm not sure if Givani, who is the youngest, knew what was going on. He probably did, but we did our best to try and shield him from the fact he might not play in the upcoming season. But Givani and I always told each other that we would be there for one another no matter where we were."
Their respective hockey journeys have both taken them to the pro ranks. Gemel, 28, who has 91 games of NHL experience, is currently playing with Henderson Silver Knights of the American Hockey League. Givani, 24, is patrolling right wing with the Florida Panthers.
It was just over one year ago, on February 14, 2022, when the brothers experienced their greatest shared hockey moment as they both suited up for the Detroit Red Wings in a game against the Minnesota Wild.
The game marked the first time a pair of Black siblings played together in the history of the Red Wings. The two also became just the second set of Black siblings to play for the same NHL club that season, joining Caleb and Seth Jones of the Chicago Blackhawks. The event made it the first time that siblings played together in a Red Wings game since Frank and Pete Mahovlich on March 30, 1969.
"We played a lot of ball hockey together, the times when his age group and my age group went up against one another," remembered Gemel. "One year they would win the regional tournament and the next year we would win it. But we never really thought of playing in the NHL at a young age. We didn't have that as a goal until that did get closer. For me, watching him get drafted into the OHL [13th overall by the Barrie Colts in 2014] was a great moment. Sitting in my room, watching the computer, and seeing that happen was an awesome feeling. When we got older, and we got to the OHL, we knew we had to do everything in our power to make it so that our parents hadn't wasted their time and effort to allow us to play the game we love."
That affinity for hockey, even in times of hardship, individually and together, has never waned.
Nearly five years ago, the brothers leaned on one another in the aftermath of a series of ugly incidents.
Givani, then playing for the Kitchener Rangers in the OHL playoffs against the Sault Ste. Marie Greyhounds, had endured a season filled with racism and racist remarks directed at him. After the Rangers beat the Greyhounds in overtime in Game 6, he passed by Sault Ste. Marie's bench and raised his middle finger towards the players and coaches.
The event sparked a series of online death threats directed at Givani, who was suspended two games, and required a police escort to the Greyhounds' arena to watch Game 7 from the press box.
"We grew up in a tough area in Toronto and we had to fight every day of our lives, that's just the way it was," said Gemel, the 104th overall pick of the Dallas Stars in 2012. "It prepared you to be mentally tough. For me, and I know for him, we take it as that person is lost and has to stoop that low. We tell each other that when someone does that, it's not about us, it's about that person and whatever their issues are. We knew we were minorities playing this game and that it would happen, and would likely happen again, so the best thing we can do is stay calm and not let it affect us. That's what our parents taught us to do. Unfortunately, that happened to Givani in the OHL, and he reacted the way he did, which is easy to understand. But you can't let the other person get to you or they have won."
When Givani, drafted 46th overall by Detroit in 2016, was put on waivers by the Red Wings last October, Gemel quickly picked up the phone and called his younger brother.
"We talk a lot. He was put on waivers and wasn't playing that much, and he was sent to the minors. It was tough for him, but I always told him to just play his game, to be himself, to be the player he is. There aren't many players that can bring that physical element but also have the other important skills. I tell him to stay positive. I want to make sure he keeps that positive mind," explained Gemel. "When I had a tough go when I was with Boston, I didn't want him to go through something similar … I just let him know he's a good player, it's part of the process and tell him to keep putting in the hard work and it will pay off. We do clash and we have disagreements, but there are always good intentions behind it, so it's good because we hold each other accountable. We always make sure we are there for each other."
Gemel, who made his NHL debut with Dallas in 2016, has always wanted what is best for his brother, dating back to those days in Rexdale.
Regardless of where they have found themselves in their respective hockey careers, multiple weekly catch-up calls have remained a constant.
As for those conversations, hockey is far from the only topic on the table.
"He's big on business, investments and real estate, those types of things," offered Gemel. "I'm not into that as much, but he's always got his eye on things like that, and he shares his thoughts with me. That's one thing I love about him. He's helping me that way and he cares about my future. He's a very serious person and always has been. But that has served him well. I tease him that he's a 24-year-old with the mind of a 36-year-old. He is very mature for his age. He's always been like that since a little kid."
Including those days when the Smith brothers, all four of them, would take to the street for hours to play ball hockey.
While a trio of the siblings didn't mind throwing their weight around with one another, there was one exception when it came to the rough and tumble side of things.
"Four of us played hockey," said Gemel. "It was more the three of us who were fighting. Givani was the gentle one. We would be the ones that would be more physical, dishing out those hits, but he was the one that didn't want any part of that. But then he grew up into this big machine. He was a good hockey player back then. He had size, but he eventually grew into a power forward role. He was good at his age, but he wasn't dominant. But over time, he just got better and better, and you could see his comfort level and confidence grow."
Gemel, who signed as a free agent with Tampa Bay in 2019 and was picked up by the Lightning off waivers last February, is hopeful he can make his way back to the NHL stage once again, either playing with or against his younger brother. The forward was part of history with the Lightning last May when he played on what is believed to be the first all-Black line in NHL history alongside Mathieu Joseph and Daniel Walcott.
There is, he admitted, plenty to be proud of, and not just for himself, when it comes to the game.
"My goal is to play full-time in the NHL again and see my name on the Stanley Cup. I'm proud that Givani made it and that I made it. We are two kids from Rexdale who never thought that far. So, for us to be playing pro and live a life we choose is something we're grateful for. And to be able to give back to our parents for what they have done for us, and take care of our other brothers if needed, that is big for us too."
As is the long-held promise both have kept.
"For as long as I can remember, we said we would be there for each other. And we have done that, and we always will."