Nick Paul uses his experiences as motivation to assist those facing mental health struggles
The Lightning forward has donated $150 for every point he recorded this season to initiatives supporting mental health.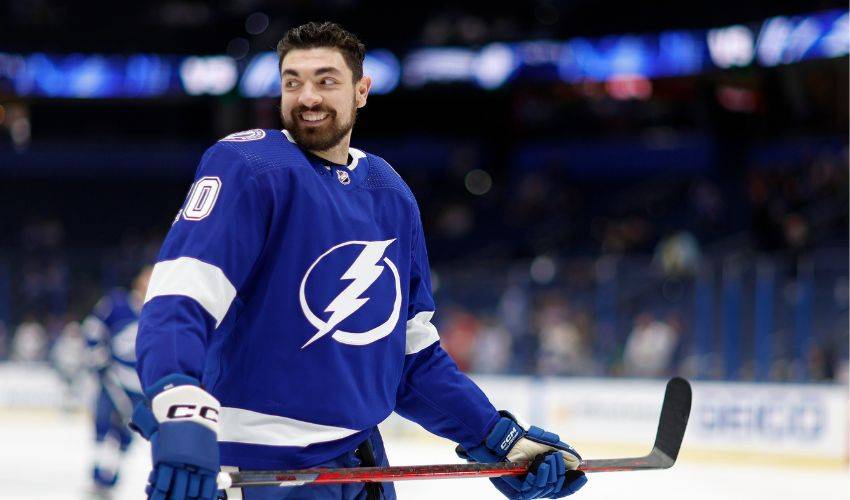 Feature photo: Getty Images
---
Nick Paul has been down a road he wants others to avoid.
It was just over seven years ago when Paul made his NHL debut with the Ottawa Senators. At the start of the 2019-20 campaign, the left winger was skating in the American Hockey League after not making the Senators' roster for the fifth consecutive season.
"I was going through a tough time when I was up and down between the NHL and the minors," he recalled. "I would look at social media and see what people were saying about me, and it got to me. I kind of shut myself off and didn't want to talk to anyone. I thought I could do it myself, but all it did was weigh me down. I wasn't myself. I was keeping everything in and tried to fight my way through it."
A different approach to those feelings would kickstart a positive change for Paul.
"The biggest help was when I started opening up and talking about it. Talking to my family, telling them how I was feeling and the pressure I had, getting that off my chest was a huge relief. They supported me and that helped bring the weight off my shoulders. That love and support helped ease the pressure I was putting on myself. I was actually able to play better and play free."
Now a full-time NHL player, Paul has over 310 games to his name and is playing the best hockey of his career with the Tampa Bay Lightning.
But he has not forgotten his struggles, and is using his experience to help others.
Through his "Points for Paul" campaign, the Mississauga, Ontario, native is helping raise money and awareness for mental health initiatives. He also works closely with the Crisis Center of Tampa Bay, a non-profit organization that helps people who are struggling with a variety of crisis situations.
Supporting those who are dealing with mental health issues is not new to Paul, who came to the Lightning via a trade with Ottawa last March.
"When I was younger, in high school, Grade 9, a kid by the name of Lucas, who was on the lacrosse team, became a good friend. One day, he took his own life, and it really hit me. I was very upset. I was a pallbearer at his funeral, and it touched me how you would have never known he was going through a tough time. He was always laughing, joking around and having a good time. But he was fighting a battle that no one else could see. It was tough to know that he was going through that alone and not sharing his thoughts with anyone. I knew I wanted to step up and do something if I was able to make it somewhere in hockey and have a voice. It was something I wanted to start and to advocate for."
And so he did.
When he earned full-time NHL duty, he launched "Points by Paul." Beginning this year, the 27-year-old has donated $150 for every point he recorded, something he will do until the end of the regular season.
Having a career year makes the initiative that much more rewarding.
"The response has been amazing, especially since I've started 'Points by Paul.' Even this year and last year, people have come up to me, whether they are waiting for autographs or want to have a quick chat. They will tell me that they appreciate what we are doing, or maybe they share that they are dealing with mental health issues or know someone who is. They talk to me about how important it is to promote awareness and be vocal ... it's really great to see the work we are doing is making an impact in the community."
Paul points to his family as an inspiration, not only in his hockey career, but in his desire to give back to others.
"My parents [Melinda and Ellwood] were awesome in the way they raised us. We had such a close support system. Whether it was the OHL, AHL, they were always driving to see me play. They instilled great values in myself and my brothers."
While life on and off the ice is better than ever for Paul, his thoughts are never far from those who are not as fortunate.
One of his top priorities is to encourage people to speak to someone if they are struggling with their mental health. Paul is also passionate about dialogue surrounding mental health becoming more widely discussed in society.
"This is something that needs to be talked about more. With COVID, it meant a lot more people were staying home, and kids were on social media a lot more than ever before. I really feel you can't hide from people's hurtful words and their thoughts on certain issues.
My message would be to talk to someone. When you go to someone and share how you are feeling, and tell them what's on your mind, I believe people aren't as negative as the internet can be. Talk to people in person and view them as a helpful resource. They might want to talk about something they are going through too. Most people want to bring you up, uplift you, not tear you down. I know it's a scary thing, to open up and take that step to talk, but if you are going through a tough time, talk to someone – your parents, brother, sister, friends, teammates – and it can help in a significant way. You might even be creating a support system for someone else. We should all be trying to make a difference in helping others."
Just like No. 20 is doing.
If you happen to see a bigger smile on Paul's face during games this season, there are 150 reasons for it.
"I always say when I score that it's the best 150 dollars I spend. It's awesome. I tell people that when it comes to 'Points by Paul' it's not just about the money. The money does help in a very significant way, but the biggest thing is spreading awareness."