Hockey a generational bond for the Moulson family
The times when Shannon and Matt Moulson shared the same ice have long since passed, but their love of hockey and unwavering support of one another remains as strong as ever.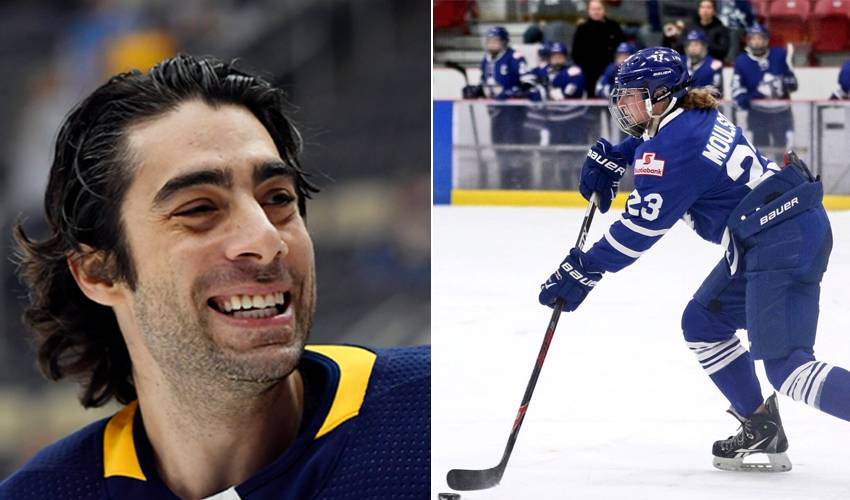 The times when Shannon and Matt Moulson shared the same ice have long since passed, but their love of hockey and unwavering support of one another remains as strong as ever.
"We were definitely always competing," recalled Shannon with a laugh. "I'd say we were pretty civil for the most part. The arguments, fights and disagreements during ball hockey – those would be between my younger brother Chris (who went on to play at Cornell and Acadia universities) and Matt."
Shannon, a defenceman for the Toronto Furies of the Canadian Women's Hockey League (CWHL) and Matt, currently playing forward with American Hockey League's Ontario Reign, speak of their sibling bond through the game and outside of the rink ahead of the 2018 CWHL Awards Show, to be held at the Toronto Centre for the Arts – Lyric Theatre on Friday, March 23.
The NHLPA is the presenting sponsor of the 2018 CWHL Awards, and in addition is also the presenting sponsor of the CWHL Players' Associations Jayna Hefford Trophy. The award is handed out annually to the CWHL's most valuable player in the regular season as voted by the players, similar to the NHLPA's Ted Lindsay Award which is also voted on by the players (for the season's most outstanding player).
Speaking of awards, would Shannon and Matt ever consider hauling out their individual hardware for a trophy count in an attempt to one-up the other?
"Hopefully, we won't go by goals," said Shannon. "But we definitely have a lot of stories and arena moments to look back on and talk about. There have been a lot of great highlights."
And, early on, there were some serious battles for bragging rights.
"Growing up, I was always defence and Chris and Matt were both forwards, so they loved the fact we could do one-on-ones and stuff like that," noted Shannon, now 31. "Matt, skill-wise, was always pretty good, but I always held my head high when he couldn't get around me on those one-on-ones."
The pair had plenty of chances to outdo the other during chilly winter mornings growing up in Mississauga, ON. While most of their friends were fast asleep, Shannon and Matt were already well into their practice time.
"We were always on the ice super early – my dad would get us before school – and we'd head to the rink," recalled Shannon. "I remember it was freezing cold in the winter. We'd always compete at the end after we worked on our own skills. But even when we went up against each other, Matt was very supportive of me early on."
Said Matt, "She always played the game very hard. I think she had one thing going for her growing up that my brother and I didn't have which was size. She was always one of the biggest players. Even when she played with the boys – I think she played one year of contact – she was a patient defenceman with a lot of poise. I always remember that."
Shannon, who had a successful NCAA career with the Niagara Purple Eagles (captaining the team in her final two seasons), was also a staunch supporter of Matt's.
When Matt was a teenager, he was told on more than one occasion to give up any thought of a pro hockey career. Shannon would have none of it.
"I've always told everyone that Matt has worked harder than anyone I've ever known in my life," she said. "Just to get to the NHL, going from a Junior B team to an Ivy League school in Cornell, is not an easy task. He was smaller and had to work hard to get to the NHL. I'm so proud of that. He had people telling him to quit hockey. That's one of the stories that motivated him in high school. He heard, 'You're not good enough, you're too small, you're not quick enough.' My parents always encouraged him and helped him get better. He pushed through and did whatever he had to do to make it."
In total, Matt, drafted 263rd overall in 2003 by Pittsburgh, has skated in 650 NHL games with the Los Angeles Kings, New York Islanders, Buffalo Sabres and Minnesota Wild, including three 30-goal campaigns.
Currently, he's averaging just under a point per game with the Reign.
"As a person, it's kind of crazy to see him as a husband and father now," offered Shannon. "He's just really developed a wonderful life with his family. We don't get to see him as much because he's travelling all over the place, but I'm just so proud that he's become a great husband and father. There's more distance, literally, between us now, but I know I can pick up the phone and give him a call and talk about hockey, life or anything else.
"Usually, when we speak, we don't talk about hockey that much," she continued. "Growing up, our lives were based so much around it. That's all the conversations were, that's all we knew. Now, although we're still playing high-level hockey, we're enjoying the things we didn't necessarily do growing up – things like spending time together with my niece and nephew, just spending time as a family."
But always aware her big brother is keeping tabs on her hockey life.
"I remember when we won the Clarkson Cup in 2014 – and I'll hold on to that until we win our next one – he went on Twitter to congratulate us," recalled Shannon. "I don't have Twitter, but all the girls on the team thought it was so amazing that he did that. Those things mean a lot. When he calls and asks me how my season is going – I really appreciate it."
It's just as meaningful to Matt.
"Any sport, when you win a championship, that's a big accomplishment," he started. "And winning the CWHL championship is amazing. Whatever your age, whatever the sport, whatever the league – it's something that should be recognized and applauded. When you are a champion, you are champion. No one can take that away from you. I think it's something to be proud of. People will always remember you as a winner. I was so proud of her and I wanted to support her."
Shannon hopes to pay those sentiments forward.
"I hope that I've helped his daughter – she's quite an active little girl – that if she wants to play high-level hockey, she knows that women can persevere," said Shannon. "Last year, my niece (Mila) and nephew (George) – Matt's kids – came to see me play live for the first time. To know they were there cheering me on was very special. Hopefully, by the time she's old enough and playing, we will be getting salaries in the league we're playing in. I also hope that Matt does notice all the hard work that I've put in playing. I've been fortunate to have a good and long career. He's taught me that you could be playing in the NHL one day and then sent down or vice versa, but no matter what, you have to endure through those slumps and keep going ahead, to not let it bring you down and always persevere."
Matt knows exactly what Shannon represents for his children.
"When you have a daughter, you want to her have great, different types of role models growing up," said the 34-year-old forward. "My wife is a great role model and we have Shannon as well. The chance for the kids to get to see her play is important. The kids are used to seeing me or their uncle play, so to see her play was great. As long as I've known Shannon, she's been one of the most independent people I know. She's always worked hard at everything she's done."
Something that seems to come naturally for the Moulsons.
The 2018 Clarkson Cup Final presented by Scotiabank is being held on Sunday, March 25 at 12:00 PM EST at Ricoh Coliseum in Toronto. The game is also being nationally broadcast in Canada on Sportsnet.
About the CWHL
The Canadian Women's Hockey League (CWHL) is the premier, professionally-run women's hockey league in the world. With seven current clubs throughout North America and China, it enables elite female hockey players to pursue their dreams of competing at the highest level possible, while enhancing the lives of others through exceptional athleticism, entertainment, and motivation. The league is a centrally funded not-for-profit organization, meaning all participating teams receive equal access to funding to ensure equal opportunity and competition. To learn more visit thecwhl.com.