NHLPA Golf Classic hits quarter century milestone
When the NHLPA Golf Classic teed off for the first time in 1993, Bob Goodenow believed it could be a game-changer in the way players connected with charitable causes. As it turns out, he was right on the mark as the tournament turned 25 this year.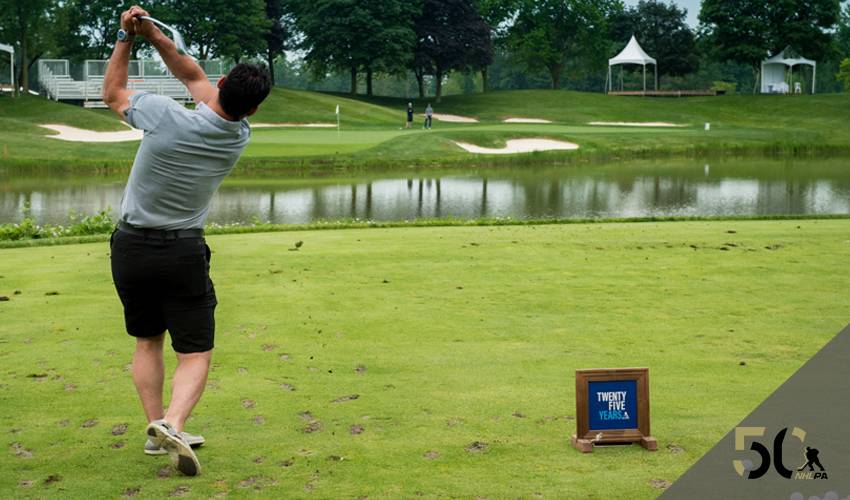 When the NHLPA Golf Classic teed off for the first time in 1993, Bob Goodenow believed it could be a game-changer in the way players connected with charitable causes.
As it turns out, he was right on the mark.
It was, in the eyes of Goodenow, then the NHLPA's Executive Director and General Counsel, an ideal way to unite two of hockey players' most prominent off-ice passions –raising money for charitable causes and getting together for a round of golf.
Despite his optimism for how the tournament would be received well before the first golf ball sailed down the fairway and the first cheque presented, Goodenow still takes pause when he speaks of the summer event that celebrated its 25th anniversary this past July, an occasion that brought out over 50 current and former NHL players along with the Players' Association's corporate partners.
"Firstly, congratulations on 25 years – that is an accomplishment in and of itself," said Goodenow. "Looking back at all the charities that have benefited over the years, that's great."
After raising $125,000 for player-supported charities at the 2017 edition, the NHLPA Golf Classic has now donated a total of $3.6 million to numerous charitable causes, benefiting Ronald McDonald House Charities, Habitat for Humanity and World Vision – just to name a few.


Mike Gartner, who served as President of the NHLPA during the final five years of his Hockey Hall of Fame playing career, and then as the association's Director of Business Relations upon his retirement from the game, remembered the strong impact the tournament had from its beginning.
"It has grown a lot and raised a lot of money over the 25 years," said Gartner, who was at Glen Abbey for the tournament's silver anniversary. "Primarily, early on, the money was raised for the Players Helping Players Fund [a joint program between the NHLPA and NHL Alumni Association] as well as Ronald MacDonald Children's Charities. Players Helping Players was a fund that really helped launch the NHL Alumni Association back in the early days. The funds went towards that, to help run the alumni association..., certainly for its inception and many years after. So from the start, the funds were going to some very beneficial places."
And some very big names on the Canadian business and sporting scenes were hitting the links to lend their support.
"I remember the days early on – it was a lot of fun – when [McDonald's Canada founder] George Cohon came to play," recalled Gartner. "It was always a great time playing with him. [Former Toronto Blue Jays president] Paul Beeston came to some of the tournaments as well. Bob [Goodenow] had some really colourful people that came in and would be well-known in Canadian sports."
The tournament has also consistently featured well-known NHL players, past and present. Although the golf skills and big-league hockey experience differ from player to player, many of them speak of a shared bond.
"One of the biggest things athletes have is the platform to help humanity," said Steve Webb, who played eight years in the NHL and is currently an NHLPA Divisional Player Representative. "That's what this tournament is all about – it's about impacting the lives of others and thinking of others first. This gives us the opportunity to do that.
"I'm not the best golfer, but that's not what these days are all about," he continued. "I remember coming to the tournament as a player. It's been a great event since the first one. [NHLPA Director of Marketing & Community Relations] Devin Smith and his group have done a great job keeping this going.."
Scott Walker, who played 15 years in the NHL, has also come to several of the tournaments – both as a player and as an NHL Alumni member – including the 25th anniversary event.
What makes it special?
"I just like it," said the 44-year-old Walker. "It's the chance for the guys who have played in the league to come out and meet some of the new guys and catch up with the guys you played with or against. To see the future of the game, then to also see Ted Lindsay out here for the 25th anniversary of it – these are things you really appreciate. As a player, I would come to the tournament, see the guys that had played before me, and it meant a lot. Now, as a former player, it's important to come out and support them."
Rob Zamuner, who skated in 798 regular season NHL games, concurs.
"I remember playing in this tournament when I was still playing in the NHL," said the Oakville, Ontario native, who is a Divisional Player Representative with the NHLPA. "It's been a wonderful evolution – to see it start out so well and just continue to grow over time. It's always nice to see current and former players together."
Although raising money for charity remains at the fore, players admit the chance to best a fellow NHLer on the golf course is also front of mind, especially in the minutes leading up to their first shot.
Friendly competition, whether it happens to be between friends or those who have traded jabs, verbally or otherwise, is a common sight.
Goodenow recalled a time he was on the receiving end of a zinger courtesy of a Hall of Fame legend.
"I know I frustrated some players when I golfed with them, one of which was Patrick Roy, who was kind enough on the third hole that we played, to reach over, put his hand on my shoulder and say, 'Bob, I think you work too hard. Your golf sucks'."
It's another example, the players and those closely tied to it will say, of what makes the tournament unique, and a major contributor to its longevity.
"That's always awkward, the first moment you meet someone that you dropped the gloves with, exchanged some words with or had a long playoff series with," said Walker. "For the most part, a lot of the guys do know one another. They work hard and are competitive on the ice, but they are good people away from the rink. It's pretty easy after that first hole at these tournaments. It ends up being a lot of fun."
Webb, who racked up 532 career NHL penalty minutes in 321 regular-season games, has similar recollections of his tournament experiences.
"You get in the corners, a little shove here and a little shove there, maybe a conversation or two that aren't flattering," he said with a grin. "But then you come out here – you're here for the right reasons. You're here with other NHLPA members and the camaraderie is there. In the end, though, it's always about thinking of how you're helping other people."
This year's tournament added a new twist, one that resonated with those who took part in it.
Each current NHLPA member who attended the Golf Classic was given $2,000 to donate to the charity of their choice. There were also charitable prizes of $25,000 (Logan Couture), $15,000 (Josh Jooris), and $10,000 (Darnell Nurse) awarded to the players who finished in the top three of the NHLPA Member Charity Challenge.
"It seemed like it was something the players truly appreciated and that's a very positive thing," offered Gartner.
Dougie Hamilton directed his $2,000 to the Brock Niagara Penguins, a southwestern Ontario program that provides athletic activities for youth and adults with a physical disability. Dougie and his brother, Freddie, have ties to the program that date back to their teenage years.
"If I could only explain – I don't even have the words – what that money will do for our club," Karen Natho, executive director of the Brock Niagara Penguins told NHLPA.com. "We have student volunteers and community volunteers to run this program. We rely on a lot of help and hard work to see this succeed. This gives us great exposure in our community and could encourage more athletes to come out and play."
It's one of many examples of how the NHLPA Golf Classic has made a difference for worthy initiatives over its 25 years.
"Many times, a tournament has a life cycle to it and this one going on for so long is a real testament that it's doing good work and the money raised is going towards causes that are very beneficial and much needed," said Gartner.
Added Webb, "They've done a great job keeping this going. Golf tournaments typically aren't the easiest thing to keep going, but this one has, which says a lot of about it. The participation and support has always been strong."
So, too, is the NHLPA Golf Classic's impact, today and hopefully for another 25 years.
---
This 2017-18 hockey season, the National Hockey League Players' Association (NHLPA) celebrates the 50th anniversary of when it was established by the Player Representatives in June 1967. Originally, the Players' Association was formed by Ted Lindsay (President), Doug Harvey (1st Vice President), Fern Flaman (2nd Vice President), Bill Gadsby (Treasurer) and Jim Thomson (Secretary), to promote, foster and protect the interests of players. Though the Association would initially be stifled by management, the efforts of those players laid the groundwork for the formation of the current NHLPA. In 1967, the NHLPA was formally ratified as a labour organization whose members are the players in the NHL. Learn more about the NHLPA and its storied members, both past and present, through NHLPA.com as well as your social media feeds by tracking #NHLPA50.