NHLPA Community Celebration to be held at Kalamalka Beach July 10
The City of Vernon, in partnership with the National Hockey League Players' Association (NHLPA), Predator Ridge Resort and Vernon Jubilee Hospital Foundation (VJHF), announced on Friday that NHLPA members will be participating in the NHLPA Community Celebration, a community event and VJHF fundraiser at Kalamalka Beach on July 10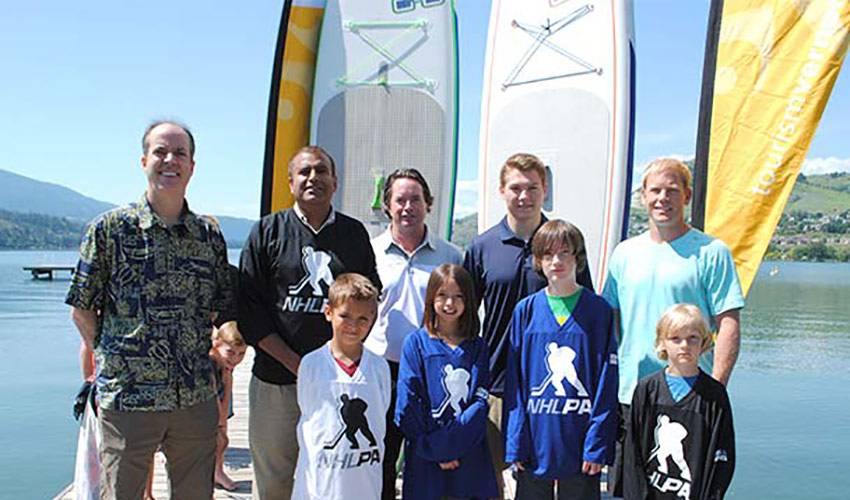 VERNON (June 5, 2015) – The City of Vernon, in partnership with the National Hockey League Players' Association (NHLPA), Predator Ridge Resort and Vernon Jubilee Hospital Foundation (VJHF), announced on Friday that NHLPA members will be participating in the NHLPA Community Celebration, a community event and VJHF fundraiser at Kalamalka Beach on July 10 from 10 a.m. until 3 p.m.
The family-friendly NHLPA Community Celebration will feature a significant donation of hockey equipment made by the players' NHLPA Goals & Dreams fund to local grassroots hockey programs, as well as live music, activities and an opportunity to meet current and past NHL players.
Many NHL players are scheduled to appear at the NHLPA Community Celebration: Vernon's own Curtis Lazar, David Booth, Andrew Ference, Josh Gorges, Scott Hartnell, Ryan Johansen, Brayden Schenn, Luke Schenn, and more players to be announced at a later date. Former NHL players Cory Cross, Brent Gilchrist, Dean McAmmond, Fernando Pisani, Joe Reekie, Mathieu Schneider, Steve Webb and Rob Zamuner are also scheduled to appear.
"NHLPA Goals & Dreams has helped tens of thousands of children around the world get a chance to play hockey, and will give back to more hockey fans right here in Vernon with the NHLPA Community Celebration event," said Curtis Lazar, NHLPA member and Vernon native. "I am proud to be here today representing the NHLPA, and I look forward to joining a number of fellow players at the NHLPA Community Celebration this July for what is sure to be a fun day celebrating our great game."
"I couldn't be more pleased or more proud to be a part of the upcoming NHLPA Community Celebration," said Vernon Mayor Akbal Mund. "The partnership between the NHLPA, Predator Ridge, Vernon Jubilee Hospital Foundation and the City of Vernon will provide tangible benefits to our community in the support it gives to VJHF and in showcasing the world-class Predator Ridge Resort. Vernon has produced a number of outstanding athletes that we are proud of—including Curtis Lazar and Dean McAmmond—and has a rich hockey culture, so I encourage the community to come out to support VJHF and meet their NHL heroes on July 10."
"Vernon Jubilee Hospital Foundation is delighted to be one of the beneficiaries of this fun filled event," said Sue Beaudry, Director of Development for VJH Foundation. "Funds raised will support patient needs in the Psychiatry Unit at Vernon Jubilee Hospital."
"Predator Ridge is thrilled to be hosting the NHLPA Golf Classic and to be a major part of this civic celebration in a city so deeply rooted in hockey tradition," said Brad Pelletier, Vice President, Okanagan, Wesbild. "We are grateful to the City and the NHLPA for their wonderful support and for rewarding the citizens of Vernon."
Donors to the VJHF will receive meals and refreshments, as well as the opportunity to win a jersey signed by one of their favourite NHL players. Free parking will be available at Okanagan College, and shuttle service to and from Kalamalka Beach will be available.
In order to raise even more funds for VJHF, the NHLPA has donated autographed jerseys of NHL players. Auction details will be released at a later date. There will also be several autographed jerseys auctioned off at the NHLPA Community Celebration on July 10.
More information on the NHLPA Community Celebration will soon be available on the City of Vernon website.
-30-