Hats Off to Alfie
Sens captain Daniel Alfredsson becomes 75th player in history to reach 1,000 point plateau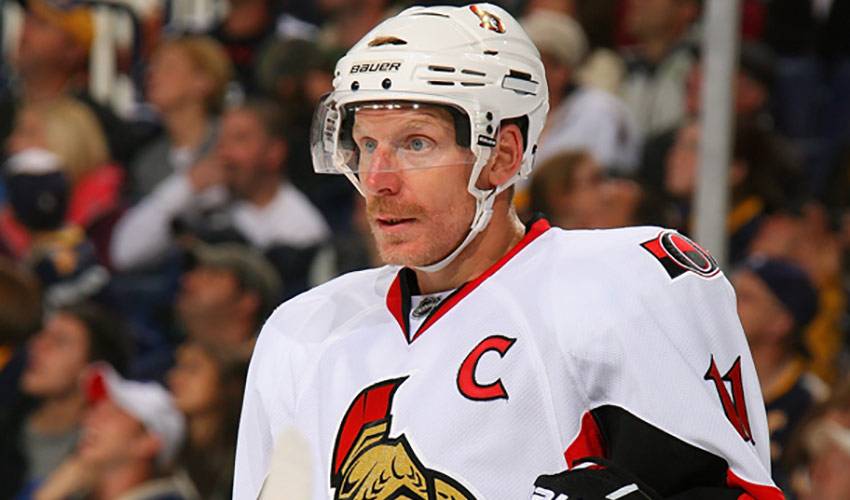 Daniel Alfredsson, who became the most recent NHLPA member to record a significant personal achievement, isn't done when it comes to netting more milestone moments.
Sitting just three points away from 1,000, Alfredsson, one of the most prolific Swedes to ever play in the NHL, entered Ottawa's recent key divisional game against the Buffalo Sabres on a mission of sorts.
With the Senators mired in an early season funk, the 37-year-old captain, who skated in his first NHL campaign in 1995-96, was hoping to provide a spark for a club in desperate need of one.
Alfredsson responded in typical fashion, notching a hat trick in a 4-2 win over the Sabres, a performance that enabled him to become just the 75th player in NHL history to reach the four-digit mark in points.
While he can point to any number of people – players, peers and teammates – that have had significant influence on his hockey life, Alfredsson acknowledges his mother as a major role model.
"She's a very stubborn woman," said the native of Gothenburg, Sweden, who was selected 133rd overall by the Senators in 1994. "I've taken that from her, and that's definitely helped me through my career. As far as her role, obviously, she was always there watching all of the games. You know, making sure that when you came home the laundry was done. I think all players need that mom to be there all the time and probably tell dad to layoff the yelling. She played a big role, and I definitely appreciate what she's done for me."
Recognized as one of the league's top two-way players, Alfredsson holds the Senators' franchise records for goals, assists, points and games played.
Not bad for a player who didn't receive much fanfare prior to making his NHL debut 15 years ago.
Alfredsson, who recorded 26 goals and 61 points in his first big-league campaign, was awarded the Calder Memorial Trophy as rookie of the year and was the Senators' representative at the NHL All-Star Game. In 1996–97, he improved on his rookie totals and played in the All-Star Game once again. He finished second in team scoring, helping Ottawa net their first modern playoff spot.
The right-winger has four 30-plus goal seasons to his name, twice reaching the 40-goal mark, including a career-best 42 tallies and 103 points in 2005-06.
On July 8, 2009, Alfredsson became the longest serving active captain in the NHL, as former Montreal Canadiens captain Saku Koivu signed with the Anaheim Ducks and former Colorado Avalanche captain Joe Sakic announced his retirement.
On April 6, Alfredsson reached another NHLPA-recognized milestone, appearing in his 1,000th regular season game, all with Ottawa.
"You can't compare hockey in Canada to, I guess, anywhere in the world," offered Alfredsson. "But hockey's just a big sport (in his native Sweden). Probably second to soccer, which is the biggest sport without question, but hockey is big. Especially now with the coverage and the media with the Internet, there's a lot more NHL games that are played over in Europe and Sweden compared to when I was younger. The interest we have from the Swedish media follows us regularly over here."
That's not likely to stop any time soon.
For Alfredsson, who holds the Senators record for highest plus/minus rating in a season, set in 2006–07 with plus-42, along with the team record for most points in a regular season game, set in 2007–08 with three goals, four assists and seven points, doing his part to help Ottawa keep pace in the contentious Eastern Conference remains his single focus.
"There are so many good teams out there," said Alfredsson, who holds the Senators playoff records for most games played (he has contested 101 of the team's 103 modern post-season appearances), goals, assists and points. "You have to be ready to compete every night."
That's never been an issue for one of the game's steadiest stars, a player who has enjoyed success on the international hockey scene as well, highlighted by Sweden's gold medal-winning performance at the 2006 Olympic Winter Games in Turin, Italy.
And he's not quite done in terms of adding another NHLPA milestone to his resume. Alfredsson finds himself just over 20 goals away from 400 for his career, a mark well within his reach in 2010-11.
You can bet his mother, Margarita, among many, can't wait for it to happen.