Growing As A Person & A Player
P.K. Subban continues to develop both on and off the ice as he strives for growth and success in all facets of his life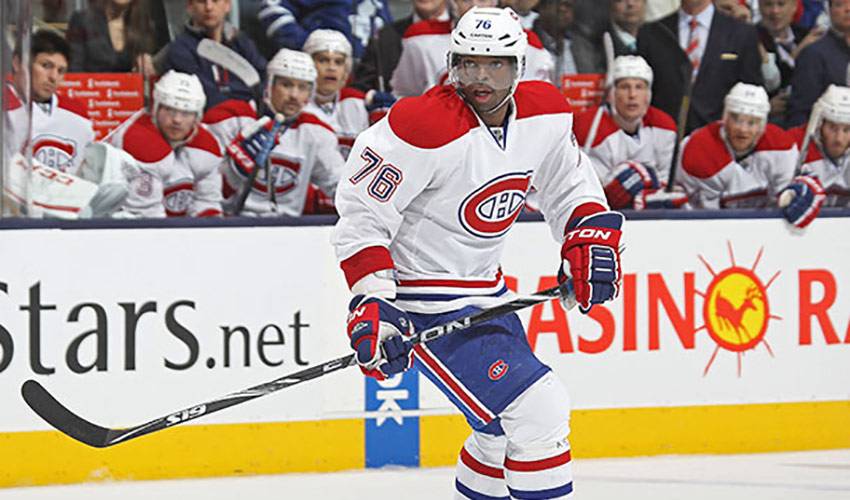 As one of hockey's premier defencemen, he's regularly tasked with making difficult split-second decisions. But there's one choice in particular P.K. Subban is happy not to be burdened by.
The 2012-13 NHL season was indeed one to remember for Montreal's high-energy and high-profile blueliner. It was a campaign that Pernell Karl Subban stamped himself as one of the elite at his position and landed top defenceman honours.
Saddled with stifling the sport's top offensive stars, Subban continues to more than held his own against the best, a confident competitor who far more often than not makes the right choices.
There is one decision, however, Subban is thrilled not to make, namely, whom he'd select as the best rearguard in the game, if given the chance.
"At the end of the day, I'm happy I'm not one of the guys that has to vote on who to pick (for the Norris), there's so many great defencemen to pick from," said the Toronto native. "I just think it's a privilege and an honour to have won the award."
An award Subban was no doubt deserving of.
He registered 11 goals and 27 assists, tying his career-high of 38 points (in just 42 games), consistently frustrated the opposition and helped lead the Habs to a first-place finish in the Northeast Division.
Yet despite his individual efforts, Subban is quick to heap praise on those he plays alongside.
"A lot of the credit needs to go to my teammates," he offered. "I think those types of awards, you have to give a lot of credit to your teammates because at the end of the day those are the guys that are helping you, playing with you on the ice. They have been amazing for me."
And amazing is just what Subban expects himself to be. Not just the guy that throws a big hit, or scores a big goal, or blocks a blistering slap shot. He wants to be more than that.
As of December 4, the 24-year-old is third in defencemen scoring with 24 points, accompanied by a plus-9 rating. His play could land him a spot on Team Canada at the upcoming Winter Olympics in Sochi.
For now, though, his focus is on keeping Montreal rolling. The Original Six club is 8-1-1 in their last 10 games, good enough for second spot in the Eastern Conferemce.
"I think being a fan of the Canadiens, growing up a Habs fan, I've appreciated the jersey, the logo, what it stands for," he said. "To be a leader for this organization would be something I've only dreamt about. I think I take pride in that. Obviously, with time in the league comes maturity.
"I think I've grown a lot and I'm going to continue to grow. I didn't think I would have made such a personal accomplishment at this point, but on the same token, it's all the more reason for me to continue to get better, be a leader, develop both as a player and a person."
The type of player and person who will happily do more than he's asked of.
Just don't ask him, however, to tell you who the best defenceman in the game is. P.K. Subban's got other things to focus on.
"When you improve, everybody benefits," he said with a smile.