Complete roster unveiled for RBC Play Hockey Charity Challenge in Toronto
The National Hockey League Players' Association (NHLPA) and RBC today unveiled the complete roster of more than 30 NHLPA members who will be participating in the RBC Play Hockey Charity Challenge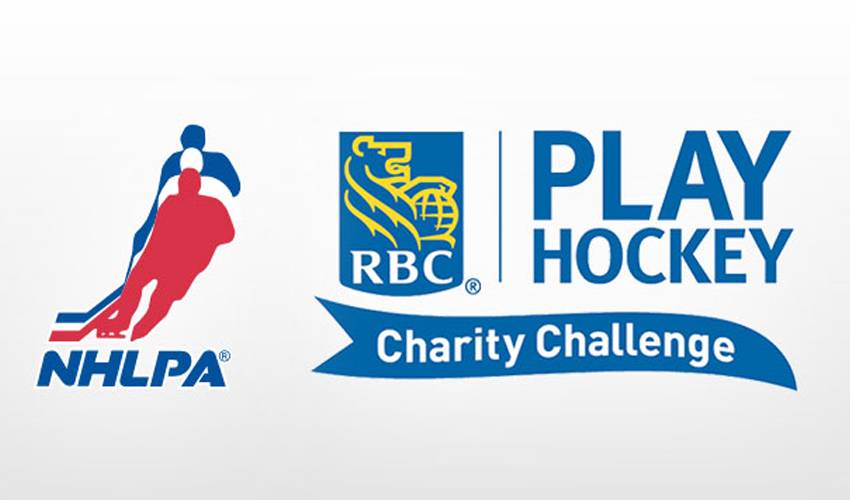 TORONTO, December 17, 2012 — The National Hockey League Players' Association (NHLPA) and RBC today unveiled the complete roster of more than 30 NHLPA members who will be participating in the RBC Play Hockey Charity Challenge December 19, 7:00 p.m. at the Mattamy Athletic Centre. The teams will be led by RBC Play Hockey ambassadors Steven Stamkos and P.K. Subban.
Two-time NHL leading goal-scorer and two-time NHL All-Star Steven Stamkos will captain the Blue team. Two-time World Junior Championship gold medallist and 2010-11 NHL All-Rookie Team member P.K. Subban will captain the White team.
Complete Team Blue (Stamkos) and Team White (Subban) rosters:
| | |
| --- | --- |
| TEAM STAMKOS | TEAM SUBBAN |
| Name | Name |
| Michael Del Zotto | Chris Campoli |
| Mike Komisarek | Carlo Colaiacovo |
| Niklas Kronwall | Tomas Kaberle |
| Dion Phaneuf | John-Michael Liles |
| Kyle Quincey | P.K. Subban |
| Dan Cleary | Brad Boyes |
| Tim Connolly | David Clarkson |
| B.J. Crombeen | Logan Couture |
| Steve Downie | Phil Kessel |
| Chris Kelly | Tom Kostopoulos |
| Clarke MacArthur | Matthew Lombardi |
| Matt Martin | Joffrey Lupul |
| James Neal | Jay McClement |
| Teddy Purcell | John Mitchell |
| Steven Stamkos | Steve Ott |
| David Steckel | Peter Regin |
| Kris Versteeg | Chris Stewart |
| Wojtek Wolski | Dan Winnik |
| Jonas Gustavsson | Martin Biron |
| Mike Leighton | |
All proceeds from the game will benefit grassroots hockey causes through the NHLPA Goals & Dreams Fund and the RBC Play Hockey program.
The NHLPA Goals & Dreams fund is the largest grassroots hockey assistance program in the world. Founded in 1999, NHLPA Goals & Dreams has contributed over $21 million to grassroots hockey programs and related causes in more than 30 countries. Through the donation of equipment grants, the program has given more than 60,000 deserving children the opportunity to play hockey and benefit from the sport's commitment to teamwork, discipline and physical fitness. For more information, visit NHLPA.com.
RBC Play Hockey is one of the largest corporately funded hockey programs that supports grassroots hockey in communities across North America. To date, RBC has provided more than $1,500,000 in grants to over 120 hockey programs – ranging from learn-to-skate, ball hockey and equipment-sharing programs to reduced registration, access to ice and hockey clinic initiatives. As a premier partner of Hockey Canada and USA Hockey, RBC is an official sponsor of each country's men's and women's national teams, the 2013 IIHF World Junior Championship, and Canada's National Junior A Championship - the RBC Cup. For more information, visit rbcplayhockey.com, follow us on Twitter @RBCPlayHockey or on Facebook www.facebook.com/rbcplayhockey.
-30-