P.K. Subban Supports "White Out for Mandi"
P.K. Subban attends Yale women's charity hockey game dedicated to the late Mandi Schwartz (1988-2011).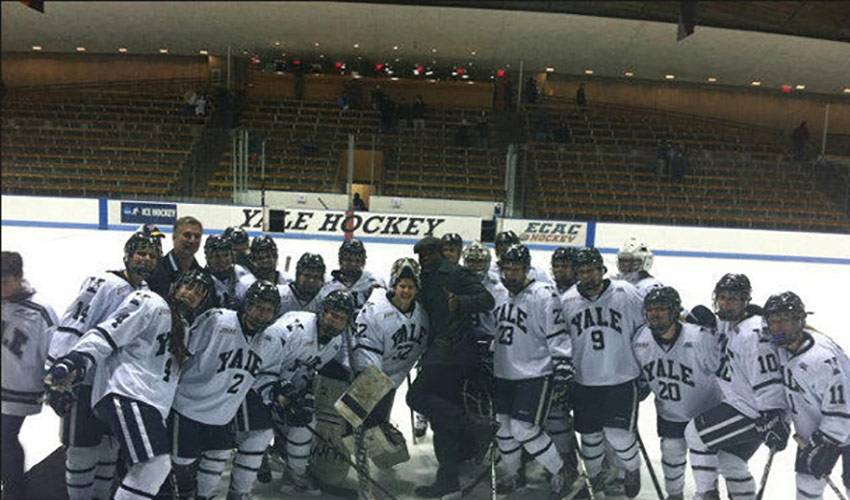 Restricted free agent defenseman P.K. Subban has been making the most of his time as he negotiates his contract with the Montreal Canadiens. In addition to training hard, Subban has been donating his time to supporting charity programs he cares about.
On Saturday, January 26th, P.K. attended the third annual 'White Out for Mandi', a Yale vs. Colgate women's ice hockey game at Ingall's Rink to raise funds for the Mandi Schwartz Foundation. Mandi Schwartz was a Yale Bulldogs center who passed away in April of 2011 at the age of 23 after bravely battling cancer for more than two years.
The Mandi Schwartz Foundation raises funds and awareness to highlight the need for bone marrow and umbilical cord blood donors. Mandi, sister of St. Louis Blues forward Jaden Schwartz, underwent a stem cell transplant from two anonymous umbilical cord blood donations during her fight.
Subban originally wanted to attend the game to watch Yale goaltender, Jamie Leonoff, in action, as the Leonoffs are family friends, but when he heard about the event and the story behind it, P.K. offered to contribute his time to raising funds for the foundation.
The game was free to attend, but donations were accepted at the door. A charity auction was held at the event, and many rival university teams made donations to the cause. P.K. Subban signed autographs for fans in exchange for donations. Fans wore white to show their support.
"We had a great turnout," said Assistant Coach Jessica Koizumi, "851 fans and many donors pledged per fan in attendance. We pre-sold many Whiteout t-shirts, as well as held a fantastic silent auction during the game. The Yale Youth Girls' Hockey Team sold $900 worth of cupcakes at the game too. We are still tallying the numbers, but it's looking like the event was a great success!"
PK & Yale Hockey Team after defeating Colgate 2-0. Cancer fundraiser Whiteout for Mandy Schwartz @pksubban1 #classact twitter.com/jleonoff/statu…

— joel leonoff (@jleonoff) January 27, 2013
(See more tweets from the event by searching #WhiteOutForMandi)
P.K. also did an interview with Yale All-Access to discuss his connection to the Yale Women's team:
You can watch the full game, including a special pregame presentation by Mandi's parents, Carol and Rick Schwartz, who presented the ECAC Hockey's Mandi Schwartz Award to former Yale captain, Mandi Schwartz Foundation creator, and friend of Mandi's, Aleca Hughes.
If you'd like to donate to the Mandi Schwartz Foundation or learn more about Mandi, please visit: http://www.mandi17.org